Do you own a commercial property in Chatham-Kent Ontario? Then, you probably know that protecting long term it is essential. And a commercial metal roof is ideal for durability. For its installation, you should depend on professional metal roofing contractors in the local area. You can expect unmatched efficiency to ensure your complete safety and quality installation of metal roof panels.
Remember, commercial roofing is something that you can't take lightly! After all, it's not only a matter of new strong roof, its looking out for the security for many people.  We are very cautious of employees, clients, or visitors during the installation of the commercial metal roofing system. The good news is, with a metal roof, every commercial building, like shops, a restaurants, an office, or plaza etc., gets twice the protection against harsh weather conditions, as well as fire.
Want to know more? Find out how a commercial roofing company like Country Towne is the perfect choice to help strengthen and secure your premises.
Top Reasons for Choosing Metal Roofing for Commercial Properties
Your commercial property's roof is a crucial part of the building. Why? Because it provides security and strength and even balances the internal temperature of the building. Stores, cafes, hotels, service centers, warehouses, – no matter what you think of…. is a property can surely benefit from a roof replacement with new metal roof panels.
Unfortunately, many people try to avoid metal roofing. The main reason is the higher cost of materials. Plus, large sheets of metal roofing panels are not easy to install, even if you're a frequent DIYer and know your way around tools. You'll need a professional, without a doubt. However, if you are a contractor looking for metal roofing supply, we have our own roll-formed truck, that we can provide to you on premise for the installation.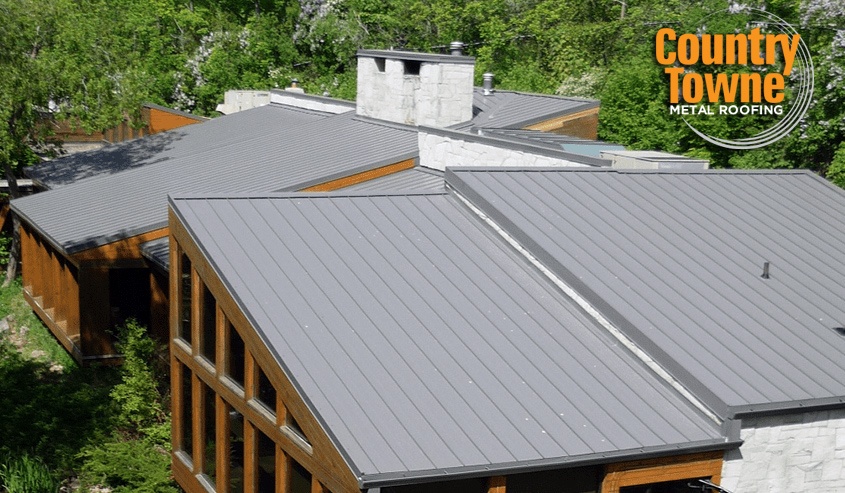 But the advantages of metal roofing clearly beat the short list of disadvantages. Here's a list of reasons why you should replace the current roof of your property with a commercial metal roof.
Protection Against Weather Conditions
Every Canadian property, including commercial ones, needs protection from the extreme weather conditions in different parts of this country. This includes the Chatham-Kent region. As you know, this area is no stranger to humidity, rigidity, rainfall, snowfall, or storms.
But a metal roofing system is more than tough. It won't bend under the weight of snow, nor will it allow moisture to seep in. Plus, it acts like an insulator and keeps extreme temperature changes from affecting the temperature indoors. Let's not forget that even strong winds can't upturn these panels.
Safety from Fire Hazard
Fire safety is one of the most crucial factors you need to consider when it comes to a commercial building. While you should follow the Ontario Fire Code to ensure complete safety, metal roofing is an excellent way to add another layer of protection.
Metal roofing panels are non-combustible, which means they are resistant to fire. So your roof will be safe whether there is a fire breakout or a lightning strike. This makes metal panels ideal for the security of the people working in the building, as well as guests.
Aesthetic Appeal
Everyone wants their shops, offices, cafes, or even storehouses and other commercial buildings to look great, right? Fortunately, metal roofing can give you various options to make your property look stylish. You can choose from a wide variety of designs, colours, and textures.
Thus, you can pick the right metal roofing to match the nature of your property, the kind of business being carried out, your location, and your own choice and sense of aesthetics. They are so trendy they boost the property's curb appeal and resale value!
Great for the Structure
When you have a commercial property, it already has to handle a large number of people and activities – every single day! So, it doesn't need a roof that puts an additional load on it. That's where metal roofing can be an excellent choice – because of its lightness.
Unlike popular belief, metal roofing materials are lighter than most other roofing materials like asphalt or concrete tiles, even though the actual weight will depend on the gauge and profile of the panels. Thus, they don't affect the structure's integrity.
Eco-Friendly Choice
A great advantage of metal roofs is that they're recyclable and hence, environmentally friendly. That's because most metal roofing panels are made using recycled materials. Plus, it can be recycled again after completing its life of serving as your property's roof.
Every modern business wants to earn money responsibly now. And setting up shop in an eco-friendly property can be ideal. Whether you run your own business in your commercial premises or rent it out to other businesses, a metal roof is a sensible choice.
Cost- Effective
Unlike what most people believe, having a metal roof for a commercial property is cost-effective in the long run. Even though the upfront cost is more, it will save you a lot of additional expenses. Here's how –
Energy Efficient
Metal panels act like protective layers that lock out extreme heat or cold and stop them from affecting the internal temperature. Thus, you'll need fewer heating and cooling solutions and spend less on energy bills.
Frequent Replacement Not Required
Metal roofs can last for about 40-70 years. With that kind of lifespan, you don't have to worry about getting roof replacements frequently. In fact, you'll likely need only one metal roof installation in your life.
Low-Cost Maintenance
A metal roof is not only long-lasting but also durable. So it's not that you have to keep spending frequently on repairs throughout its life. Basic annual maintenance to ensure the paint is intact can extend its life.
Contact Country Towne for the Best Metal Roofing Solutions in Chatham
Our professional roofers have sufficient knowledge and experience in the roofing industry to ensure that the result is durable and long-lasting. We know how to complete the installation process to prevent roof leaks and unnecessary roof repairs.
Our access to the latest technology and high-quality metal roofing products and equipment lets us provide tailored solutions. We can take care of the roofing needs of commercial, residential, and agricultural properties.

We can also help you install metal wall panels for increased protection, longevity, cost-cutting, and reduced carbon footprint. So get in touch with us today for the best metal roofing services for your commercial building in Chatham.