Commercial Metal Roofing Prices
Lasting Durability and Strength
One of the most popular roofing materials on today's market is commercial metal roofing. This type of roofing is available in various metal panels and has advanced rapidly over the past few years in both durability and strength.
Commercial establishments have found steel roofing is not only long lasting but has reasonable steel roofing prices. At Country Towne, we are prepared to offer businesses in the areas of Chatham, Blenheim, Ridgetown, Sarnia, London and Tilbury the very best in this type of commercial metal roofing and other steel roofing options.
Advantages of Commercial Metal Roofs
There are many advantages to a commercial metal roof . These roofs last fifty or more years and require very little maintenance, all backed by a Lifetime Warranty. Compared with asphalt shingles, which last 15-20 years, it is the ideal choice for any builder looking to build strength into their concepts and designs.
In addition, metal roofing systems are resistant to shrinking, eroding and cracking. These systems are also able to withstand extreme weather conditions ranging from heavy winter snow loads to the excess heat of summer.
When a person is engaged in a commercial construction every type of savings helps. While metal roofs are more expensive in the beginning, they more than pay for themselves in the long run.
With the wide variety of styles available, it is possible for a business to choose the type of roofing that will best represent their business. For example, a Mexican restaurant might want a Spanish tile metal roof, while a hotel might prefer a shake facsimile or standing seam shingles. Some company's even make a metal roof "look" part of their brand, Pizza Hut for instance will always have a red steel roof.
Metal Roofing Materials
At Country Towne, we are proud to present commercial roofing by Atlas International. This particular brand has proven itself far and beyond what one would ordinarily expect with an ordinary metal commercial roof.
Commercial roofing materials include standing seam metal, corrugated galvanized steel, stainless steel, steel coated with aluminum, silicon and zinc mixture, copper, aluminum, painted or stone-coated metal sheets. The silicon-zinc mixture and copper are the least popular due to their high price.
Commercial Metal Roofing Prices
Commercial roofing prices vary according to brand and type. Popular commercial roof styles include shingle, tile, standing seam, batten seam, a fastened panel or curved series. The following installed metal styles and commercial metal roofing prices are available:
SHINGLE STYLES INCLUDE:
Wood style shake and Bermuda-style shake facsimiles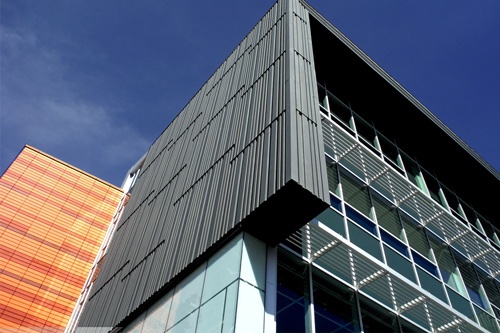 Installed prices run between $7 and $9 per square foot. (Estimated Prices Only, These can change at any time.)
TILE STYLES INCLUDE: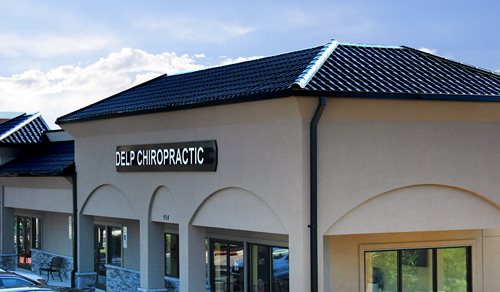 Installed prices run between $8 to $9 per square foot. (Estimated Prices Only, These can change at any time.)
STANDING SEAM ROOF SYSTEM HAS FOUR TYPES:
One-piece snap-lock interlock
Two-piece snap-lock interlock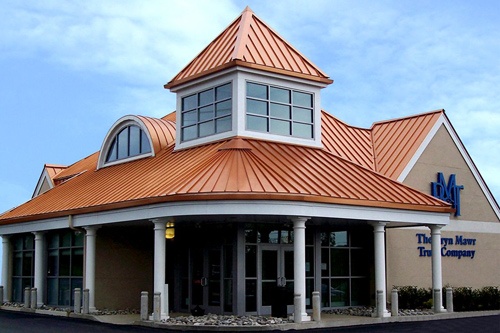 Installed prices run from $7 to $13 per square foot. (Estimated Prices Only, These can change at any time.)
CORRUGATED STEEL PANELS ARE AVAILABLE IN: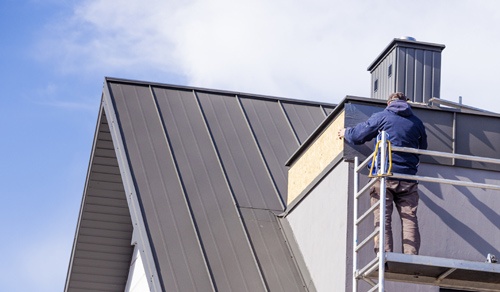 Installed prices run between $7 to $13 per square foot. (Estimated Prices Only, These can change at any time.)
Rib Steel Panels
Rib steel panels come in a wide variety of weights and shapes. They are suitable for both roofing and/or siding and present a beautiful display of continuity in color and design. Prices vary according to type with each offering a variety of conveniences such as energy efficiency, durability and affordable cost.
They offer:
3/4" trapezoidal ribs on 9" centers
Can be applied over a solid substrate or open framing
Is composed of high-quality steel with layers of coatings and baked-on paint
Has standard gauges of 29ga and 26ga
Painted or Acrylic Coating available
Painted panels have a 40-year warranty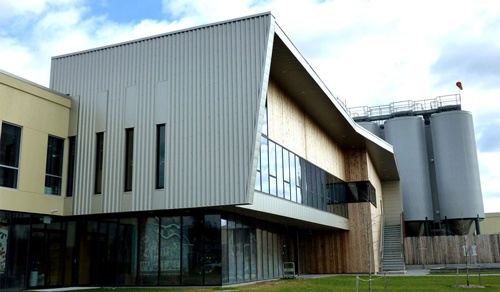 Rib steel panels are readily available at our location and we will be happy to assist in helping you make a selection that will best fit your particular situation. Cost of panels and installation vary depending on the panels selected.

You can reach us by telephone at 888-674-6570 where one of our metal roofing experts will be happy to provide further information regarding the excellent roofing and panels we have available.