What you need to Know before buying a New Metal Roof
Metal Roofing Canada is undeniably a hot topic when reviewing your roofing options. Metal roofs are gradually becoming a favorite among Canadian homeowners, thanks to their numerous benefits. It has also proven to come in handy on commercial properties if installed with qualified experts. Over the years, we have seen clients getting skeptical about metal roofs while some still have some unanswered questions about them. It's okay to have a few doubts and questions about metal roofing.
This blog article on Metal Roofing Canada will proceed to address all your concerns.
Step by Step…
A Variety of metal roofs
Metal roofs can be molded from zinc, steel, aluminum or copper and in most cases, spots a perfect factory finish. They take the forms of metal shingles, tiles, or standing seam shingles. The material and style of the metal roof will determine its price. For instance, hot-dip galvanized steel is relatively the cheapest among all other metal roofs. It can also be molded into shingles, panels, or tiles depending on your taste. Other varieties include galvalume steel, which is an upgrade of the galvanized steel and aluminum that cost almost the same.
Copper and zinc alternatives are generally considered to be of higher quality compared to the latter. They are your high-end choices among the metal roof list.
Durability & The Strength of Metal
Even the lowest quality among the metal roofs can last over thirty years under proper maintenance. Metal roofing Canada is known for its toughness in withstanding harsh climatic conditions, pests, mold, and other destructive elements. In most cases, they come with an average of 50 years warranty which speaks out volume about the confidence acquired in these metal roofs.
However, you may need to keep re-coating the finishing on the roof every decade or so to keep up with its aesthetic feel. Metal roofs blend ideally with two types of coatings: polyvinylidene fluoride or polyester. The former is the longest-lasting.
If you like to hit a balance between attractiveness and durability, stone and granular coatings can make steel shingles resemble asphalt tiles. Nonetheless, be warned about the coatings' fast deterioration compared to the residential metal roofing shingles like the one's discussed above.
True Nature of the Material
Weight is a significant consideration when it comes to steel roofing. Unknown to the majority of homeowners, metal roofs are one of the lightest yet most convenient of roof types. They are believed to be up to ten times lighter than conventional roofing materials such as concrete and clay. Their light-weight nature makes the installation process much easier. A lightweight roofing system also places fewer demands on a building's structural support system, an important consideration in earthquake-prone areas.
You could also install your new metal shingles over the old ones, reducing costs and environmental degradation from tearing the old one apart.
Money Matters Most?
Your steel roofing system is supposed to last you years of comfort under frequent and proper maintenance and inspection. As expected, it should cost you a significant amount for upfront expenses such as buying the metal shingles or tiles and installation costs. However, in the long run, it should save you some serious costs that you will thank yourself for.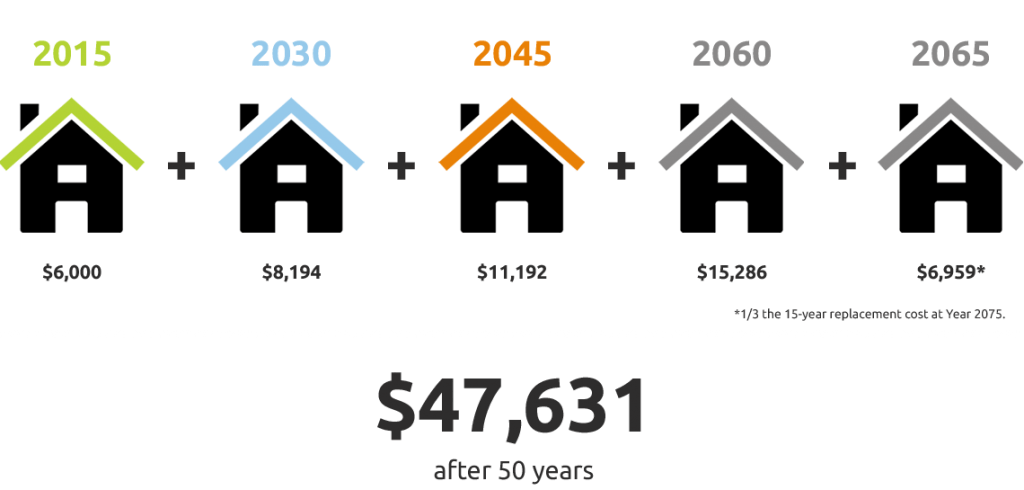 You might have to cough up anything between $200 to $500 per square feet of metal shake shingles. They are quite expensive compared to some roofing materials such as the asphalt shingles. So why would we continue insisting on putting your hard-earned money on metal roofs if there are cheaper alternatives? Good question.
Since they are highly durable some last up to 50 years+, you will be breaking the re-roof cycle. What do we mean?
Take the traditional shingles, for instance. Prices for the traditional shingles will double over say, ten years. If you bought them 5 years ago at $6000, you would be forced to spend even more money when you have to replace.
Ultimately you are looking at $6000 down payment into a short lived re-roofing loop, for a cheap, not particularly appealing roof solution that is NOT an eco-friendly roofing material.
The sentence made you think twice, right?
Money matters. Certainly something to think about when looking into new roofing systems. Shop for metal roofs with discounts to make your investment reasonable. We recommend it to anyone who is in their last home as that makes a lot of financial sense.
Metal Roof Installation is a Job for the Pros
We don't doubt your DIY skills, and you will probably find it easy nailing the metal shake shingles to the roof deck. Nonetheless, these shingles are light-weight in nature and can be fragile and easily cut your skin. This also means that if you do not install the shingles correctly and walk on them, they might get dented. Dents don't look good on your roof.
For this reason, you might want to plan for the job more carefully than you would with asphalt shingles. You might need additional safety equipment or better yet just call the qualified metal roof contractors in Chatham-Kent.
Why should you go for metal roofs?
You will probably weigh out the cons and pros of various types of roofing material. With all the facts stated above, you can find several reasons to choose the metal roofs:
They are long-lasting with a life span of more than 50 years.
They require little maintenance.
Although light-weight, they are effective in withstanding heavy storms and winds.
Metal roofs are fire-proof.
They are energy efficient.
If you want steep roofs, metal roofs are your best bet
They blend in properly with a variety of finishes, giving you the ability to change your roof's aesthetic touch without tampering with the structure of the roof.
The ultimate roofing solution for your Home
It's no doubt that every roofing structure has something to offer. However, metal roofing Canada has a lot to offer and gives you more value for your money.

We are not only the experts in the metal roofing business offering the best steel products, but we are also a manufacture to help reach your highest expectations. Try us today!