Today, property owners in Dresden, Ontario have begun discovering the benefits of stylish metal roofing. Contact Country Towne Metal Roofing for expert knowledge & assistance in selecting a stunning new metal roof. We carry excellent quality metal roofing products, including Premashake ATAS metal shake shingles. You'll love the beautiful appearance of your home or business after the installation of an attractive new metal roof!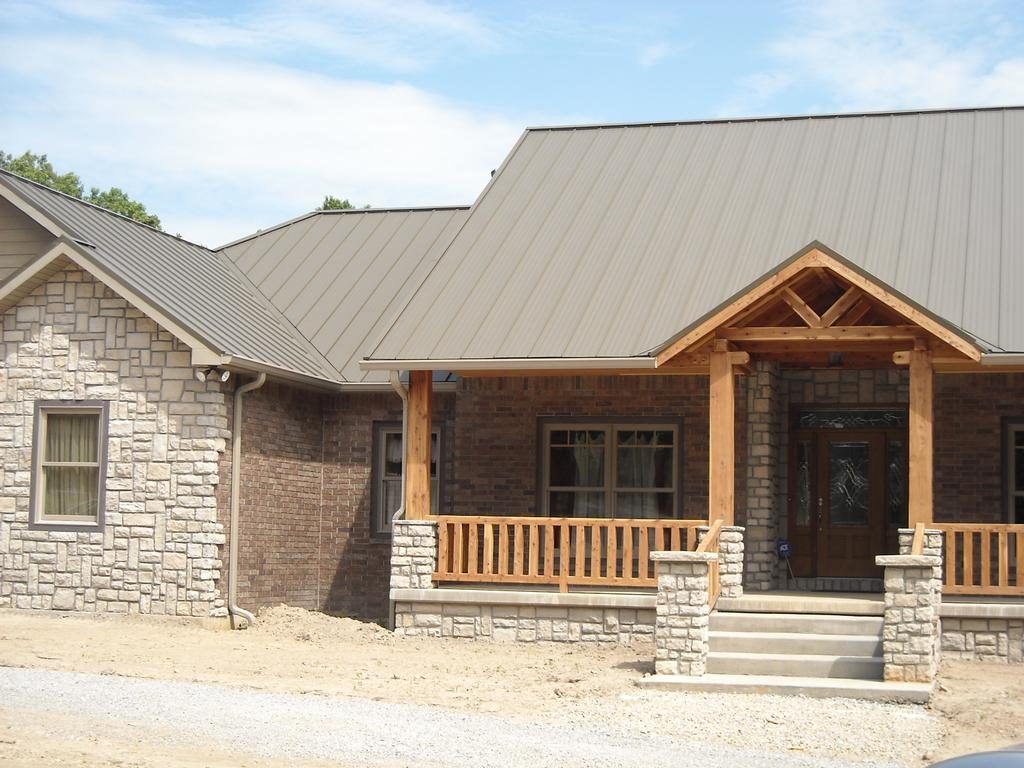 Discover The Advantages of Metal Roofs
This region of Canada sometimes experiences bitterly cold winter weather. Metal roofing products offer a number of important advantages in Dresden Ontario. Just consider a few of the reasons why this type of roofing system has grown in popularity here during recent years:
Metal Roofing Dresden Ontario:
Durability:
Manufacturers create steel roofs and other metal building products to withstand specified environmental conditions. In most cases, these roofing systems last considerably longer than asphalt tile roofs. Some steel roofs endure for 50 years.(1)
Cost-Effective:
While steel roofs typically cost a bit more than some other types of roofing (including asphalt shingle roofs), these tough metal products actually offer pricing benefits when evaluated over the entire course of the anticipated lifespan of the roof. The extra money spent on purchasing metal products generally yields a higher return on investment due to enhanced longevity and durability. (1) Additionally, you may enjoy cost savings during installation. Steel roofing products often require a smaller installation team due to their lighter weight.
Lovely Appearance:
The lovely appearance of a new steel roof offers eye-catching charm. Manufacturers produce metal tiles (including Premashake ATAS metal shake shingles) in a variety of attractive, popular colors, shades, shapes, and styles. They infuse metal shingles with specific colors at the fabrication level. This means customers don't need to paint these roof unless they choose to do so. When you select one of our elegant steel roofing systems, expect your roof to retain its attractive "like-new" appearance for decades!
Fire Resistance:
While the fire-resistance properties of steel roofing systems vary from one product to another, in general, this type of roofing offers superior resistance to fires. Customers frequently search for "metal roofing Dresden" for this reason. During the spread of forest fires, strong winds sometimes carry burning embers onto rooftops. Fires may develop on the roof and in the eaves and then spread rapidly to other parts of a building. You'll gain peace of mind as a property owner knowing your metal roof won't ignite in the absence of extremely high temperatures.
Termite Resistance:
Metal shingles also offer better protection for roofs against termites than most other materials. Three species of termites thrive in Canada (Zootermopsis angusticollis, Reticulitermes hesperus, and Reticulitermes flavipes). (2) All of these insects gnaw through wood voraciously. Their activity often occurs out of sight, so extensive damage may occur before a property owner realizes a termite infestation has occurred.
Noise Reduction:
Steel roofing systems usually help block exterior sounds more effectively than asphalt shingle roofs. They may contribute to quieter, more pleasant interior conditions as a result. (3) These products contribute to a more relaxing quality of daily life in Dresden.
Explore Outstanding Steel Roofing Systems
Have you considered installing a new metal roof? Or do you need to replace an old aging asphalt roof with a new, modern one? You owe it to yourself to learn more about all these metal roofing benefits offered by steel roofing products. We carry industrial grade metal roofing products at attractive prices. Call today to discuss your roofing needs with us soon. Customers appreciate us in Dresden and Southwestern Ontario for providing solid craftsmanship and a good investment for your home in the way of a metal roofing system!
Contact Luke Martin @ Country Towne!
We welcome the opportunity to help you choose an attractive new metal roof for your Dresden home or business. Don't search for "metal roofing Dresden" without checking with us first! We carry excellent building supplies, including high-quality steel roofing merchandise. Visit our retail outlet soon, or contact us online at https://www.countrytowne.ca/ to request personal assistance. You may also call us at 888-674-6570. We look forward to speaking with you!

Sources:
1. https://www.angieslist.com/articles/benefits-metal-roofing.htm
2. https://www.thecanadianencyclopedia.ca/en/article/termite
3. https://www.angieslist.com/articles/metal-roofing-facts-and-myths.htm