If you are a contractor or builder in Ontario that needs quality metal building materials. Look no further than our Metal Roofing Outlet right here in Chatham. It is easy for me to understand why there is some confusion about the benefits of installing a metal roof. I like to think we provide all the information a contractor could need to give them the pros and cons of metal roofing systems.
Here at Country Towne Metal Roofing, we manufacture our own metal roofing systems and give our builders the information needed to understand why a metal roof is the best option. Not only does a metal roof provide a comfortable indoor environment year-round, but the ability to recycle metal materials makes this roofing an Eco-friendly option we love.
A Long Life of Durability
Homeowners are also interested in the lifespan of a steel roof when we start working with them. If a homeowner is used to installing an asphalt shingle roof every 10 to 12 years, they are shocked to discover the warranty offered with a metal roofing system.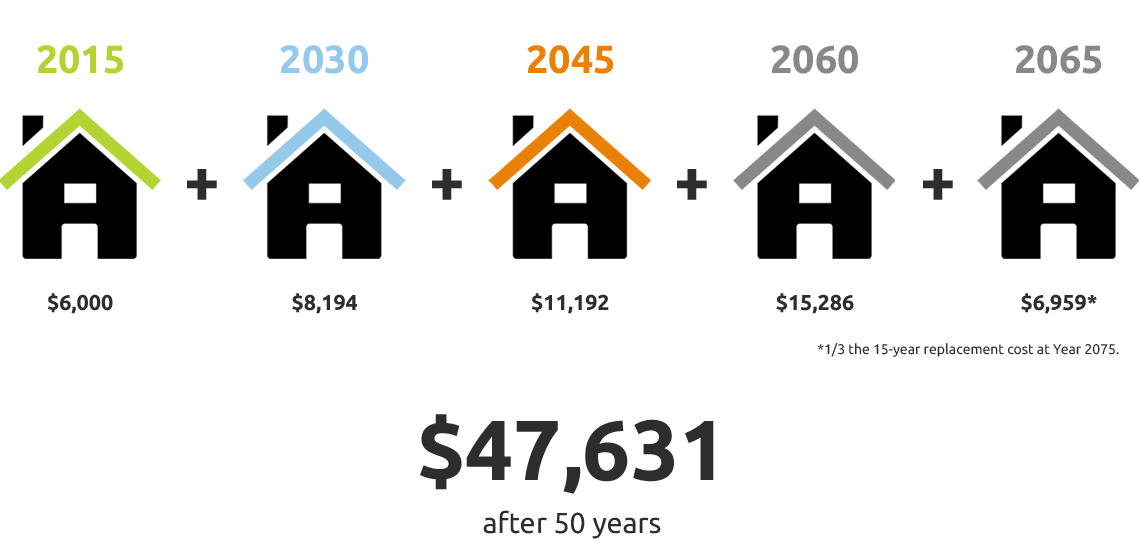 Warranties are available from manufacturers lasting an average of between 30 and 50 years, with some lasting up to 70 years. If you consider the average asphalt shingle roof has a lifespan of 11 years, a well-cared-for metal roof can last a lifetime at a property. I have heard from many homeowners about the security they feel when not having to worry about installing a new roof every 10 to 12 years when the integrity of asphalt shingles begins to breakdown.
A Lightweight Roofing Material
One of the most impressive benefits of metal roofing in Ontario is the lightweight nature of the materials, which can make it easier for installation to take place. When I compare the weight of asphalt and concrete shingles to metal sheets, the sturdy metal sheets win every time.
An asphalt roof weighs around 750 pounds per 100 square feet, compared to an average of 150 pounds for the same area of metal sheets. The pressure of an asphalt shingle roof on a structure is reduced by a fifth when a metal roof is installed by my experienced team.
Evolving Metal Shingle Styles
Whether you are looking for cheap metal roofing sheets or a more expensive metal shake shingles system, we have a range of options for you to choose between. Metal shingles change the way a roof looks and fit into any style you may desire. The classic style of metal materials are still available, along with the new style that can provide the benefits of metal with a different style.
An Energy-Efficient Choice
A problem area I have seen in most homes in the Chatham-Kent Ontario area is the transference of heat through attic spaces and roofing systems. One of the main benefits of sheet metal roofing is its ability to reflect heat and limit the transfer of air from in to out. The transfer of energy can be a problem in the warm months of the summer when temperatures rise. The transfer of radiant heat from the sun into a home can be high in the summer months in homes with concrete and asphalt shingles.
When you choose steel roofing Ontario, you will feel the difference in the reflective nature of the materials from our metal roofing manufacturers in Ontario. Reflecting the heat of the sun in the summer limits the cost of cooling your home throughout the warmer months.
Even though we are a metal roofing outlet in Ontario, I am always happy to explain the benefits of Wakefield Bridge steel shingles when discussing the UV properties of the material. In the cooler months of the year, metal shake shingles are installed with insulating foam beneath them with a high R-value to keep heated air in a property. Another option is to leave a space between the roof provided by our metal roofing suppliers and insulating materials that helps to keep a property heated.
Protection from Ice and Snow
We all know the winters in Ontario can be tough, with snow and ice sitting on a roof for days and weeks before it melts. A metal roof can be installed with a high pitch that makes it difficult for snow and ice to accumulate. Any metal roofing outlet can tell you that metal is a slippery texture that snow and ice can't stick to, along with the light colors of these materials makes it easier for the snow to melt quickly.
Do Metal Shingles Cost More Than Asphalt?
Asphalt shingles are a cheap option but have a limited lifespan of between 10 and 12 years. The initial purchase and installation costs of metal roofing in Ontario can be higher than asphalt. However, when you do take into account the lifespan of a metal roof you are many years ahead of your neighbors.
The lifespan of a metal roof can be numbered in the decades when they are cared for and maintained correctly, meaning there is no reason to install a roof in the future. Most metal shingles have a 30-year paint warranty that ensures the color and style chosen stays in place for decades to come. This metal roof works well for both residential and commercial properties alike.

A new metal roof offers numerous benefits for you and makes it easy for you to enjoy your home with confidence in the roof you have installed.