It is unsurprising that metal roofing has witnessed a massive increase in popularity in the last few years. Not only is it the most environmentally friendly roofing material, but it can also reduce a household's energy bills while outlasting every other available type of roofing.
For both residential homes and commercial buildings, the benefits of metal roofing cannot be understated. Read on to discover the most popular metal roofing trends of 2023 and learn how you can incorporate them into the design of your property.
Dark, Attention Grabbing Roofs
Homeowners across Canada are choosing metals in deep shades, from charcoal grey to midnight blues, to add a dramatic flare to their home's exterior. These darker tones create a sleek and modern appearance that plays into current curb appeal trends and can increase the desirability of a property.
This color choice does not negate the cooling advantages found with other styles of metal roofing. While a darker color will absorb more warmth, the metal will still reflect heat away from your house, keeping it cooler during the summer months and saving you considerable money on your energy costs.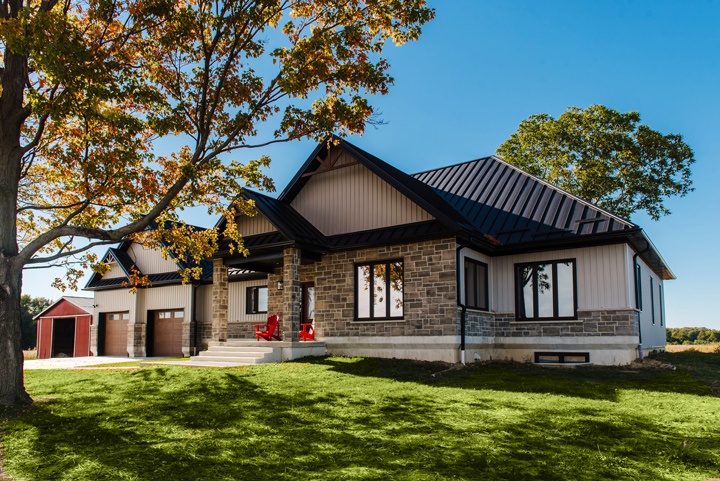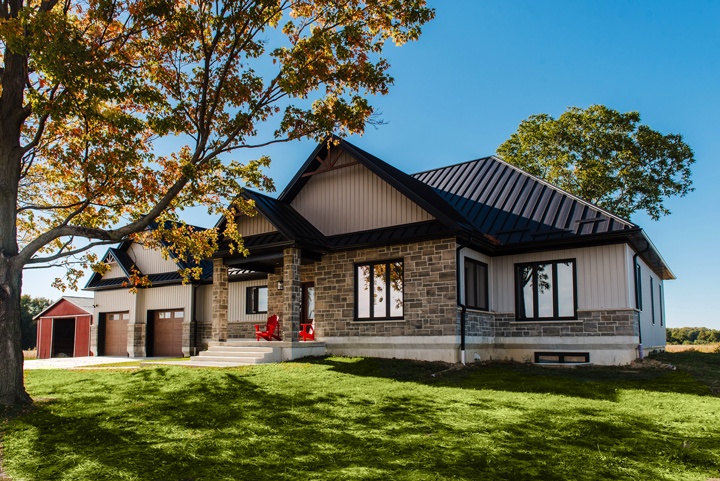 Specialized performance coatings can also be applied to darker roofs to reduce the levels of heat they absorb. There is no need to sacrifice style for functionality when choosing a metal roof.
This modern design choice will protect your home from severe weather conditions and fire damage whilst significantly increasing its value. There's nothing to lose with this bold architectural choice.
Eco-Friendly Sustainable Roofs
Metal roofing is a great alternative for those looking to be more Eco-friendly option for their roofing material. Metal roofing, including things such as steel shingles, is one of the most sustainable roofing options available and offers a greener alternative to traditional asphalt roofing.
Metal roofing can be recycled after its lifetime has seen it's end, making it a smart option for those looking to reduce their environmental impact. In addition, metal roofing is highly durable and can last for decades without ever needing to be replaced, or even repaired.
They are also considered Eco-friendly due to their energy saving ability, as most metal roofing products come with a UV Protection layer that can reflect the Sun and heat rays. Knyar 500 is a PVDF resin-based metal coating, to help protect your shingles from fading, but more importantly can help keep your house cool in the summer, and reduce your energy bills by up to 30-40%.
Mixing Metals ~ Modern Contemporary Homes
Another common architectural trend is pairing several different colors and styles of metal cladding products. This combines energy efficiency with an exciting and bold aesthetic choice.
Selecting a different color or style can highlight and draw attention to a specific feature of your home, such as the porch roof or the garage. By creating contrast, you can add layers of depth to the exterior of your home and set it apart from other properties in the neighborhood.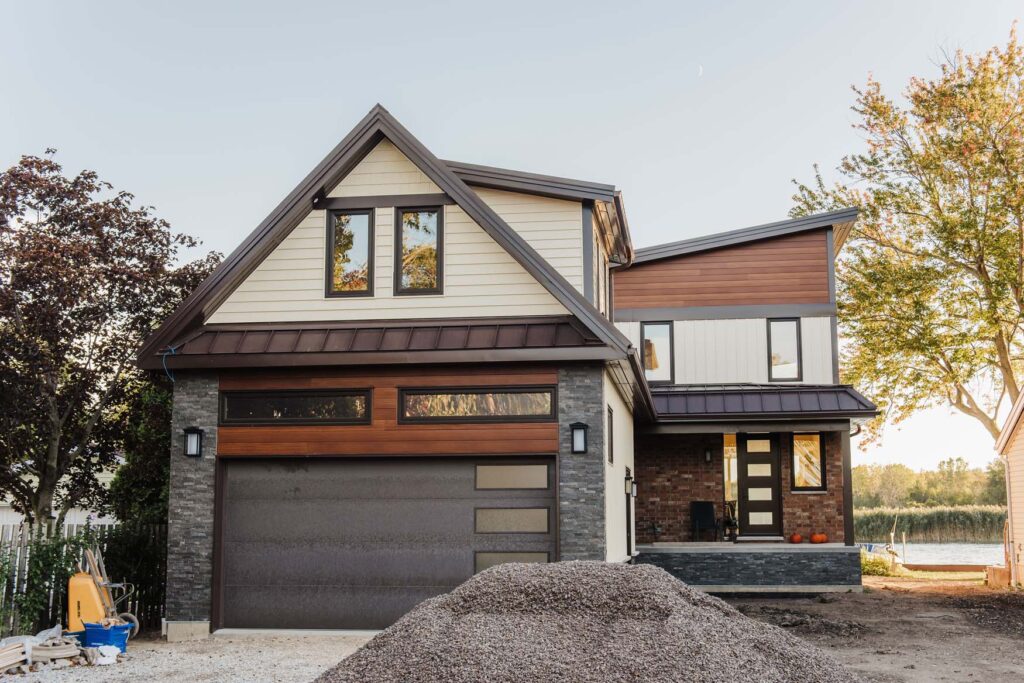 Furthermore, this approach of mixing and matching can be more cost-effective. While metals like copper create a striking aesthetic, they come at a significant price. By using more expensive alloys as an accent in combination with cheaper metals, you can create a dynamic aesthetic for a fraction of the price.
Solar Panels
Solar panels are becoming an increasingly popular choice among homeowners because of their energy efficiency and environmental benefits. They provide homes with renewable energy and can significantly increase both the curb appeal and overall value of the property.
Unlike clay or ceramic tiles, attaching solar panels to metal roofing is a simple process. This reduces the labor costs of installing solar panels, which combined with the expectation of energy savings, makes them a cost-effective choice if you already have a metal roof.
The days of bulky roof-mounted solar panels are in the past as new, innovative techniques are being developed to seamlessly blend solar panels with various roofing materials. With solar shingles and slimmer panels becoming more popular, you do not have to forsake style to go green.
Anodized Aluminum
Anodized aluminum metal roofs are also becoming more popular. These roofs give homes a beautiful finish whilst also being exceptionally durable and resistant to the elements.
The aluminum is anodized when it is submerged in an acid electrolyte bath that then has an electrical current passed through it. This creates a finish that is fully integrated into the alloy and subsequently, unlike paint, will not chip or peel. This process is environmentally friendly and serves to extend the lifespan of aluminum. After being anodized, aluminum becomes more durable and resistant to corrosion.
Final Thoughts
As 2023 gets started, the roofing industry has seen a significant rise in the popularity of metal roofing as it is featured more and more in curb appeal style trends. Whether you choose to create a green roof or to use mixed materials to make your metal rooftops stand out, the possibilities are endless.


If you are interested in incorporating one of these trends into the design of your property or would like further information about metal roofing in general, contact the specialists at Country Towne Metal Roofing. As experts in the field, Country Towne Metal Roofing can help you with a wide range of metal roofing concerns, from the perfect material for your house and budget, to how to effectively combine different metals on your roof.