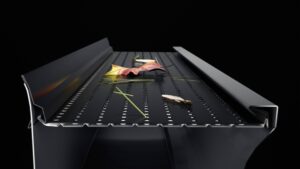 5″ & 6″ Eavestrough

Our services include seamless eaves trough in both 5 & 6 inch. These eaves troughs are roll formed on site reducing dirt, kinks, and unnecessary transportation handling.
We offer both material only as well as install packages.
Seamless eaves troughs are superior to sectioned eaves trough by having a drastically reduced lumber of seams. The only seams you will find are at the corners. There are no seams in between them. Compare this with sectioned eaves trough that have a seam every 10 ft. and its not hard to see why they are better.
We supply all the accessories that go along with eaves trough including sealants, screws, elbows, down pipes leaf guards and an incredibly strong continuous hanger that will keep your gutter straight and strong for years.
Available in over 40 colors including steel and aluminum however not all colors are available in 6-inch.
Our 6-inch steel gutter is recommended for commercial and agricultural installations where longer length and expansion is a factor
Seamless Length
Shorter then 50 ft recommended due to buckling
under thermal expansion. Steel expands less.
Eavestrough Width
5 inch & 6 inch
Gauge
.025" Aluminum Standard for 5" eaves trough
.032" aluminum standard for 6" eaves trough
28ga Steel available for both 5" & 6" eaves trough
Eavestrough Depth
3.5" for five-inch eaves trough
5" for six-inch eaves trough
Fastener
Clips with screws
Continuous hangers with rubber washer screws
Application
Rain collection
Rainwater management
There are no images.