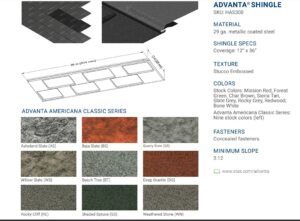 Advanta Shingle

An exceptional alternative to conventional asphalt shingles manufactured by one of the most trusted and established companies in the industry.
Advanta metal shingles are sleek, interlocking, hidden fastening, and available in 8 standard colors as well as 9 premium colors.
These shingles are fastened through pre-punched fastening points and then cover by the next shingle. Their light weight makes them suitable for applications on existing roofs without the need for tearing off the old asphalt shingles. A 4-way interlocking design ensures water tightness in even the most extreme weather events.
Advanta metal shingles can also be installed on walls making them an attractive option on mansard roofs.
ApplicationSiding
Roofing
Panel Exposure
36" x 12"
Panels Per 100sq/ft
34
Panel Gauge
29 Ga metallic coated steel
Fastener
Screw direct to hidden Fastener flange
Panel Testing Ratings
Uplift: UL 580
Uplift: UL 1897
Fire Resistance: UL 790/ASTM E 108
Class A & B Fire Rating
Impact Resistance: UL 2218, Class 4
Penetration (Foot Traffic): ICBO ES AC07,
Par. 4.2
ICC-ES ESR-2257
Florida Product Approval: FL2905
Galvanized Steel: ASTM A 653
Copper: ASTM B 370
Coil Coating: ASTM A 755
Accelerated Weathering:
ASTM D 822 and ASTM G 155,
ASTM G 151 or ASTM G 153
Recommended
Slope
3:12 +
CAD Drawing
Link to CAD Drawing