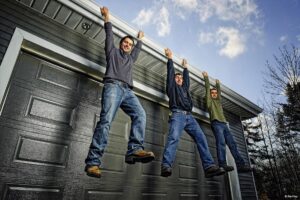 Alu-Rex Continuous Hanger

Country Towne is happy to use and supply the Alu-Rex continuous hanger that is also a leaf guard. This system not only increases the strength of your Eaves Trough dramatically, but it also keeps leaves and debris out.
A continuous hanger has many advantages besides just adding incredible strength. This system helps to keep your trough straight while under stresses from thermal expansion. No unsightly buckling from the sun on longer runs.
DoublePro® Microfiltration Continuous Hanger
Take advantage of the most advanced technology on the gutter market with the DoublePro®. The microfiltration Continuous Hanger™ strikes an ideal balance, offering maximum drainage and debris filtration. The DoublePro® only lets through what should be carried off by the gutter system: fine dust particles, pollen, and (of course) rainwater. As an added bonus, it provides extra support because it runs the entire length of the gutter.
T-Rex® Continous Hanger
Our most popular gutter model by far is the T-Rex®, which can be installed on residential properties and commercial buildings. Perforated aluminum runs the length of the eavestrough, providing continuous protection and keeping it straight and free of debris.
Download the brochures or watch the videos to see how it works.