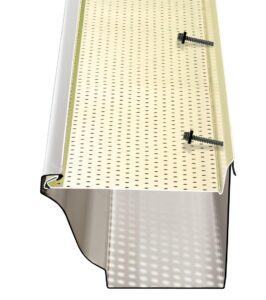 Alu-Rex Continuous Hanger

Country Towne is happy to use and supply the Alu-Rex continuous hanger that is also a leaf guard. This system not only increases the strength of your Eaves Trough dramatically, but it also keeps leaves and debris out.
A continuous hanger has many advantages besides just adding incredible strength. This system helps to keep your trough straight while under stresses from thermal expansion. No unsightly buckling from the sun on longer runs.
No worries about a pile of snow tearing your gutter off on the way down either. We highly recommend installing the Alu-rex continuous hanger on any home for the strength alone, and it also keeps your gutters clean.
The leaf guard aspect of this hanger is a valuable bonus. They are safer as they reduce the need to climb ladders during the unclogging process. Leaves never enter the eaves trough. Water does.
Download the brochures or watch the videos to see how it works.
There are no images.
There are no images.