Contractor Installed Metal Roofing

A metal roofing project is a modern advanced roofing method. It is perfect both for residential and commercial installations. It is a reliable, and durable roofing option for any property as it lasts a long time with maintenance.
As a contractor you determines the success or failure of a project. Country Towne adds value to to your work by providing roll on-site metal panels, and full roofing system. There are many benefits to working with County Towne as your metal roofing or siding material supplier.
Competitive prices on Standing seam metal roofing and it's rolled on site when you're ready.
Accurate Pricing, and financing available.
Use our online Bendex portal and get up to date pricing anytime
Save time by hiring us to do the install – ask about our rates and financing
let us get the measurements and material list ( call us to learn more)
Quotes are based off your material list
Most lead times are less a week
Custom trims available in a day or less
26ga steel flat stock is in stock and ready to ship / pick up
Rolled On Site.
The ability to cut costs on residential and commercial roofing projects is one of the most notable benefits of Country Towne's new roofing panel supply option. Choosing seamless panels rolled on-site means:
Access to direct cost savings
Improved flexibility for renovation projects
Simplified loading and unloading
"This option provides manufacturer direct cost savings to homeowners and commercial construction builders," says a spokesperson from Country Towne.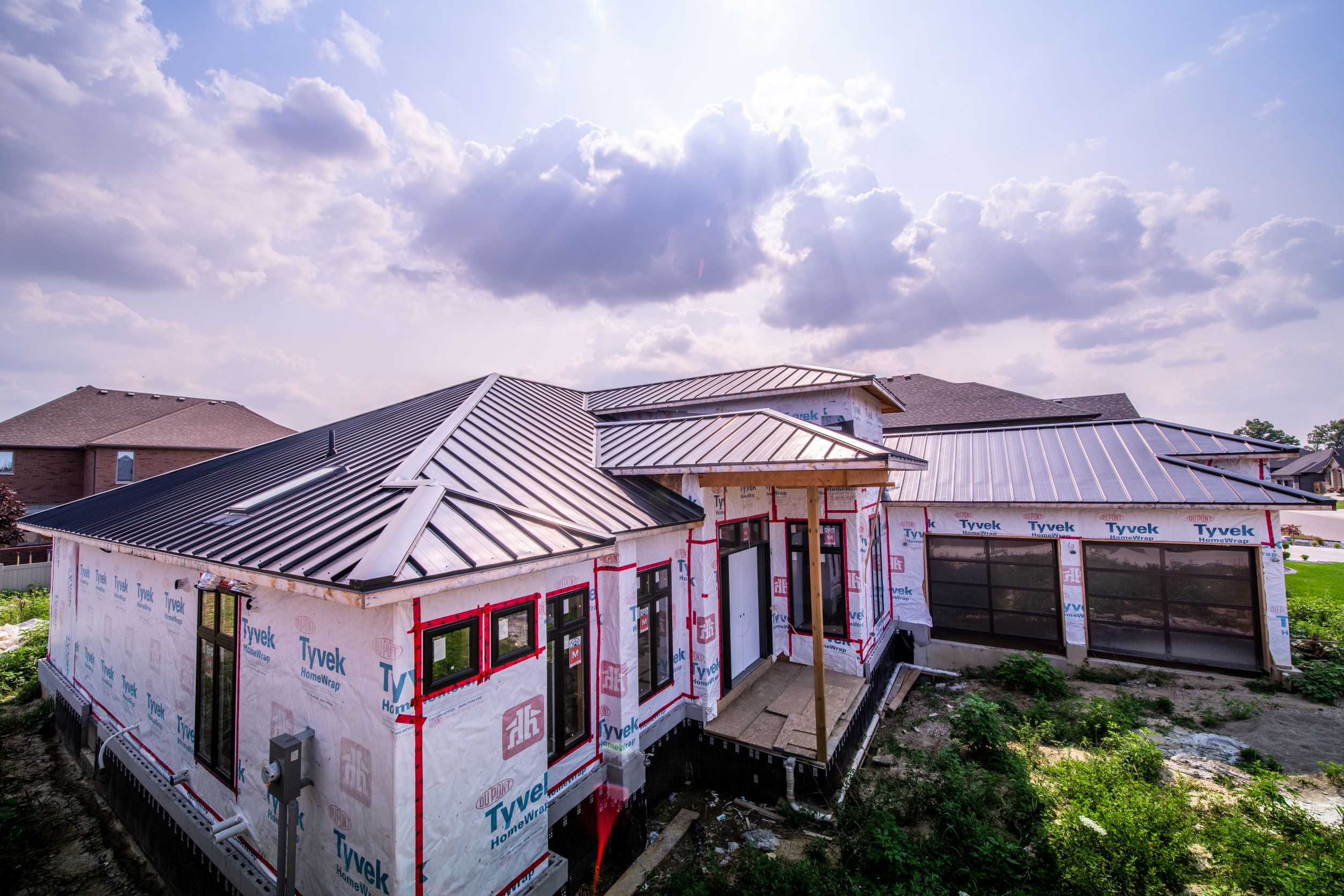 Country Towne has been a top choice for many contractors and customers for metal building products in Chatham-Kent, Ontario. Now, with rolled on-site roofing options, customers can expect more convenience, cost savings and flexibility, says the company.
The panels are seamless from the eaves to the ridge and are roll-formed right on location. All of these panels from Country Towne eliminate the need for a lap joint regardless of their length, which ranges from 4 to 60+ feet. The Snap Lock & Standing Seam design reduces the chance of roofing failure due to pressure on your roofing seams and using hidden fasteners further prevents leaks.
Metal roofing is a durable option for residential and commercial buildings, outlasting all other materials without requiring maintenance such as repainting or special ice melting products. With new rolled on-site metal panels, customers benefit from direct cost savings for several reasons. One of the biggest areas for saving is on the packaging. Since the panels are rolled on the project site, there's no need for a shipping crate, resulting in reduced costs before installation begins.
With products made on-site, there's no need for warehouse storage expenses; instead, customers get factory direct pricing. There are also lower transportation costs because the panels don't require a flatbed truck to bring them to the project site.
These rolled on-site seamless panels also simplify the loading and unloading process for warehouse personnel or homeowners who are remodeling. Since there's no transportation of a completed roofing panel from storage to the project site, there are no transportation or unloading damages due to lift truck mishaps.
Country Towne's on-site rolled roofing aims to offer a flexible option for home and business owners. Length changes are easy to accommodate, and Country Towne Builders can schedule appointments at customers' convenience.
The new initiative is beneficial to homeowners and commercial contractors looking for ways to save money and streamline the completion of roofing projects. Roll form roofing creates less waste because panels are made to the specified length rather than cutting an existing panel to fit. This also means the process is faster.