Do it Yourself Metal Roofing
Metal roofing is a process that can be done by a professional or you can attempt it on your own. You can pull off a DIY metal roofing project, but first, you should be aware about the pros and cons of DIY. A little bit of guidance will be helpful. In this case, the our DIY service is the best way to Do-It-Yourself with your metal roof.
Metal Roofing. A General Introduction

Metal roofing is a roofing system that involves large metal tiles and pieces as the main parts for installation. Metal roofs are characterized differently from other roofs based on longevity, impermeability, and resistance. Metal roofing is best known for its resistance to the elements – rain, ice, snow and wind. Metal roofing is also more energy efficient.
Metal roofs have the ability to reflect ultraviolet and infrared rays, which automatically results in a 25 % reduction in cooling cost. Another reason why people prefer metal roofing over others is that it has the capacity to last for up to 60 years or more. It is a great investment and with proper maintenance there will be no need for you to get it repaired or reinstalled.
Tools and Materials Required for DIY Metal Roofing

For installing a metal roofing on your own, you need to have a certain set of tools for the procedure to go smoothly. Here is the tool and material list for DIY metal roofing:
Safety glasses
Gloves
Knee pads
Utility knife
Tin snips
Stapler
Roofing harness
Roof jacks
Locking sheet metal tool
Hammer
Roofing nails, and felt
Interlocking metal roofing panels
Ice and water shield
Chalk line
You may need fewer or more tools and materials as per your roof requirements.
The Benefits of Installing the Metal Roof All by Yourself
Installing metal roofing by yourself provides a number of benefits:
▪     Cost-effective
The biggest benefit of DIY metal roofing is that it is very cost-effective. You do not have to spend a huge amount on labor work or professional installation. It is the best solution for you if you are on a small budget.
▪     More control
When you install a metal roof by yourself, you can control every detail, which also allows you to choose what suits you without any kind of interference, or suggestion. You choose the materials that are most appealing to you, and you are the one in charge of the material list and time management.
▪     Easy to learn
DIY metal roofing can seem difficult, but there are many detailed videos available that provide all of the info you need to install your metal roof.
▪     More awareness
DIY metal roofing enables you to be more well-aware of the condition of your roof deck. By installing your own metal roof, you get a first hand look at your house which allows you perform maintenance on your roof.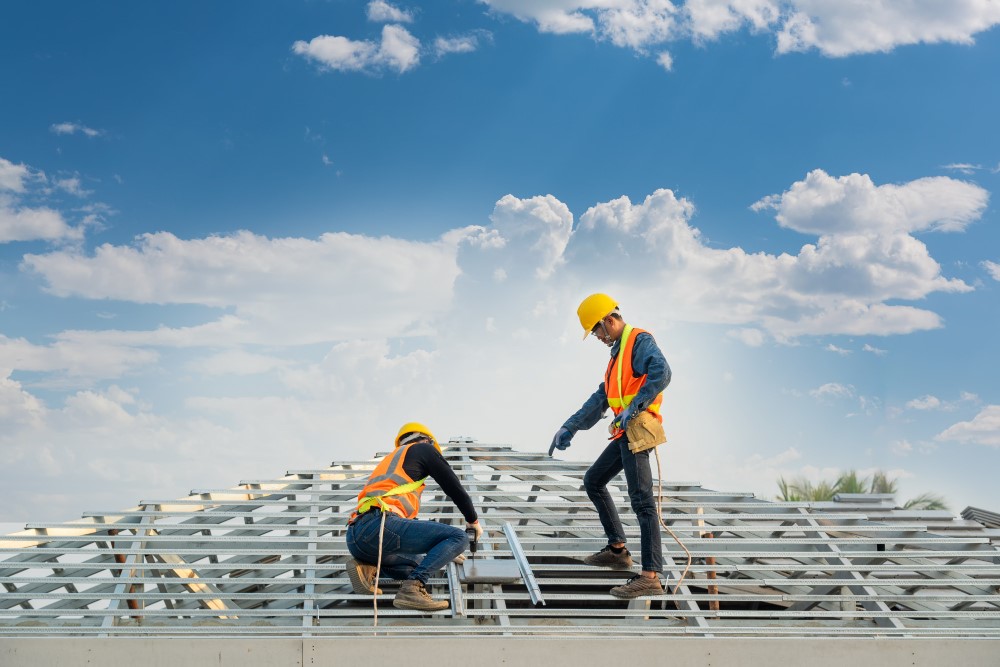 The Risk Factors for Installing your own Metal Roof

DIY metal roofing is like a coin, it has two sides – a positive and negative. There are certain risks when installing metal roofing on your own:
▪     Necessary skill
Not everyone has the knowledge, or skill to carry out a DIY metal roofing project. There is no 100 % guarantee that you will install it properly. Safety is also a consideration, not everyone has the right gear to be climbing on roofs. Make sure you know your limits.
▪     Specific tools
A non-professional does not install metal roofs everyday, which means that if you want to do-it-yourself, you first have to get all the tools and learn how to use them properly.
▪     Warranty issues
When you install a DIY metal roofing, you are not provided with any kind of warranty. This means that if the roof turns out the wrong way, or it gets damaged afterward, you have to resolve the issue by yourself. This can be frustrating and time consuming.
Country Towne Services
Country Towne can guide you through your DIY metal roofing project. We will recommend the most suitable material kit, tailored to your house requirements. We provide you with custom trims that save a lot of your time and the need for specialized tools.
In addition, we provide you with a list of tools required. Lastly, our knowledge is available to you; ask us any questions about the installation process.
DIY home projects is a trend. The best advantage of a DIY project, including metal roofing is that it is generally cheaper than professional installation. If you are on a tight budget then this is the perfect way get a metal roof at a lower cost.