Living in Southwestern Ontario's varied Canadian climate, with areas witnessing highs of 30°C in summer and lows of -30°C in winter, calls for steel roofing that can withstand various weather extremes and temperatures. More and more homeowners in Southwestern Ontario are discovering that metal roofs provide the versatility and durability required to keep their home's protected throughout all 4 seasons, but why is steel roofing so popular across the region?
Let's take a look at why Steel Roofing in SW Ontario is a great fit for your home or business:
Versatile Steel Material
Replacing your roof when it has reached the end of its lifespan is an essential aspect of home ownership, however, it is also an opportunity to update the appearance of your home. Metal roofing, in the form of both metal shingles and metal panels, has seen a rise in popularity in recent residential architectural trends.
As a material, steel is incredibly versatile. It can be produced in a range of colours tailored to match the exterior appearance of your home and sized to fit a wide variety of roof shapes, whether your home has a flat roof or steep pitches. Furthermore, for those who are interested in the aesthetic of zinc and copper roofs but find themselves intimidated by the price, paint finishes can be applied to steel roofs to mimic the patina associated with these materials.
Therefore, a metal roofing company will be able to source best steel roofing products suitable for a wide range of home designs. It is both a durable and stylish roofing choice.
Simple Maintenance
As a material, steel is exceptionally durable and resistant to the elements. While clay tiles and asphalt roofs can develop cracks and deteriorate over the years, both metal shingles and steel panels will remain intact long into the future. Investing in a metal roof will decrease the likelihood of your roof requiring repairs, and subsequently, reduce your roof's maintenance fees and the associated labour costs.
Furthermore, steel roofing in Southwestern Ontario is less likely to be damaged by extreme weather conditions. Steel is the strongest alloy on the planet which is why it is used in almost every form of construction, from private homes to bridges. As a result, steel roofing can withstand extreme weather, such as hail and heavy snow, and has a 140 miles per hour wind rating. This makes it ideal for residential steel roofing in SW Ontario.
We install steel roofing and service all of these Southwestern Cities:
Brantford
Chatham-Kent
Kitchener
London
Lucan
Paris
St. Marys
Sarnia
Stratford
Windsor -Essex County
While it is still advised that homeowners have their roofs inspected every couple of years, with a steel roof these assessments will focus on the wood strapping and the fasteners that attach the roof to the exterior of the property rather than the metal itself. Therefore, the durability of steel roofing can provide you with peace of mind, regardless of the weather conditions.
Energy-Efficient and Cost-Effective
The initial costs associated with metal roofing products can be intimidating, however, it is important to remember that installing a new roof is one of the most effective ways to decrease your energy bills. Also the roof will most likely never have to be replaced again.
Steel roofing will reflect sunlight away from your home, preventing your roof from absorbing the sun's heat like other roof types are prone to. During the summer months, this will have a significant impact on the cost of cooling your home. In the long term, steel roofing will save you considerable amounts of money on your utility bills and increase the energy efficiency of your home.
Durable
All roof installations come with an attached warranty, with the maximum warranty contractors can give a clay tile roof or asphalt shingles only spanning twenty years. By contrast, steel is the most durable material available for residential roofing, with metal roofing boasting a minimum lifespan of 50+ years. Therefore, while the initial cost of steel roofing installation is significant, if you are planning to stay in your home for the foreseeable future, a permanent metal roof is the ideal roof design for you. Consider the payback with long term durability of a steel roof in Southwestern Ontario.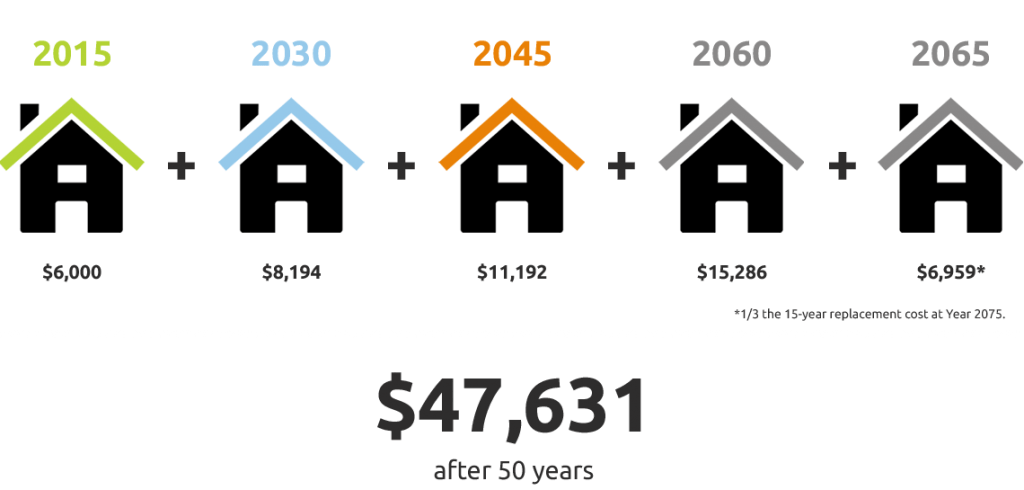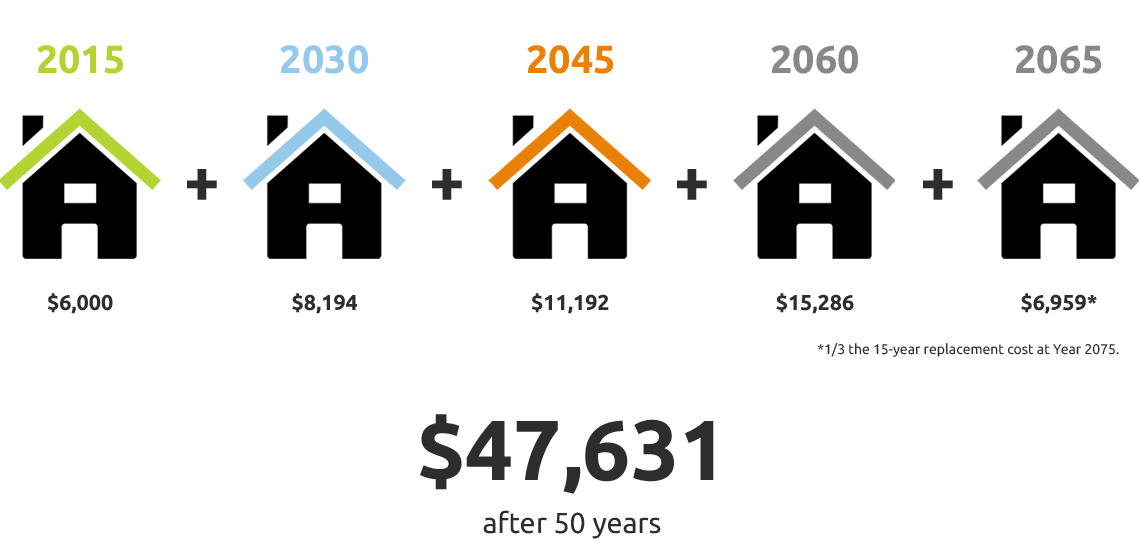 If you do plan to move house, steel roofing can significantly increase the value of your property. More people are looking for cost-effective, environmentally friendly housing options, with steel roofing providing a solution to both of these desires.
Environmentally Friendly
In addition to the environmental benefits of reducing the use of your home's cooling system, as a material, steel is incredibly environmentally friendly. Steel is hundred percent recyclable and, subsequently, is the most commonly recycled material on the planet. Most steel roofing panels already contain a percentage of recycled steel. Additionally, standing seam roofing is one of the easiest roofing materials to attach solar panels to.
This is a direct contrast to most other materials used for residential roofs. Unlike steel tiles, regular asphalt shingles typically end up in landfill when they are no longer serviceable as roofing materials. Given their reduced lifespan and susceptibility to weather damage, traditional shingle roofing results in a significant amount of waste.
Conclusion
There are both noteworthy short-term and long-term benefits to installing steel roofing. Whether you are eager to make your home more environmentally friendly or remove the necessity of roof maintenance, metal roofing is the best option. Steel roofing provides maximum protection against the weather extremes in Southern Ontario.

Contact the expert roofing contractors at Country Towne Metal Roofing to discuss the range of options available with residential metal roofs and experience their specialist, friendly service. Whether you want access to quality metal roofs or get expert roofers to install your new steel roofing in Southwestern Ontario, Country Towne Metal Roofing is the right way to go.