Say goodbye to re-roofing forever with an environmentally friendly metal roofing solution that looks absolutely beautiful. Your neighbors will comment on how great your home looks, getting rid of that old roof and installing something with real curb appeal. We often get letters here at County Towne Roofing stating how often people walk right up to the home with metal roofing and inquire where they had purchased it. Look no further! County Towne Roofing installs hundreds of metal roofing systems each year.
Recent Metal Roofing Installation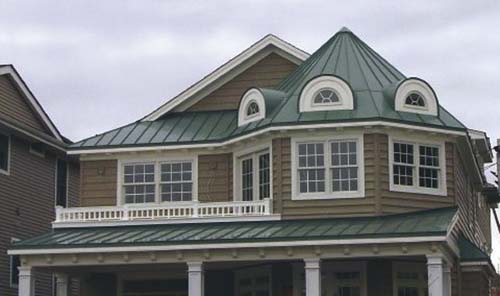 If you are living in your last home or even if you are considering selling your home in the next 10 years it makes sense to get a free metal roofing estimate and start to understand all the value metal brings to the table. If you are planning your new dream home, metal roofing is lighter than other roofing materials and will never have to be replaced. EVER! These are the longstanding benefits of choosing the right product first.
Why Install Metal Roofing Today
Non Pro-Rated Lifetime Warranty
Warranty is Transferable for up to 50 Years
Highest Hail Rating Available
Wind Resistant up to 160Kmh
Energy Star Rated Colours
Lower Energy Bills
Best Class Fire Rating
Lower Home Insurance
Durable and Beautiful
Light weight / Saves Building Costs
Authentic Look of Slate, Shake and Shingles
Many Styles to fit your Home's Decor
NEVER RE-ROOF AGAIN!