Board & batten is a style dating back over two hundred years, and the aesthetic appeal continues to be a popular choice of homeowners. Its classic appearance that formerly could only be achieved with wood. Today,  metal siding can provide the same beauty of classic wood with the strength of steel with a beautiful, low-maintenance finish.
What is Board and Batten Siding?
Originally, board & batten metal siding offered a more efficient alternative to the Country Cottage look. The wood strips, or battens, kept the structure airtight. Board & batten creates a layered facade using narrow strips (called batten) to connect wider boards. Alternating between narrow and wide creates a geometric style of paneling.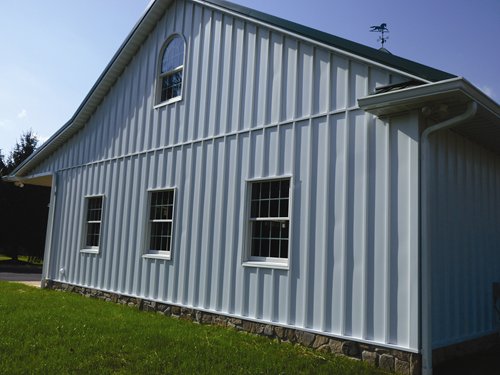 Classic board & batten made of wood, although having a beautiful appearance, has drawbacks. Issues such as termites, rotting, warping, and mildew. You can still have this style without sacrificing durability and performance. Board & batten metal panels are the best of both worlds, the heart of old-wood style with modern technology.
Benefits of Metal Board & Batten
Compared with traditional wood panels or even using batten vinyl siding, metal panels provide numerous benefits.
Low Maintenance – This is easily one of the greatest advantages of using metal panels is how little maintenance they require. The only requirement is a simple inspection to make sure everything is in great condition. Pests and insects are not a problem which alleviates the need for spraying for carpenter bees, termites, and other annoying bugs. The panels can be cleaned easily by pressure washing without absorbing the dirt or water.
Longevity and Durability – Not only is it almost entirely maintenance-free, but metal panels will also endure harsh weather and unfavorable environments for up to 50 years. This advantage contributes to the broad appeal of this siding.
Design Flexibility – While metal panels afford you with creating the traditional board & batten appearance, but also allow liberty of design versatility. Choose from an array of colours, panel widths, and textures to create your unique one-of-a-kind look. Customizing the trim is also a possibility. These great features are achieved while producing a seamless finish.
Fire Safety – Since it is non-combustible, steel siding has a lower possibility of fire compared to wood siding.
Pricing of Metal Board & Batten
Material cost and installation are the primary consideration when calculating the price. The price range varies depending on specific choices.
Material Cost Factors
Thickness or gauge of the panels. Panels are available in different gauges, for instance, if you would like the panel thicker, you can select a 22 gauge panel.
Type of material used. Board & batten panels are designed with wood, vinyl, fibre cement, and metals such as aluminium and steel.
Desired finish of panels. You have options choosing not only the colour but if you desire panels with a smooth finish or a textured finish.
Area size of finished coverage, taking more into consideration than the project's total square feet.
Project Ideas
Metal board & batten can be incorporated into a new or existing project to create a unique style. A beautiful selection for a home, commercial building, or pole barn.
Modern Rustic Style – Combining modern metal siding with a rustic log cabin provides a modern rustic style. The panels give a weathered appearance has a resemblance to a wood grain without the maintenance aspect of wood.
Simple Farmhouse Style – This look can be created using metal siding panels along with other building materials without overwhelming the overall look or architectural design. A great option for displaying your creativity.
Sleek Design – Using metal for roofing sets the stage to introduce the use of metal board & batten panels. The partnership of the two creates a sleek look for your home.
Commercial Building – The feel of grandeur can be reached using metal panels for your business. It not only provides additional curb appeal but also increases the value of your building if you were to ever sell it.
Vertical and Horizontal Design – The metal board & batten siding can be placed vertical, horizontal, or a combination of both. Your house can have an urban and expansive appearance using the combination of both. The combination also allows you to create a barn house look.
Final Words
There are seemingly endless possibilities for designing with the use of metal board & batten siding. Use it as a material to accent other building materials or create a unique architectural design utilizing it fully. You want a trusted expert that knows metal. Country Towne Builders is the expert to contact for any recommendations and materials needed for your next building project.

Whether needed for your business or your home, Country Towne Builders provides a wide variety of metal products for a roof, walls, or trim. Contact Country Towne Builders for reasonable pricing, quality materials, and superb customer service today!