If you live in the Chatham-Kent region, and are looking for professional metal roofers in Chatham, call Country Towne! The weather conditions throughout the year may bring challenges to your home, especially the roof. You may need re-roofing every decade after regular exposure to the cold, snow, rainfall, and then back to extreme heat. The best option is to contact a professional metal roofing contractor so you never have to worry about your roof again.
Why should you get a metal roof? Because it protects your home from damage due to weather, fire, and other incidents – and that too for up to 50 years! So no more worrying about repeated roof replacements.
But make sure to hire a pro roofing contractor. That's because they offer the advantage of proper tools and expertise for the best metal roofing services – which you won't have with DIY and other weekend warriors.
If you want to find out more about the advantages of metal roofs and the importance of hiring a professional metal roofer, keep reading!
Advantages of Metal Roofs
Did you know 15% of Canada's properties have steel roofing? You may wonder why that is, even when there are so many other materials available.
The reasons are as follows –
Decades of Protection without Maintenance or Roof Repair
Metal roofs are sturdy and durable, and they last for up to 50 years. That means you will likely need to install only one roof in a lifetime. Plus, they don't demand regular maintenance, making them hassle-free and cost-effective. An annual roof inspection should be sufficient to ensure it remains in top condition.
Resistant Against Fire, Wind, Rain, Hail, and More
Metal roofs provide protection against damage and harmful incidences. Your house in Chatham-Kent is prone to storms, rainfall, etc. But metal roofs are hard to get upturned, dented, or broken. Their weight capacity prevents them from getting bent under heavy snow. They are also fire-resistant.
Energy Efficient
Metal roofs maintain the temperature within the property and ward off the effects of the outside weather conditions. During humid summers, they can keep the temperature inside low. And in winter, they provide insulation and prevent the warmth from escaping. This reduces energy costs for heating or cooling.
Pest Resistant
Unlike materials like wood which can rot due to moisture or become loose to create holes, metal roofs don't allow the infestation of ants, mould, or termites. Plus, raccoons and squirrels can't chew or dig through metal to make nests. As leakage- and damage-proof roofing solutions, they prevent pests from entering your property.
Environmentally Sustainable
Metal roofing is 100% recyclable. Most metal roofing companies use recycled metal to produce roofing materials as it is a durable and non-perishable material. Metal roofing materials can be recycled and reused endlessly. This makes them an environmentally sustainable choice.
Aesthetic
In the past, property owners often used to avoid metal roof installations due to their appearance. But thankfully, modern roofing companies offer a wide range of fabulous metal roofing styles and colours. These can improve the look and feel of your property. You can choose traditional shingle styles or modern designs for metal roof replacement in Chatham.
Increased Curb Appeal and Property Resale Value
Metal roofs are permanent solutions to re-roofing, maintenance, and more. They give life-long protection against damage, fire, etc., and offer many advantages. Plus, they look amazing, improving the curb appeal of the house. All things put together, they improve your property's value – whether or not you want to sell it.
Why Hire Professional Metal Roofing Installers
If you know your way around tools and hardware, you may be tempted to take a roofing project into your own hands. But a metal roof is meant to serve you for your entire life – and it's best to involve a qualified roofing contractor for this job. Here's why….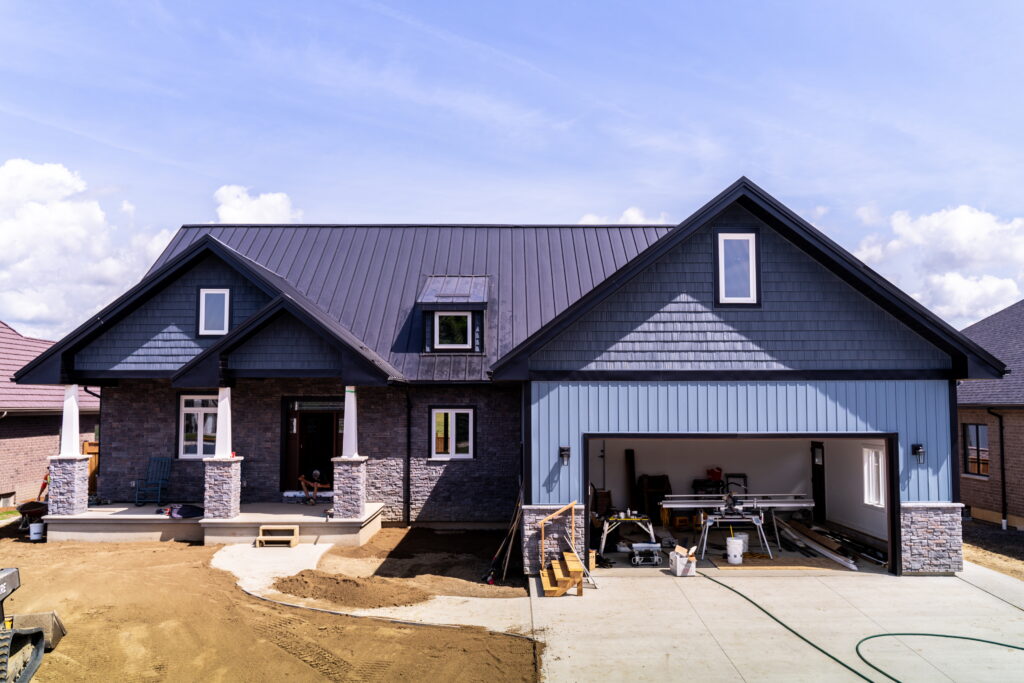 Expertise, Experience, and Attention to Details
Only a roofing expert with experience in handling multiple projects may have an understanding of certain details. These are necessary for mistake-free installations. An experienced roofing contractor can provide the following –
Wide strapping, panels, and trims for life-long security

Better material coating for protection against fading and rusting

Chimney flashing to prevent leakage

Ridge venting for proper ventilation

Customizations like skyline installation with stability and water-tightness, etc.
Safety Concern
Reaching up to the roof for construction, repair, or renovation can be dangerous, even if it's a flat roof. Climbing up the ladder while carrying heavy tools is certainly risky. You must also keep an eye out for hidden soft spots that can crumble under your feet. It's best to leave these to experts who come with safety gear and liability insurance.
Time-Efficient
Experience and practice make roofing contractors fast at doing their jobs and detecting existing problems. A lot of people start a roofing project and realize in the middle of the journey that it's too time-consuming. So it's best to leave the job to experts who can handle it quickly and efficiently.
Tools and Supplies
Professional roofing service providers are equipped with tools that will likely not be available to you at home as a DIYer. They also have sufficient gear to maintain safety and make the job of roofing installation easier and faster. Pro roofers are trained and certified to handle advanced tools with ease.
Warranties/Insurance
Expert roofing companies offer several years of stress-free warranty. In addition, they ensure that the work is done perfectly so that any warranty associated with the roof from the manufacturer or original company is not voided. Getting the job done by professionals also means that your home insurance remains intact..
Contact Country Towne!
For the best professional metal roofing services in Chatham-Kent, get in touch with Country Towne. You can leave your stress about the installation and materials of roofing, soffit, fascia, gutters, downspouts, walls, and cladding to us.

We are the professional metal roofers in Chatham, we take care of everything without any hidden costs! Just give us a call and get a free estimate TODAY!