Enhancing the Metal Roofing Industry
Country Towne Roofing in Chatham Ontario
Many homeowners are making the switch and learning that you can install a new metal roof over asphalt shingles! Often times, when people call Country Towne they know they are going to get quality roofing with metal products that have longevity. No other roofing material besides metal can boast of a 50 Year Lifetime Warranty. What they don't always consider is that metal roofing can be installed directly over asphalt roofing (year-round). This has a lot of advantages vs the traditional shingle market.
You will save money right off the bat, as you do not have to pay for a roofing tear-off. This also means you will save your local landfill a heap of asphalt waste and save even more money by not paying any environmental fees.
Speaking of being environmentally friendly, metal roofing is made from 25% or more recycled metal and once their life-cycle is finally reached the entire roof can be 100% recycled for a brighter tomorrow for all generations.
Metal Roof Installations Done Right
Most people want to know costs as well as how well they are protected, investing in a new metal roof. The long-life and durability are key in order to yield the greatest return on investment. It also a bonus to be able to save on your heating and cooling bills as Cool Roof Technology saves you on energy costs.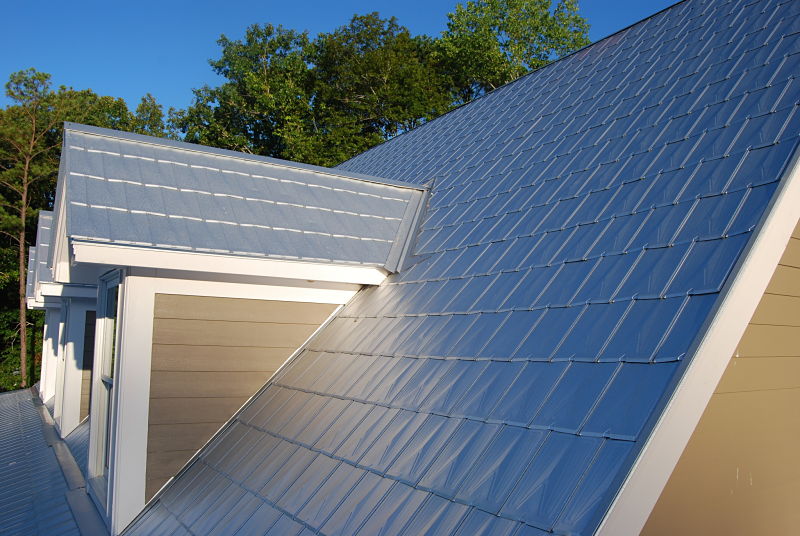 Our metal roofing company serves all of Chatham-Kent Ontario where the weather can change day-to-day. We all know how harsh our winters and summers can be on regular asphalt shingles. Most asphalt roofing customers seen granular loss after a few short years. New metal roofing clients are happy knowing their home is finally secure and truly ready for another winter in Ontario. It's a wonderful feeling to know you have peace of mind and a solid roof over your head… Finally the Last Roof You'll Ever Buy!
When assessing your roofing options most consider if they replace with asphalt its only a matter of time before they have to replace again. Here is a Buyers Chart on Roof Replacement.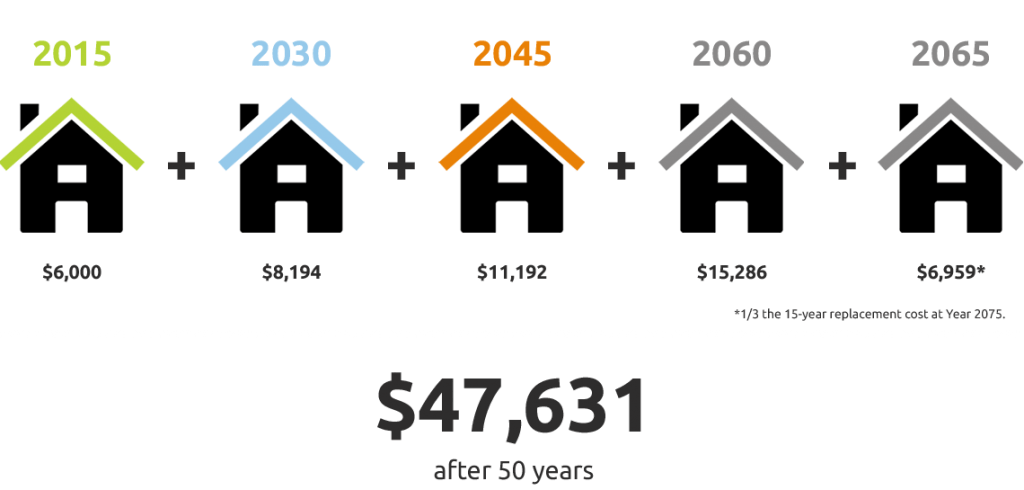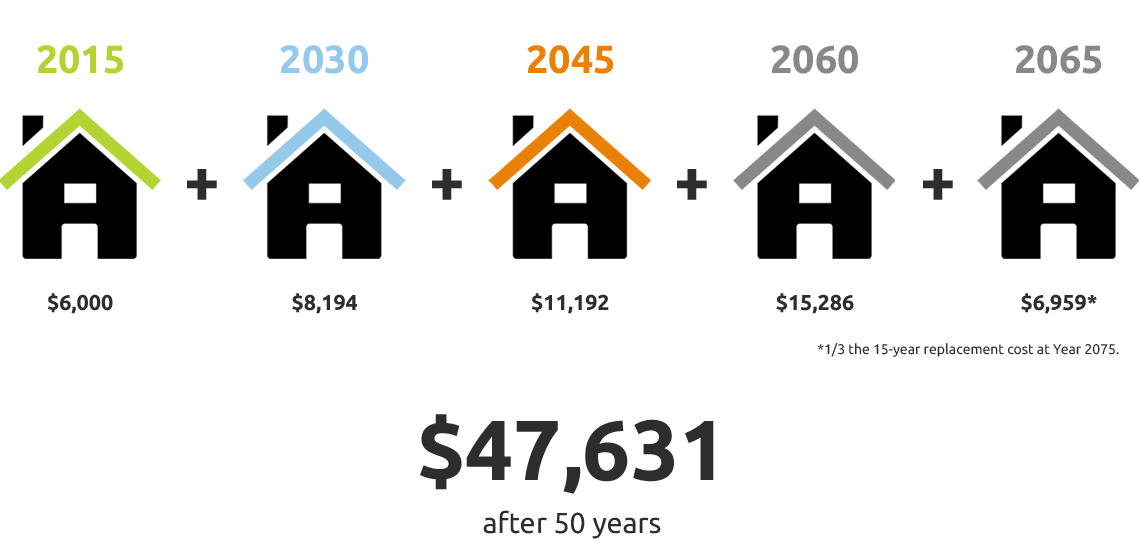 Sometimes homeowners get concerned about how much structural support is required for supporting a metal roof. Metal shingles are lightweight and typical house framing would be adequate to support the new metal roofing system. Not only can metal roofing be installed over an existing asphalt roof, but it will weigh between 50-65% less per square foot as compared to its asphalt counterpart.
Call Country Towne Metal Roofing for a residential metal roofing quote anytime. We are proud to offer beautiful Wakefield Bridge Steel Shingles for your home. Clients are pleased with all of the colour options and the overall look, which adds curb appeal to any home!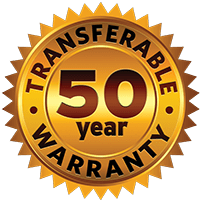 With a transferrable 50-year warranty this product put itself miles ahead of the competition. No one, especially no asphalt shingle manufacturer, is going to back their product for that long! What an amazing time to invest in metal roofing products! Plus, if you do end up selling your home, you will have another very strong selling point because the new owner can get the warranty transferred and continue enjoying the lifetime protection.
With Metal you also get consistent quality. With asphalt things are so heavily contingent on the oil market, some companies produce lesser quality products from fear of losing money. Lots of customers are unaware that there is such a thing as counterfeit shingles and other shady deals and promotions on faulty asphalt materials.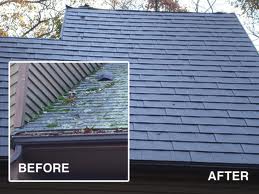 When it comes time to select your next roof, take the time to consider all of the advantages of metal roofing. These steel shingles are made out of recycled steel, and don't have swings in pricing with any oil-based shingle. Choose the more environmentally sound option, instead of contributing to the unnecessary overfilling of our landfills. Ultimately you will feel better about your purchase.
Wakefield Bridge Steel Shingles
These Wakefield Bridge installed steel shingles are protected with a three-layer combination of corrosion-resistant zinc/aluminum blend sealed with primer paint and topped off with an oven-baked PVDF film. This, in turn, ensures that all of our metal roofs won't chip, flake, or peel away, as anyone else has experienced in the past with any asphalt shingled roof.
As mentioned earlier metal roofing is very energy efficient. Steel shingles boast a Cool Roof solar reflection technology that protects metal roofs from solar radiation and nullifies the heat-absorbing effects. This results in a lower energy bill in the summer, as you won't have to run your air conditioner as intensely when it actually gets hotter outside.
Call Country Towne to Install a New Metal Roofing System Today!
Final thoughts, a product is only as good as the hands that install it. So once you are set on the roofing material you want to use, ensure you do your homework on any local metal roof contractor to can get the job done right. Don't settle for just any residential roofing company, but one who truly is an expert at metalwork and metal roofing installations.

Country Towne Roofing exceeds those requirements and we hope that we can prove it to you. A roof is one of the most under-appreciated elements for your home, as we tend not to think of it until there is a problem with it. Trust the professionals at Country Towne to navigate your next roofing project and get the peace of mind that comes with buying residential metal roofing.