Wakefield Bridge Metal Roofing Holds Many Key Advantages
These Steel Shingles Have Real Curb Appeal!
Perhaps you may have noticed attractive Wakefield Bridge metal roofing systems in your neighbourhood already? This durable product offers literally five decades plus of carefree protection for homes across Canada! Consider some of the most important reasons why value-conscious homeowners prefer this roofing material:
Metal Shingle Roofing Looks Eye-Catchingly Attractive
Modern metal roofs help showcase the beauty of fine Canadian residential homes with real curb appeal. If you've ever driven past a home displaying Wakefield Bridge steel shingles, you've likely noticed the sharp, finely angled metal roofing system. Roofing teams can create custom looks with trim and flashings. The shingles we carry reflect this attention to detail and can be customized to any roof line. They lie flat against adjoining surfaces to produce crisp, even, symmetrical lines. Just like real shingles! The results appear exceedingly aesthetically pleasing!
[ngg_images source="galleries" container_ids="4″ exclusions="50″ display_type="photocrati-nextgen_basic_imagebrowser" ajax_pagination="1″ template="default" order_by="sortorder" order_direction="ASC" returns="included" maximum_entity_count="500″]
In the past, metal roofing occurred primarily as a sheet metal product. Even today, people sometimes incorrectly associate these components with monotone gray agricultural or military structures. However, the demands of the contemporary custom homebuilding marketplace have inspired manufacturers to engineer innovative metal roofs which appear consistent with shingles, a widely popular residential roofing shape. We offer the acclaimed Wakefield Bridge steel shingles in a variety of trendy colors to help you draw attention to the style and charm of your home.
Wakefield Bridge Steel Shingles Warranty Is 50+ Years~!

Another popular reason to select this brand relates to its durability. We stand behind the products we carry fully. With a remarkable product warranty spanning five decades, you know you'll receive quality merchandise when you choose these steel shingles for your residence.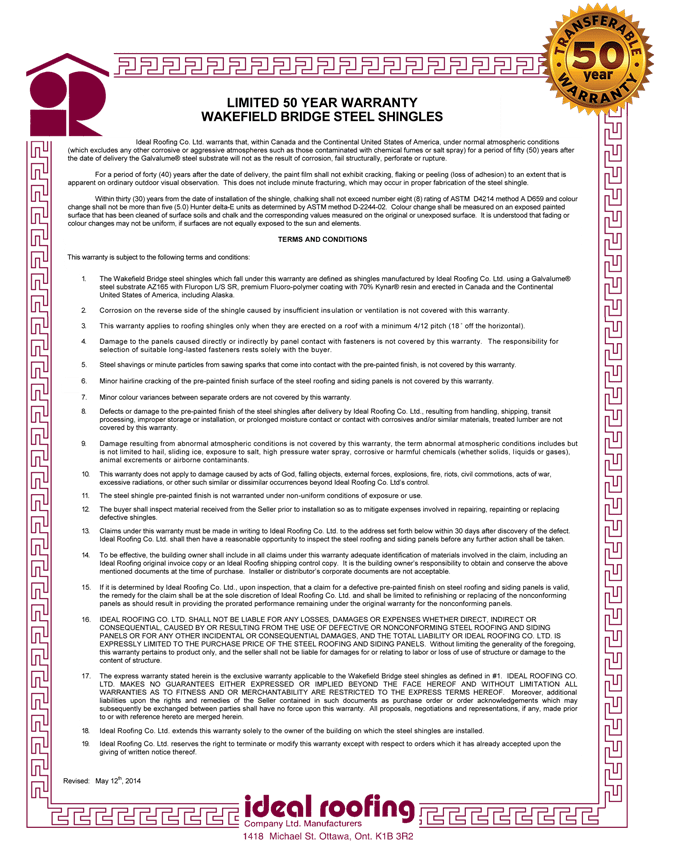 Just consider a few situations which recommend metal roofing products in the Canadian home improvement marketplace. First, by the age of 11 years, even some new asphalt shingle roofs may reflect the harsh impact of winds, rains, and frequent snows. Long lasting metal shingles offer a highly cost-effective alternative. Second, this brand withstands the threat of termites and forest fires better than most other available products. While at sufficiently high temperatures even steel will burn, of course, using a strong metal for roofing purposes offers some advantages in fire-stricken areas. The metal and its tough, laboratory-formulated resin coating will not allow burning cinders to propagate roof conflagrations as readily as typical asphalt or cedar-shingle roofing.
Steel Roofing Shingles Offers Easy Installation On Any Home

Yet a third compelling motivation inspires customers to choose this great brand of stylish steel shingles. If you perform roofing work yourself (or if you simply prefer to pay for reduced roofing costs), you'll appreciate the ease of applying these building materials! Lugging heavy shingles onto a rooftop usually requires either the assistance of heavy machinery or exceedingly strong back muscles.
How many times do some roofers climb up and down ladders carrying asphalt shingles or using pulley systems to upload pallets of those heavy products? Steel roofing shingles significantly simplify construction. Instead of manipulating weighty pallets or broad, unwieldy metal sheets, consider using these easily applied thin strips of steel. Every band contains pre-cut holes for nails along one side, plus four discrete shingle projections with edges designed to mesh together compactly. The finished roof appears seamlessly shingled. Only you (and your roofer) will ever know the roof actually required minimal time and effort to complete!
Wakefield Bridge Supplies Durable Shingle Colors with UV Coating

Today many consumers appreciate the ability to use a home's roof as an integral part of an exterior design scheme. Perhaps you'd like to match the roof color to window and door trims? Or possibly you prefer earth-toned roofing to allow your home to fit into an especially stunning natural setting? Either way, you'll love the care and attention the manufacturer took preserving the paint colors of these renowned tiles. In addition to the presence of durable PVDF paints, a sophisticated trademarked resin coating helps ensure long-lasting color retention.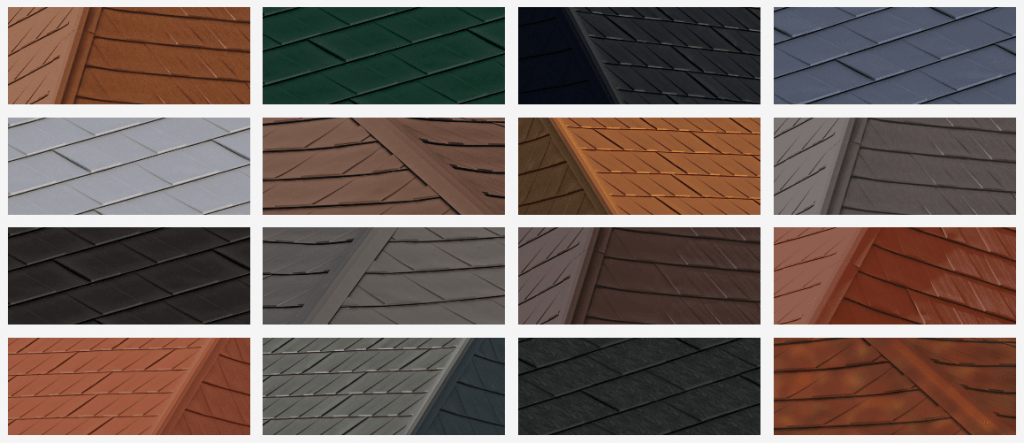 With proper care, the metal shingles we carry remain bright and vivid long after their initial application. They complement vinyl siding trim in a spectacular way; both products retain their stylish appearances for extended periods of time due to the use of paint-color preserving advanced resin technologies. Many customers appreciate this aspect of steel shingles. If a falling drone or a broken tree branch should ever damage a portion of your roof, replacing the shingles in the impacted area becomes very simple indeed. Faded, aging shingles won't detract from ease of color matching. The use of long lasting shades may mean the difference between repairing the roof cost-effectively or replacing it!
Metal Shingles Don't Wear Like Asphalt Shingle Roofing Materials
If you've ever observed an asphalt shingle roof over an extended period of time, you've likely noticed the gradual fading of color which occurs when the small inclusions of colored fiberglass granules embedded in the asphalt begin suffering the impacts of weather and wear. As they loosen and fall out, the shingles will lose their vivid, bright qualities. Even worse, over time asphalt shingles become brittle and crack; their edges may curl, disrupting the clean contours of a beautiful roof. Sometimes asphalt tile roofs in heavily shaded, very wet locations even begin supporting moss and mildew populations. These building materials simply may not age well in parts of Canada.
Ever Consider The Cost of Using Traditional Asphalt Shingles? (Over and Over Again!)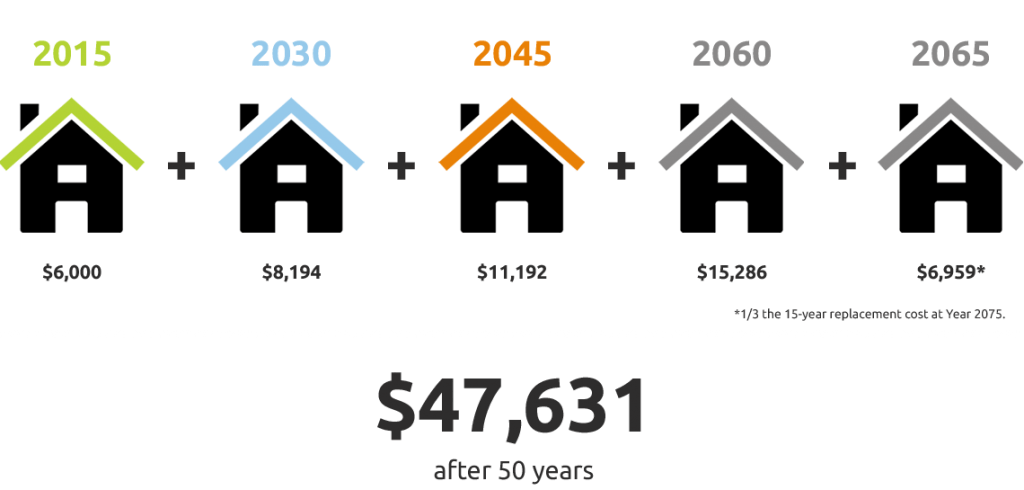 Homeowners who have chosen to invest in this steel roofing system don't face that dilemma as often. While inspecting your roof on a regular basis does remain important, we think you'll notice the graceful aging of these well-designed roofing materials with delight. Allow your residence to maintain its curb appeal for decades. You won't regret your smart decision to select these product lines!
Make a Smart Investment in Wakefield Bridge Steel Shingles Today!
Have you decided to learn more about this exciting roofing system available through our company?

Simply use our website contact form, or call us at 888-674-6570. We'd love to speak with you about your roofing needs. Let us hear from you now to explore the advantages of this outstanding steel roofing product!