Metal siding has become more popular in both commercial and residential construction, and it is easy to see why. They offer a multitude of design capabilities as well as a sustainable barrier to weather. Metal wall panels can be used for exterior and interior design, and come in several varieties. While they are used more often in commercial spaces and manufacturing buildings, you can find unique uses of these panels in residential homes and condos. More and more buildings are using metal siding &  cladding in their construction. There is no wonder why as they provide builders and architects so many benefits.
Metal Siding & Metal Panel Benefits
Metal Siding and Metal Panel Walls have a beautiful appearance for both commercial and residential applications with real curb appeal! They have both shiny and matte finishes, and can be shaped and formed into a wide array of patterns. We even have curved panels for a new take on a traditional metal siding. Fire is always a risk in any life span of a building. Metal walls can act as a barrier to fire to help keep an active fire from spreading to other areas of the structure.
In climates that get a lot of rain, having a metal barrier can extend the life of the building by preventing mold and decay from destroying other building materials. Because of the density of metal, it offers a reduction in energy consumption that lowers expenses for building owners. Metal walls are considered to be eco-friendly and sustainable exterior building materials. Metal walls are extremely durable, and hold up well to regular wear and tear. Their hardness may vary a bit depending on the metal used. You might be surprised that Metal Wall Panels do not dent or ding easily.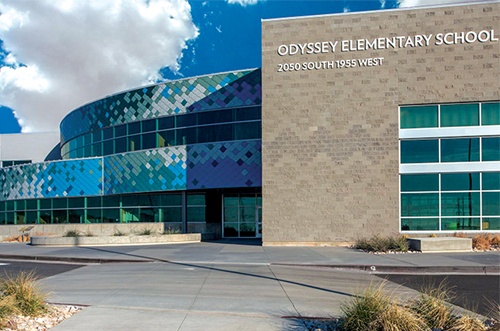 We offer a wide selection of metal wall and siding panel systems in the building components industry. Our architectural metal wall panels include insulated metal panels, concealed fastening wall systems, exposed fastening wall systems, metal siding composite and other exciting features like curved & perforated panels. Our metal wall and siding panels can be used for new construction or to retrofit existing buildings. Common applications include retail, educational, self-storage, agricultural, residential and industrial buildings.
Lets have a closer look at these products in greater detail, our supplier ATAS International has been developing metal products for decades. Here are their best metal products.
---
Insulated Metal Walls
Superior in quality and durability, ATAS insulated metal wall panels will offer superior R-values while providing a modern look for your building. Whether the project requires acoustical, structural, or fire rated insulated panels, ATAS insulated metal wall panels are your best option when looking for an insulated wall. These insulated metal wall panels come in a variety of textures and designs.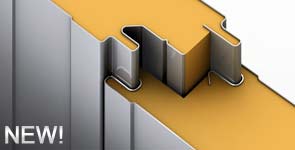 Insulated Metal Wall Panels Features
High R-Value – Provides high thermal (R-value) and air tight performance over the service life of the building. The insulated wall panels are exterior of the building structure to provide the best thermal envelope by reducing thermal bridging typical of cavity wall systems.
Tested & Approved – All insulated panels have been extensively tested for compliance with various industry standards and building safety codes.
Energy Efficiency – Insulated Metal Panels have a core of continuous, rigid insulation for industry leading R- and U- values with superior air tight performance.
Indoor Environmental Quality – Insulated panels help ensure a stable interior environment.
Eased Construction – Insulated metal panels are simple to detail and attach, reducing schedules and installation errors.
Life-Cycled Benefits – Insulated Metal Panels last as long as the service life of a typical commercial building. The durable metal panels also reduce operational costs for energy maintenance and offer multiple end-of-life reuse options.
Building Certification and Green Targets – Insulated Panels contribute to LEED certification programs and the path to Net-Zero Energy.
---
Concealed Fastening Wall Systems
ATAS Concealed fastener metal wall systems include horizontally and vertically installed panels, corrugated panels, and diamond shaped metal shingles. With this many combinations a variety of beauty can be achieved to create any architects dream concept into reality.
Concealed Fastening Wall System Features
Faster Build – Faster on-site installation time compared to traditional multi-part systems, as they are a single component installed by a single trade.
Energy Efficient – Interlocking groove joints with concealed fasteners create a water and air tight seal, stabilizing interior environments and saving energy costs.
Measurable Savings -Insulated panels have a high strength-to-weight ratio allowing for longer spans compared to other construction methods, reducing both transport and installation cost.
Design Flexibility – Very versatile with a variety of colours, finishes, accessories, profiles and trims with hidden fastener systems.
Sustainable -Made with minimum 30% recycled steel and 100% recyclable and reusable at the end of its service life.
---
Exposed Fastening Wall Systems
Exposed fastener metal wall panels available in a wide variety of profile styles, colors, and materials. All metal siding is eco-friendly and are unmatched for durability. This is our cost friendly alternative to some of our other concealed metal wall systems.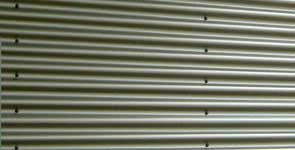 Exposed Fastening Wall System Features
Low cost and low maintenance – Very cost effective and low maintenance building material.
Variety of style designs –
Light Weight Building Material – adding strength and support to the metal frame.
Consistency in fabrication – Therefore they are not prone to warping or wrinkling under construction.
Now you can understand very quickly why the increase in metal siding and metal cladding in new construction and buildings, we absolutely love the look! This plus the durability, benefits and cost savings from the lower labor costs and quick installation of metal panels, regardless of whether it is new construction or renovation of an older building is an easy choice to make.

Consider metal wall panels for your next construction project you can reach out to us for a Free Metal Estimate or call us directly from the number above.