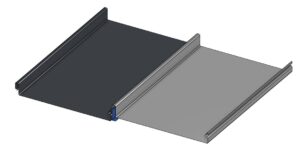 SS 550

Our premium, most elaborate, and diverse metal panel system. This panel is as protective as it is stylish. Applications are as creative as the imagination including: Roofing, Siding, Soffit, Interior Wall Panels, Accent walls, and more.
This Snap Lock system is fastened using hidden clips screwed into a solid plywood substrate or strapping. No unsightly screws. Providing a watertight seal on slopes down to 2:12. Ideal for use as roofing material giving a designer home appearance. High performance paint makes for exhilarating siding and walls.
A variety of options available including colors, thickness gauges, custom trims, panel length, and striations provide features that are modern and look exquisite. Complete panel and trim systems available.
Experienced Installers Recommended
Panel Length
1-30 ft delivered
31-100+ ft rolled on site
Panel Width
16.125"
Call for custom widths
Panel Gauge
26 Ga Standard
24 Ga Optional
22 Ga Option
Rib Height
1.5"
Fastener
Hidden Clip Fastener
Recommended Slope
2:12 +
Application
Siding
Lower to high slope roofs
Accent walls
Soffit
Solar Panel roofs
Longer Panels
CAD Drawing
Link to CAD Drawing