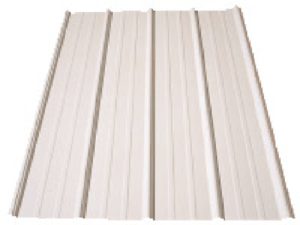 Tuff Rib Roofing Sheet

Canadian made, Tuff Rib steel panels are used as roofing or siding. Durable metal, built to last. A Sheet steel roofing solution that withstands the winds of time through 4 layers of protection paint system.
It starts with coating the steel in Metallic zinc-aluminum or zinc. This becomes the foundation for the rest of the paint system.
Chemical Pretreatment makes sure the adhesion between the primer and metal is permanent. The flexible Primer inhibits corrosion especially at cut edges and promotes topcoat adhesion.
The Quality topcoat is a silicone-modified polyester coating which is state-of-the-art. Providing 40years of film integrity and 30 years of minimal fade and chalk values.
Also commonly known as barn steel, it gives a traditional roof steel look. This is the most economical way to enjoy the benefits of a steel roof on your home.
Panel Length
1-30 ft Pending Transportation limits
Panel Width
36" Coverage
Panel Gauge
29 Ga Standard
Rib Height
5/8" – 3/4″
Fastener
Screw Through
Recommended Slope
2:12 +
Application
Siding
Lower to high slope roofs
Accent walls
Soffit
Solar Panel roofs
Longer Panels
CAD Drawing
Link to Profile