Residential Steel Roofing for Homes and Cottages
Homeowners who need to choose a material for replacing a roof should explore all the advantages offered by residential steel roofing. As a roof material, steel roofing can offer a variety of cost savings while improving appearance of your home at the same time. At Country Towne Metal Roofing, we can consult with you to find the perfect steel roofing solution for your cozy home or cottage.
Before you decide upon residential steel roofing for your home, you should learn as much as you can about steel as a roofing material as well as the various options that will be available to you. There are a lot of considerations to take into account when evaluating residential metal roofing systems, and you need to do your research to find the right roof for your unique situation.
When you're first determining whether a metal roof is right for your residence, you should evaluate some of the advantages that a steel roofing material offers. The following are some of the major advantages of residential steel roofing:
Advantages of Residential Steel Roofing:
Metal roofs can reduce energy consumption – Metal roofs are known for being able to keep a home cool even when temperatures are very high outside. Metal roofs are able to do this because they can easily reflect most solar radiant heat. This means that heat from the sun is not as likely to be absorbed by a home and to heat up a home's interiors. This feature makes metal roofs for homes a particularly good idea in climates with especially hot summers.
Metal roofs last a long time – Metal roofs are among the most durable types of roof out there. They can last as long as 70 years in some situations. Other roofing material options like asphalt roofing generally does not offer such a long lifespan.
Metal roofs allow homeowners to save money on maintenance costs – Because metal roofs for homes are so durable, they tend to be less subject to damage over time than some other roofing materials. They do not generally crack or corrode over time. Also, are less subject to wind damage than a lot of different types of shingle.
Metal roofs are less flammable than some other roofing materials – Metal is not flammable like many other building materials like wood and asphalt. This means that it can keep fire hazards down in a home.
Metal roofs offer a sustainable building material – One great reason to choose metal for a roof material is that metal used for roofing is often made from recycled materials. What's more, metal roofing can be recycled after it is used down the road. Metal roofing materials can be removed and recycled to create other items and substances. The recyclability of steel roofing means that homeowners who choose residential metal roofing systems help to keep materials out of landfills.
Once you have determined that you want steel roofing shingles for your home, you need to determine exactly which shingle variety you will choose. The following is some general information on the four main types of steel roofing shingles we offer from just one of our suppliers ATAS International:
The Advanta Shingle
This type of shingle is what's known as a dimensional single. This makes for an easy installation process. With the Advanta shingle, installation is quick and simple thanks to the concealed fasteners and the pre-punched fastening points. Supreme weather tightness is achieved with this shingle because of the four-way interlocking design.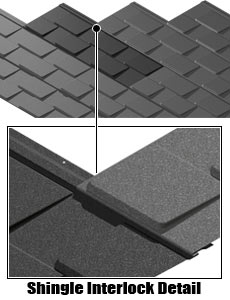 The Advanta shingle is designed to be lightweight and is ideal for situations where a new roof is installed directly over a preexisting roof without removing the original roof. The Advanta shingle is used not only for roofing applications, but also for covering mansards and walls.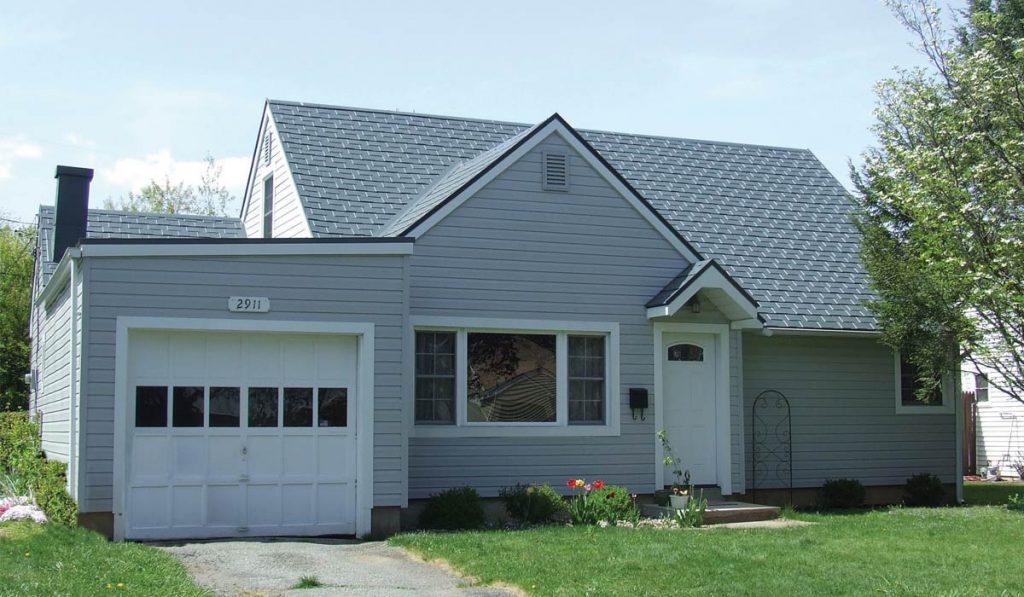 ---
The Rumba Shake Shingle
Rumba Shake is a Burmuda style roof covering. It is not as much a shingle as it is an actual roof panel. It can be simply installed thanks to the concealed clips and easterners. Like the Advanta shingle, it is also very lightweight and is good for going over a preexisting roof.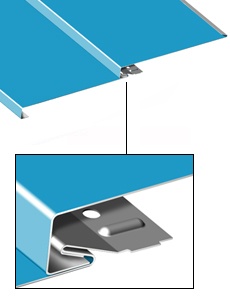 The Rumba Shake shingle is a suitable option for any residential building that has a slope of at least 4:12.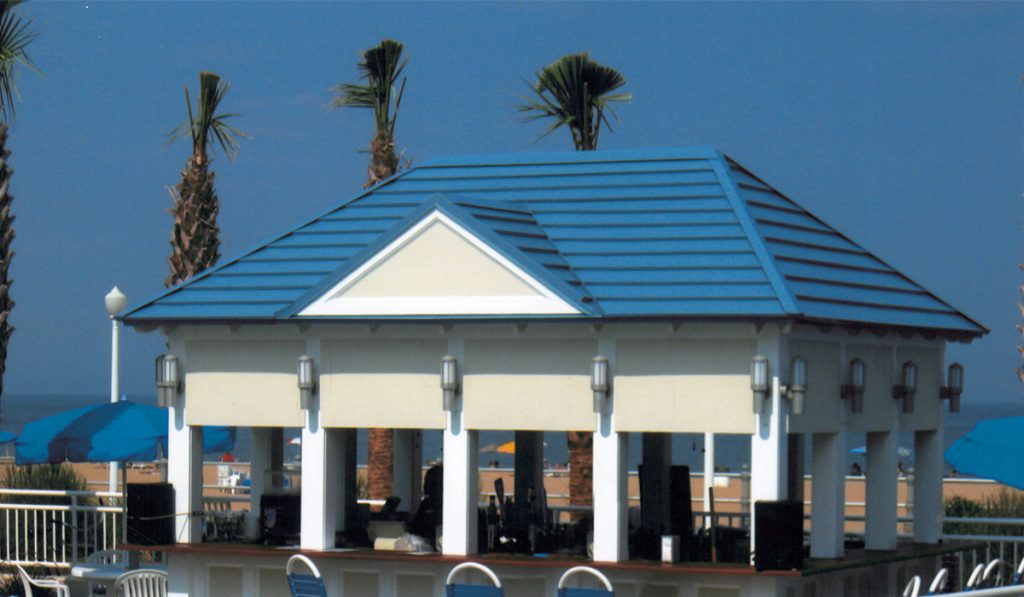 ---
The CastleTop Shingle
The CastleTop shingle offers a distinctive diamond-shape design. Like the two previously mentioned shingle types, it also features concealed fasteners. Another feature of this shingle is the backer board made of expanded polystyrene. This serves to give some added strength to the roof and makes it idea for a roof that needs to be walked on occasionally during installation or for future roof maintenance.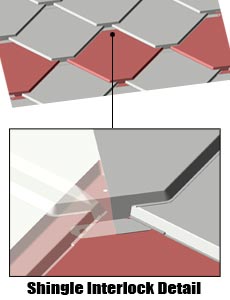 One thing that makes the CastleTop shingle unique is that it offer different color combinations that can create roof patterns that offer some dynamic visual appeal to a residence. The minimum slope for a roof that's covered by CastleTop shingles is 3:12.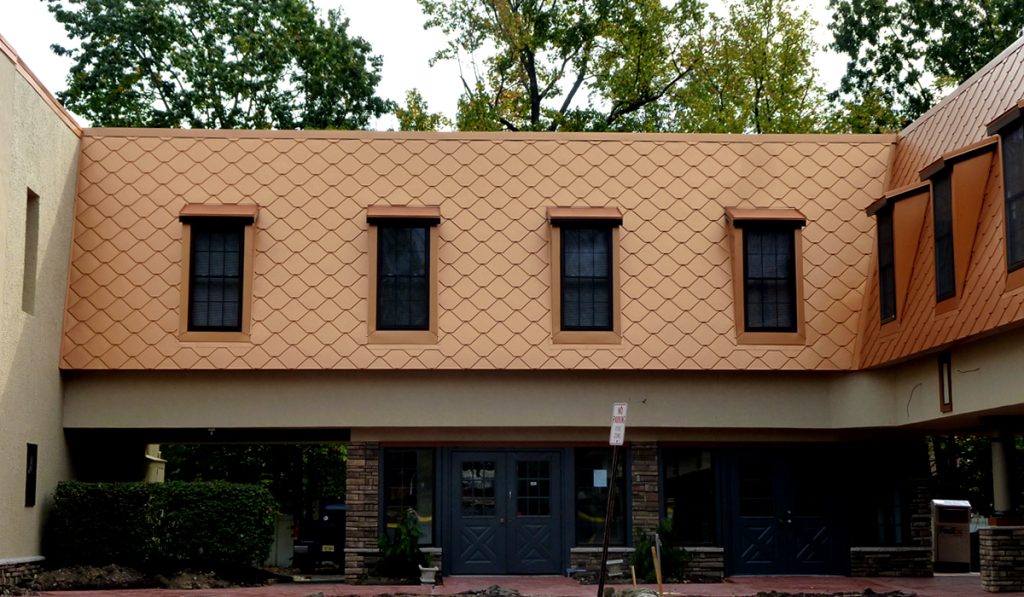 ---
The Standing Seam Shingle
If you're looking for steel roofing shingles that offer elegance and style, consider opting for the standing seam shingle. These shingles feature a four-way interlock system that makes sure that precipitation and any type of moisture cannot penetrate a roof.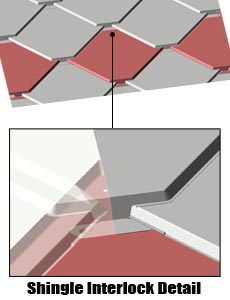 Standing seam shingles are more panels than actual shingles. They are held in place with concealed fasteners. They are installed with staggered transverse seams for a historic look. Standing seam shingles are particularly ideal for situations where a metal roof is subject to heavy snowfall in the winter months. Snow and ice tend to readily slide off of standing seam shingles. This will minimize the occurrence of freeze thaw damage and thereby maximize the lifespan of this type of roof in colder climates. The slope of a roof needs to be at least 4:12 for standing seam shingles to be usable.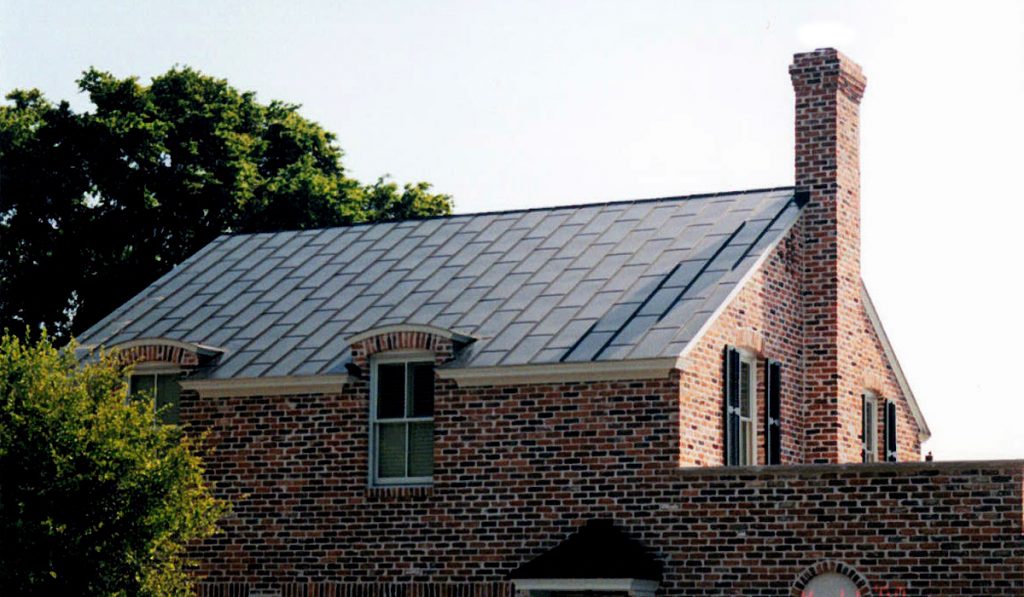 ---
Steel Roofing Colour Charts
Standard steel roofing colors with an advanced PVDF Finish. PVDF resin-based coatings provide high performance durability for exterior and interior applications. These coatings are designed to resist fading, chalking and abrasion.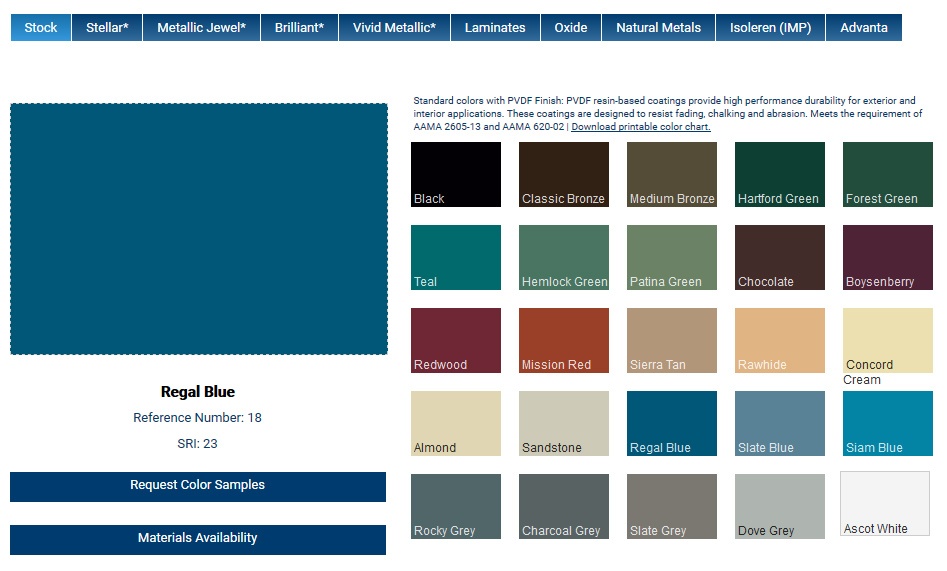 Any of the metal shingles above are available in a varity of colours and styles, please click the link to view our online colour charts. You can also request colour samples to be shipped to your home.
Choosing the Right Roofing Material for You & Your Home

If you're thinking that residential steel roofing might be the best roofing choice for your home, you can contact Country Towne Roofing for advice and a Free Metal Roofing Estimate.

Explore your options with Country Towne and find the best roof for your home.