One of the biggest nightmares for a residential or commercial property owner in Canada is a roof concern. In a place like Chatham-Kent that encounters snowfall, heavy rains, and humid summers, a sturdy roof is essential for all-round protection. So, it's essential to pick the right option for roof installations in Chatham-Kent.
While the most popular choice is asphalt shingle roofing because of its affordable price, metal roofing has gained popularity in recent years for its sturdiness and durability. Other materials worth considering are slate, concrete, and wood shake.
But which material is the best choice for you? Keep reading to find out more about the ideal roofing options for home or business properties in Chatham-Kent, Ontario.
Best Roofing Options for Home or Business Properties in Chatham-Kent
Here are the top roofing choices from residential or commercial buildings in the Chatham-Kent area of Canada.
1. Metal
A metal roof is excellent for almost anywhere in Canada. It is resistant to fire and harsh weather. It can maintain the temperature inside a property and is, thus, energy efficient. Plus, metal roof installations last for 40-70 years. Besides, you can now get attractive metal roofs.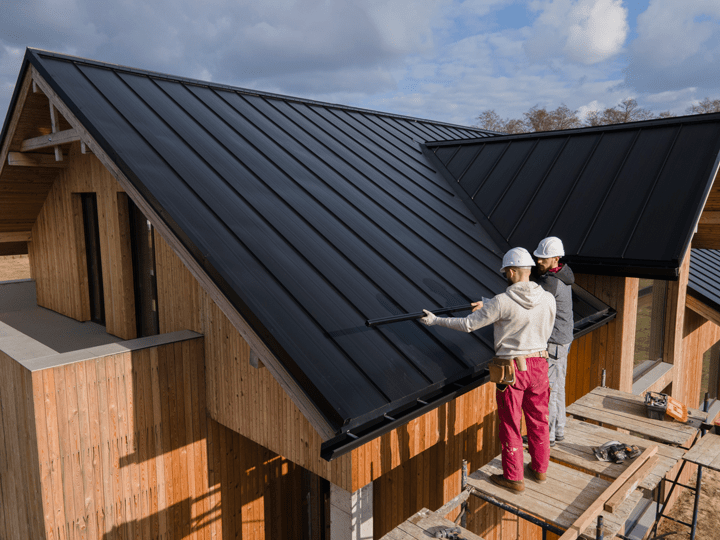 While this recyclable material is the perfect roofing solution, it has downsides. Its installation is expensive. It is prone to dents from fallen branches or hail. You can choose to get a steel roof to prevent these, but it will be more expensive than other metal roof installations.
2. Slate
Slate is another highly durable choice. It stands strong in the face of both cold and heat. It is a natural material that lasts for 75 years or more!
But it's expensive to install and needs structural reinforcements as it's quite heavy. Synthetic slate is lighter and more pocket-friendly, with a life span of 40-50 years.
3. Asphalt
Asphalt roofing is the most common roofing material in Canada due to its reasonable cost. But it's not as durable as metal or slate.
Asphalt shingles last about 15-30 years only. After that, you'll need a roof replacement. Plus, shingles tend to break or get removed. So you'll have to spend on maintenance.
4. Concrete
Concrete roof tiles add a strong protective cover to your property and last up to 50 years. From the price point, they are close to metal roofing installations.
But they need maintenance as the underlayment might last 20 years, and the individual tiles may get smashed. Plus, they're prone to lichen and moss.
5. Wood Shake
Wood shake roofing is made of cedar shingles and lasts 30-50 years. From the price point, it is close to asphalt shingles.
But its major flaw is that it is not fire-resistant. So, wood shake roof installations need to follow some regional rules. It also gets damaged by moisture and is prone to mold and mildew.
How the Climate of Chatham-Kent Cause Roof Concerns
Chatham-Kent in Ontario is a region with a wide climatic range. So, roof issues can develop as a result of these. And that's the starting point of a vicious cycle as a damaged roof fails to deal with extreme weather conditions.
During winters, the average temperature is around 6 °C, with the lowest recorded temperature being -26 °C. On the other hand, the average high temperature is about 12 °C, the highest being 31 °C.
Its average snowfall is 0.15 mm, reaching as high as 1.5 mm. On the other hand, high storms have an average speed of 28.87 kmh, while the highest speed reaches 47 kmh.
In such weather conditions, your roof can undergo the following problems –
The roof becomes brittle and starts to crack in cold temperatures.

Snowfall and ice put pressure on the roof, making it bend. It also leads to ice dams and leakage.

Shingles can get blown off during storms – or get damaged by branches carried by winds.

Extreme heat and cold can make the roofing material expand or shrink, causing cracks.

Moisture can cause mold, mildew, leakage, and structural problems.
When Do You Need A New Roof?
Now, you have a fair idea of the different types of materials that can be used for your roof. You also know how the weather in the Chatham-Kent region can affect your roof. But you must keep an eye out for signs of roof problems indicating you need a new roof.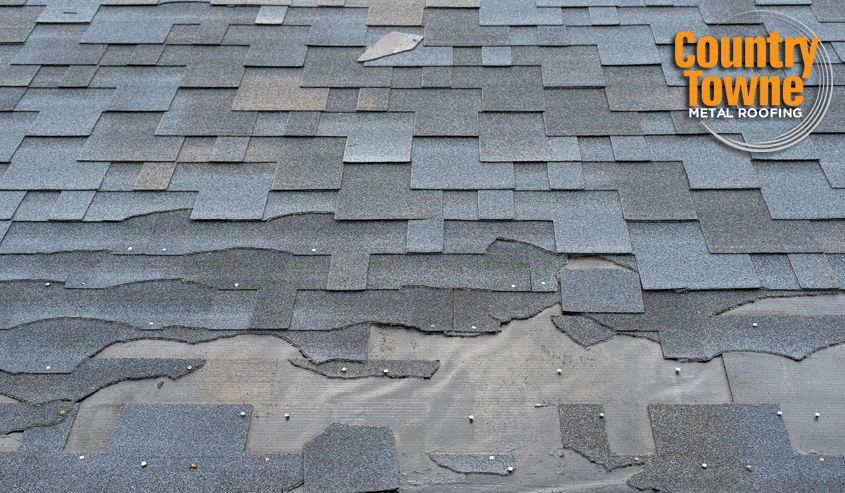 Here are the signs to look for –
The roof shingles are curled up.

The tiles are cracked, broken, or missing.

There are leaks that can't be repaired.

The roof has structural or underlayment problems.

There are multiple rotten areas of mould, mildew, moss, etc.

The current roof material has reached the end of its lifespan.
Contact Country Towne for the Best Roofing Solutions in Chatham-Kent
If you own a property in Chatham-Kent, it needs a sturdy roof to protect it. At the same time, it also needs an aesthetically pleasing roof to keep up with the architectural development in this region. You'll also need an option that's long-lasting, weather-proof, and cost-efficient in the long run.
That's where metal roofing steps into the scene. And Country Towne is one of the best metal roofing companies in Canada. It offers long-lasting roof solutions, including metal roof installations, top-of-the-class materials, roof repair, etc.

So, get in touch with us TODAY and give your residential and business property complete protection with our metal roofing and siding.