If you live in Ontario, you may often have to bear the brunt of harsh weather conditions. Based on the province we see… rain, snow, and storms that can be tough on the exterior of your home. Your property needs protection and durable building materials. One of the best ways to do that is with steel boards and batten siding.
Board and batten siding is watertight and windproof. It is a strong metal panel that can form a protective barrier and protect your home from harsh weather conditions. Because they're made of steel, they last for years. Plus, this siding look stunning, giving your property a modern home appearance with a textured finish.
There are plenty of other advantages of installing steel board and batten siding in Ontario, making it a popular choice. So keep reading to find out more.
What is Board and Batten Siding?
Board and batten is a popular siding style or look of barn siding commonly used for barns across Canada. The walls are fitted with small pieces of materials called battens. They form a contrast against the surface of large planks. This creates a stacked look that is distinctive.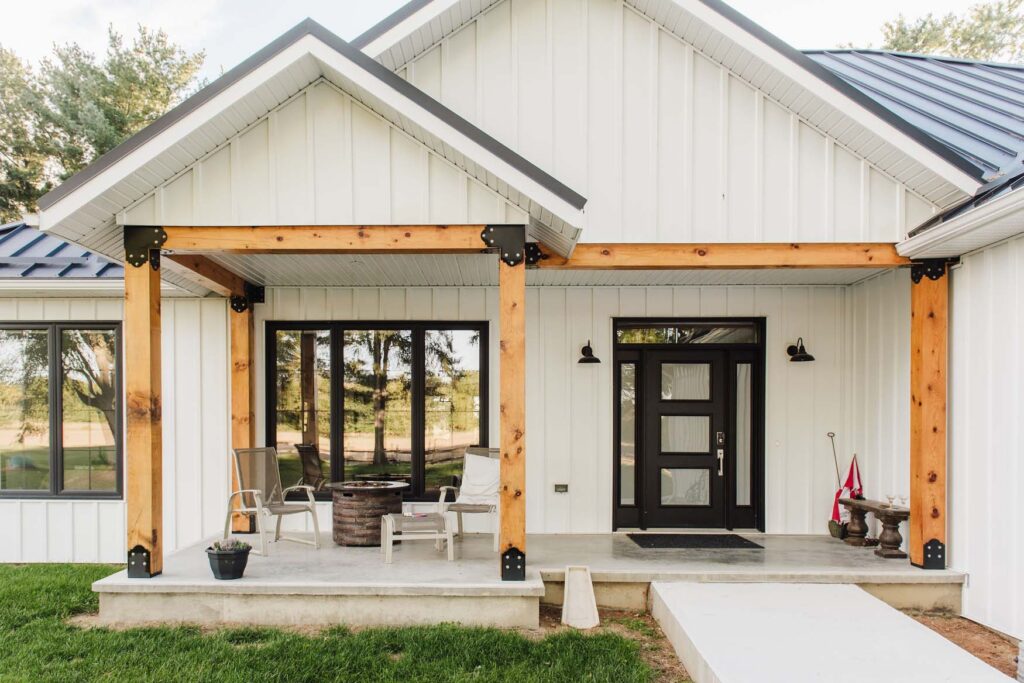 While materials like natural wood have been used for a long time, steel siding panels is now extremely popular. And board and batten siding is made of strong building materials as these metal panels are often chosen instead of wood siding because of the durability of steel.
Just like steel roofing, steel board, and batten siding are all about strength, protection against weather and fire, and more. Plus, steel siding is available in a variety of styles and have commercial applications, too.
Advantages of Steel Board & Batten Siding
You have already had a hint of the benefits of steel board and batten siding. Now let's look at them in detail to understand how they can be an excellent addition to your home in Ontario.
Versatile
Vertical siding panels with raised battens on flat boards can be used for any residential or commercial building. It goes well with both modern and traditional styles. You can incorporate it as an accent or implement it on your entire property's exteriors. Either way, it can look unique and stylish.
Natural Look
Wood has been the traditional choice for board and batten siding. And when metal siding first entered the market, they could not really match up to the natural texture and color of the wood. But that's old news! Now, steel siding is available in various earthy colors and grainy textures for a natural finish.
Weather-Proof
Steel is one of the strongest and most durable materials. So it can easily withstand rain, snow, storm, and other harsh impacts of nature. It does not rust or rot and won't bend or dent. Plus, when adequately coated, steel siding will not fall prey to cracking and chipping, which means they will last several years.
Waterproof Barrier
The vertical grooves of board and batten siding, in general, can form a protective barrier for your property. Steel siding, in particular, are impenetrable and watertight. That means you don't have to worry about leakage during rainy or snowy seasons. They won't rot or get damaged due to water.
Fire-Proof
Steel is virtually non-combustible, i.e., it does not catch fire or burn if exposed to fire. In the event of a fire, steel siding will not ignite – and they will prevent the fire from spreading. This makes steel panels the best for any property to reduce the chances of fire damage, especially when paired with steel roofing.
Maintenance-Free
Steel siding can last the lifetime of a property. Manufacturers guarantee that it can stay good for 50 years. You don't have to worry about replacing them every decade or so. And with elementary inspections every year to ensure that the coating and other factors are intact, all steel siding is more or less maintenance-free.
Eco-Friendly and Sustainable
Steel siding panels are entirely recyclable. Most companies use recycled steel to create the board and batten siding. And once the panels' use for a property is over and it's time for a replacement, the materials can again be used for various purposes. This reduces waste significantly.
Increases Resale Value
Steel board and batten siding are durable and resistant to fire and the forces of nature. They don't need frequent replacements or maintenance. Plus, they look super-stylish, increasing the curb appeal of your property. Altogether, they can increase the resale value of your property if you decide to sell it.
Why You Should Contact Country Towne for Steel Board and Batten
Installing steel board and batten needs extreme care to prevent botched-up work. Problems in the initial stage can lead to damage and wearing in the future, which will be challenging to deal with. That's because repairing this type of siding is hard. The panels need a high-quality coat to extend their durability.

Plus, the installation process is complex and time-consuming. So, it's essential for you to contact a professional contractor for a siding project. Steel siding companies like Country Towne offer ease of installation, lifetime warranty, perfect finished look, and the experience needed to choose suitable materials. Contact Country Towne today and get the best steel and board siding services with complete peace of mind!