Commercial Metal Roofing Installations Chatham-Kent
Metal roofs are the ideal choice for your next commercial project or an industrial building. They are durable, offer excellent protection, improve energy efficiency and can save businesses money by not allowing roofing issues to ruin day to day operations.
Commercial Metal roofing systems are also very weather-resistant, prevent countless roofing problems and can save you money on installation, maintenance, and repairs. Commercial metal roofing can make a dramatic improvement in the form and function of any industrial or commercial construction project while helping the building look great. ATAS International has been a North American leader in metal roofing products and we have many successful installations under our belt.
Metal Roofing is Growing In Popularity
Metal roofs have been around since ancient times. Technological advances today have led to a significant increase in its use in commercial construction in North America. In 1995 about 10% of commercial roofing was done with metal. By 2010, that number had jumped to 22% because builders found commercial metal roofing to be among the industry's most effective choice. That's because it offers a wide range of benefits. Business owners love metal roofing systems for a number of reasons and ask for it on an increasing number of commercial and industrial construction projects.
In fact, Roofing Contractor The official publication of the International Roofing Expo puts together a State of Industry Report every year on where the growth markets are for each material and roofing type, here are the results from that Feb. 2018 report.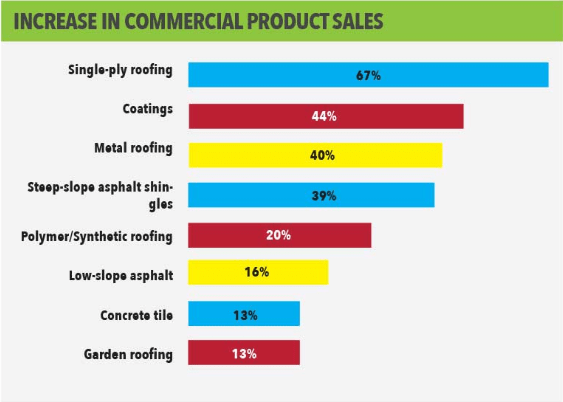 While many in the roofing industry may lament the pace of economic growth and deregulation expected in 2017, none appear to be complaining about sales.
Commercial roofing contractors
were especially bullish with their sales outlook, with 77 percent anticipating sales to increase in the year ahead, and 86 percent expecting increases over the next three years.
The Many Benefits Of Commercial Metal Roofing
Part of the reason for the increase in the use of metal roofs is all the valuable characteristics they have and all the ways they can positively impact a commercial structure. Some of their many characteristics and the benefits metal roofs offer include:
Durability
Weather-Resistance
Affordability
Versatility
Energy-Efficiency
Easy To Maintain
Self-Sustaining
Easy To Clean
Long-Lasting
Lightweight
Fire-Resistant
Minimal Roof Pitch
Easy To Install
These properties make metal roofing ideal for industrial and commercial structures. Metal roofs are quality products that can stand up to the harshest weather and last a very long time. While roofs made out of other materials tend to last about 15 to 25 years before needing to be replaced, metal roofs generally last between 30 and 50 years once they are properly installed. When asked, why commercial builders choose metal roofing for their project, they answered in the following ways.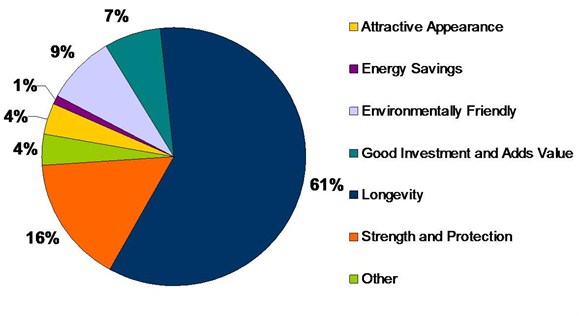 The team of roofing professionals at Country Towne Metal Roofing has earned a sterling reputation for their fast, flawless metal roof installations in the Chatham Kent area. Plus, the ATAS International team will work closely with business owners from the roofing concept's development stage to the completion of the project. It is the perfect marriage of installation 'know-how' and technical advancements in the metal construction industry.
Types Of Metal Roofs
Metal roofs can be built using several different types of quality products While most people are familiar with simply corrugated metal roofs. But a quick visit to our suppliers' website will enable you to learn about all the different styles, colors, and textures of material that can be used to construct a metal roof for your commercial building.
This upgrade will make it strong, attractive, durable and cost-effective. Some of the most popular types of metal roof panels currently used are standing seam, batten seam, through fastened panel, curved series, shingle, and tile. Of that group, the standing seam metal roof is the probably the most commonly used.
Stands Up To Mother Nature
Yet another reason commercial metal roofing installations are on the rise is metal roofs can handle anything Mother Nature throws at them and still look good. Once the metal panels are properly installed by experienced roofing professionals and are quality made. Metal roofs can stand up to rain, sleet, snow, hail or any other type precipitation or inclement weather conditions.
Metal roofs are so sturdy, they can withstand the force of wind blowing at more than 150 miles per hour. That makes them one of the sturdiest commercial construction roofing option. This can help to protect the workers and their equipment and ensure there will no disruption in the work your company does.
Metal is Energy Efficient
Energy efficiency is another reason industrial building owners choose metal roofing systems. Whether you choose a standing seam metal roof made from metal panels or any other type of metal roofing panels, your facility will save on energy costs. The metal roof's reflective properties help prevent heat absorption and make the temperature in any commercial facility more comfortable.
This helps lower your energy costs by easing the strain on the HVAC system as it works to regulate the temperature in your commercial structure. Buyers will quickly recoup the money they spent putting the industrial metal roofing in place.
Also, metal roofing is a great option if you are looking to incorporate solar panels on top of your commercial building. Metal makes for an easy installation and you won't have to worry about replacing your roof and removing all those solar panels to get the job done!
Demand The Best for your next Project
If you want affordable, durable, high-quality roofing for your industrial enterprise, consider purchasing industrial grade metal roofing. Whether you choose simple roofing panels or install an outstanding standing seam metal roof, you can rest assured the metal roofing panels will help to cool the property during warm months and keep it warm and toasty during colder months.

Metal roofs are perfect for commercial structures. They require very little maintenance, can stand up rough weather and installation is a breeze. Getting a commercial metal roofing installation could be the best business decision you make all year.