When evaluating the most environmentally friendly options for siding, there are several factors that need to be taken into consideration. How the material is sourced and manufactured, whether it can be recycled, and its energy efficiency all contribute to how eco-friendly it is.
As more people look for green construction solutions, architectural siding is becoming increasingly popular because, when you select the right material for your property, it can provide great insulation and last for years to come.
Wood
There are several different types of wood that can be used to form wood siding, including cedar, salvaged or burnt wood, and engineered wood. The environmental impact of each option varies but, broadly speaking, any wood products are green because they do not necessitate the production and inclusion of artificial materials.
Whether you choose real wood or engineered wood siding, which is comprised of recycled wood pulp, your property would be naturally insulated and, if properly treated, resistant to pests and rot for years to come.
When using wood, it is always better to pick salvaged wood. While newly cut wood is easier to tailor to your desired design, it contributes to deforestation. Thousands of acres of forest are disappearing each year, as is the wildlife that once inhabited them. Wood is a renewable resource but it is significantly better for the environment to use reclaimed wood for your siding.
Metal
Metal, especially steel siding, is the most eco-friendly siding option currently available on the market. Metal siding is exceptionally durable and can make a property significantly more energy efficient.
Steel is one of the most recycled materials on the planet, meaning that it can continuously be repurposed. Most steel used in construction has already been recycled and can subsequently be recycled again when it has served its purpose as siding.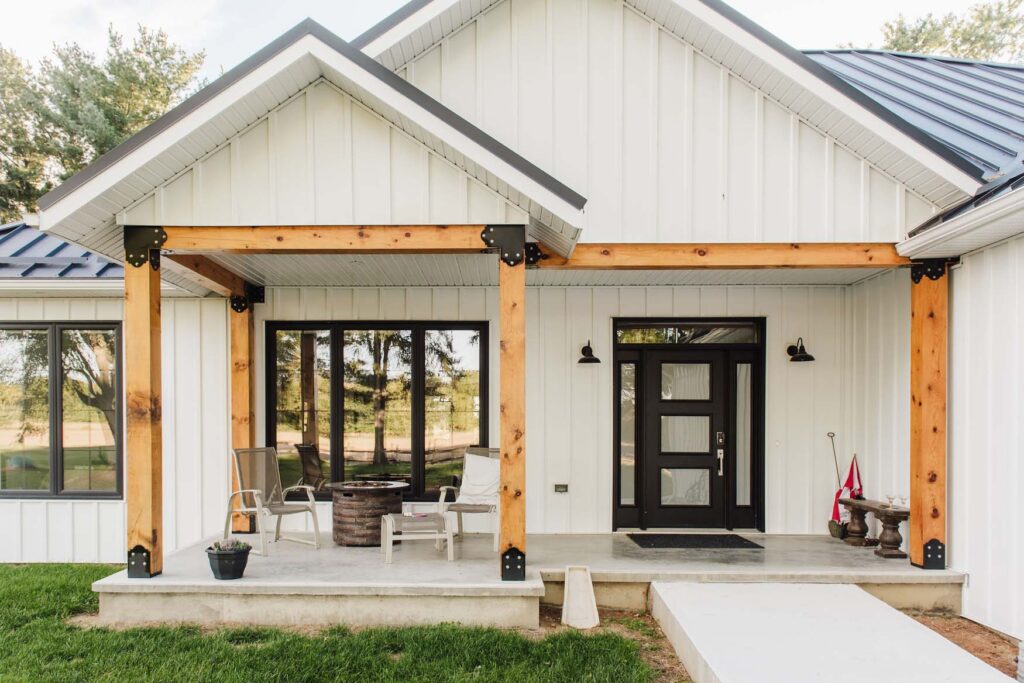 Metal siding has a long-lasting performance and can be tailored to the aesthetic of any property, coming in a wide variety of colors and styles. If you are eager to design a modern, sleek exterior, metal siding is the perfect option, but it is not limited to this aesthetic. Contrary to popular thought, metal siding does not have to be associated with more industrial buildings. It can be manufactured to mimic other materials, such as wood while costing a fraction of the price.
Metal, particularly recycled metal, is an excellent green siding option that can update the appearance of your property while improving its energy efficiency and durability.
Brick
Brick occupies a difficult position when it comes to its ecological impact. The manufacturing process, in which clay bricks are baked in kilns for days at a time, requires huge amounts of energy. However, bricks are comprised of natural materials and, with very little maintenance, can last hundreds of years.
As a type of siding, brick is perhaps the most traditional and creates a versatile, contemporary look that is popular among many homeowners. Its carbon footprint is significant, however, it is durable and, once it's been formed, it does not require any additional chemicals or materials to be fully functional.
Due to the popularity of brick siding, many companies are striving to create eco-friendly bricks that do not require such a lengthy baking process.
Stucco
Stucco siding has several eco-friendly advantages when it is used in the correct climates. It is comprised of natural products, with the main components being: lime, water, sand, and Portland cement. As such, stucco is one of the most sustainable choices for siding.
It is important to note, however, that stucco is a difficult material to work with and it is susceptible to the elements. Stucco siding is not as durable as other options on this list, and, subsequently, is only effective when used in very dry climates.
Stone
Natural stone is an excellent siding material and can serve as an alternative to brick siding. This natural resource does not require any alternation or synthetic substances because, in its original form, it is durable and resistant to the elements. Consequently, stone siding does not require regular maintenance after it has been installed by a professional mason.
The one disadvantage of stone siding is its ecological footprint. As a raw material, stone has to be mined and, given its weight, it produces extensive emissions when its transported.
Fiber Cement
If you are looking for an alternative to stucco, fiber cement siding is a great option. Like stucco, fiber cement is formed from natural materials. The main components are wood pulp, sand, and cement. It is a durable, fire-resistant material that can be recycled to form other building materials, such as Portland cement when it can no longer be used as siding.
Fiber cement siding comes in a variety of colors and styles, providing homeowners with multiple design options. Like metal siding, it can be styled to mimic other materials.
Final Thoughts
When choosing a sustainable siding material, there are countless options. Each comes with its own practical and aesthetic advantages. Steel siding is the most versatile and durable option on this list and is worth considering if you want to reduce the environmental footprint of your property.


If you are interested in metal siding, contact the experts at Country Towne Building Supply. Whether you want more information about the benefits of metal siding or want to find the right metal for your home and budget, the specialists at Country Towne have a solution for you.