Metal roofs are often recommended as an excellent method to increase the value of a house.
Introduction to Metal Roofing Products

Several roofing materials have been used to cover homes throughout history, including wood shingles, asphalt shingles, steel shingles, and various slate or clay tiling types. Metal is a long-lasting roofing material for residential homes. In the late 1700s, metal roofing such as zinc or copper was commonly found on structures. Metal roofing can increase the market value and insulating capacity of a house.
Here is some more information about metal roofs and how it relates to your home's value.
What Do Metal Roofs Look Like?
Standing Seam
The standing seam form of metal roofing is the most common. This metal roofing system is comprised of huge panels that stretch from the roof's peak to the eaves. Each panel is attached through a robust and secure interlocking construction that results in a raised seam.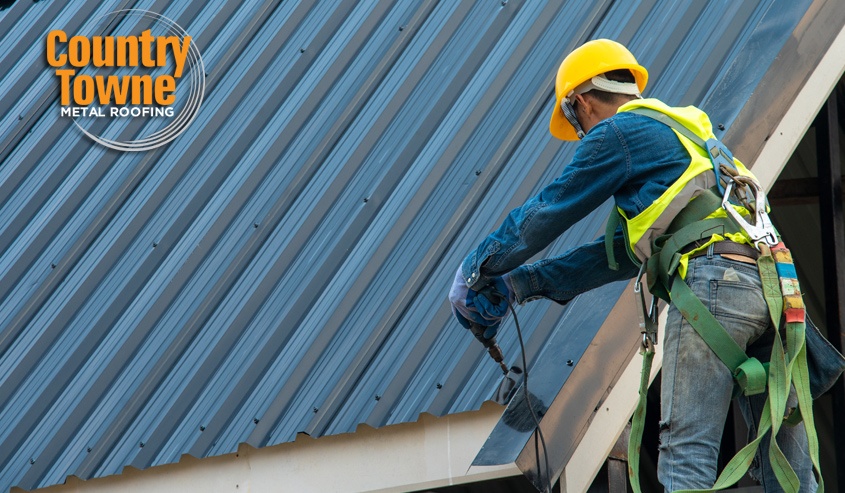 Not only does this seam provide a weather-tight connection between panels, but it also produces an attractive seam pattern on your roof. Despite its name, this roofing design has far fewer seams than conventional roofs. Each panel is either cut on-site or manufactured in a factory to increase your roof's vertical length. Vertical seams provide an extra layer of protection against the elements.
Stone-Coated Steel
Customers can choose from a variety of stone-coated roofing panels that mimic the appearance of clay and tile roofs while providing energy efficiency and longer life of metal roofing. This ground-breaking material was created so that homeowners may enjoy all of the benefits of metal without losing design options. Metal panels are available in a range of tile, shake, and steel shingle styles.
Will a Metal Roof Increase the Value of My Home?
Most houses have old asphalt shingle roofs, typically lasting between ten and twenty years, depending on the environment and the quality of the shingle Brand. However, a well-maintained metal roof may endure forever.
Certain manufacturers go so far as to guarantee their metal roofing materials for life. A house with a durable metal roof needs less care. It will not require any roofing repair for many years and adds considerable value to the home. This can add a premium sales price to potential buyers and add more value to your home.
The additional peace of mind and stress reduction associated with not having to worry about roof replacement is also valuable to many customers, especially those approaching retirement age who may struggle to afford roof repair on a limited budget.
How Does a Metal Roof Add Efficiency and Curb Appeal?
Installing a new metal shingles with the right roofing contractor can significantly enhance the curb appeal of your home.
Maintenance: Due to their low maintenance and longevity, metal roofs are a popular option. And a little maintenance can increase its curb appeal quite a lot.
Aesthetics: Your roof will stand out from the rest on the block with a more vibrant appearance. Which ever color and style you select, it is critical that they match the architectural look of your house. Also, the roofing materials affect curb appeal. For instance, many modern homeowners choose metal roofs due to their superior longevity.
Additional Features: Having a solar-panel-ready roof installed on your house can have a significant effect on its curb appeal, value, and energy efficiency.
How Are Metal Roofs More Energy Efficient?
Metal roofs are one of the most energy-efficient roofing materials on the market. They reflect more of the Sun's energy than asphalt shingles and offer great insulation during the winter months. However, metal materials also employ UV coatings (cool roof technology), lowering the home's energy bills by 10 to 25 percent during summer months.
Metal roofs provide such remarkable energy savings partly because of their material composition and their diversity of finishes. Metal roofing materials perform a better job of reflecting heat than asphalt shingles. Pre-painted or UV coated metal roofing materials help keep your house cool by reflecting radiant heat rather than absorbing it. Helping you achieve your return on investment faster.
What Are the Most Common Types of Metal Roofing?
Aluminum Roofing: Aluminum is lightweight, non-corrosive, and suitable for coastal areas.
Copper Roofing: A very durable roof that develops a protective coating and changes color over time. The costliest roofing material available.
Corrugated Metal Roofs: Corrugated metal is one of the cheapest metal roofing products available. It is also relatively inexpensive to install, especially on large areas, due to the long metal sheets.
Zinc Roofing: A highly durable and costly roofing material that patinas and changes color over time.
Metal or Steel: This is the most popular metal roofing material, which comes in various finishes.
How Much Does a Metal Roof Cost to Install?
The average cost of installing a metal roof in Canada is between $7,000 and $45,000. So you should anticipate paying somewhere in the center, about $22,500, for a standard-sized house.
While roofing labor prices vary considerably throughout the country, most local roofing companies charge between $50 and $100 per hour. However, new metal roof installations are billed on a per-project or per-square-foot basis. In most regions, expect to spend between $10 and $18 per square foot.
What Are the Costs to Maintain and Replace a Metal Roof?
The cost of repairing a metal roof varies between $1 and $5 per square foot. Panel refinishing costs are around $1,500-$2,500. Seam re-sealing is around $100-$500. Repair and replacement of fasteners is $40-$60 per hour. It is $2-$15+ per square foot for new panels and components.
Repairing leaks on a metal roof typically costs between $200 and $600. The cost of repairing splits, fractures, and gaps varies between $100 and $1,000. Services for rust and corrosion repair range in price from $300 to $2,000 or more.
Annual inspections of metal roofs cost between $100 and $400. A complete replacement of a metal roof costs between $5,000 and $45,000, depending on the size, design, and material chosen. That equates to between $7 and $20 per square foot.
Should I Replace My Roof with a Metal One?
Most certainly. An innovative, modern roof greatly contributes to that all-important "curb appeal," where first impressions really matter. Since a metal roof lasts so much longer than asphalt shingles, that is one less future expense for a potential homeowner. A metal roof weighs much less than an asphalt roof and puts less stress on your home's infrastructure, which is another major advantage.
Contact Luke at Country Towne:
If you are considering new roof materials, or are in need of a new roof there are many advantages to installing a metal roof. Your house will become more energy-efficient, with maximum life expectancy and low-maintenance.

Due to the metal roof's fire and wind resistance, you may anticipate a lower insurance cost and increase in resale value. Additionally, the visual appeal that a metal roof provides to your home will increase its attractiveness to the current real estate market and prospective buyers. Contact us for a Free Metal Roofing Estimate today.