When it comes to picking the ideal roof for your commercial building, there is a wide variety of options for types of commercial metal roofing panels. However, not all options come with the same set of benefits. The metal roofing system chosen may vary based on architectural specifications, building type, and overall budget of the project.
Despite the massive popularity of traditional roofing materials like asphalt shingles, clay tiles, and flat roofing, we believe commercial organizations can reap the most rewards from a metal roof. This article focuses on what metal panels work best for certain commercial applications and what to look out for when hiring a roofing contractor to get the installation done right.
What Is Metal Roofing?
As per Wikipedia, "a metal roof is a roofing system made from galvalume steel in most cases and is characterized by its high resistance to weather, energy efficiency, and longevity." Other alternatives may have lesser upfront costs, but they almost always have a shorter lifespan and need regular repairs or maintenance.
Metal roofs, especially when properly installed properly for commercial projects, can last anywhere from 60 to 100 years. Metal roofs do not crack or corrode due to adverse weather conditions and can endure over 140 miles per hour wind speeds.
Commercial metal roofing panels are also resistant to fire and are heavily energy-efficient, saving on average 30% of the overall heating or cooling costs every month. Many insurance companies offer up to a 10% discount on building insurance because of the project involving metal roofing.
Types of Commercial Metal Roofing
Let us look at some of the most popular types of commercial metal roofing used by architects, commercial builders and designers these days.
Standing Seam with Concealed Fasteners
A standing seam roof is made up of an array of panels attached by vertically elevated seams on top of the deck. Instead of setting them perfectly on the roof's base, a small gap of about 1 to 3 inches is kept for the seams to slot in without displaying any of the hidden fasteners.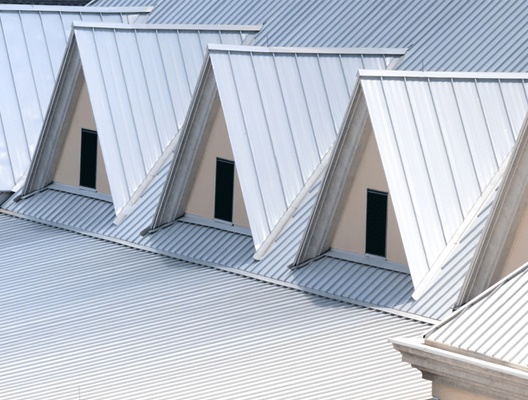 Standing seam metal roofs, in addition to showcasing a sharp, contemporary outlook, enable the panels to swell and shrink with temperature changes – minimizing the damages incurred on the roof deck. If you want the best, Country Towne Metal Roofing has it's own manufacturing facility as well as some premium suppliers for the best in metal roof prices.

Re-Roofing and Retrofit Systems
Re-roofing can be done when the owner does not want to go for a complete roof tear off. Most of the time, metal materials may be directly installed on top of the existing traditional shingles, eliminating extra labour expenses, significantly reducing the environmental and dumping fees at the land fill, and decreasing the project's average cost.
The dynamic nature of commercial metal panels allows the materials to be installed on seemingly any existing roofing. Offering many design options in a variety of gauges. Commercial property owners are pleased with the benefits of metal and it's life expectancy.

Curved Metal Roofing Systems
Curved metal roofing systems can be used as a decorative feature or for a roof or structural solution. Many commercial organizations are shifting to such architectural roof designs these days.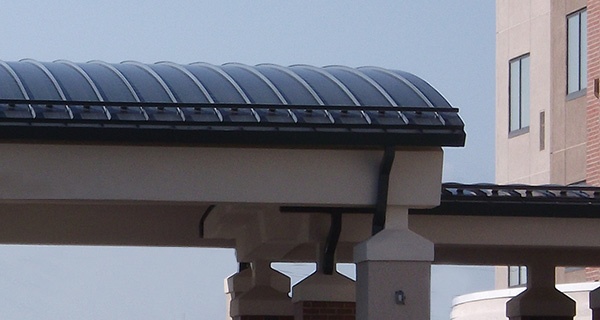 A rigid, vertical seam provides the curvature – making the roof look classy and sleek on structures like complexes and gym facilities with canopies. Curved roofs made from high-end materials make excellent choices for a range of industries.

Exposed Fastener Panel Options
This is the most cost-effective solution among them all. These systems include panels attached directly to the frame or the deck. Unlike standing seams, the fasteners remain exposed as the adjacent panels are overlapped on top of one another.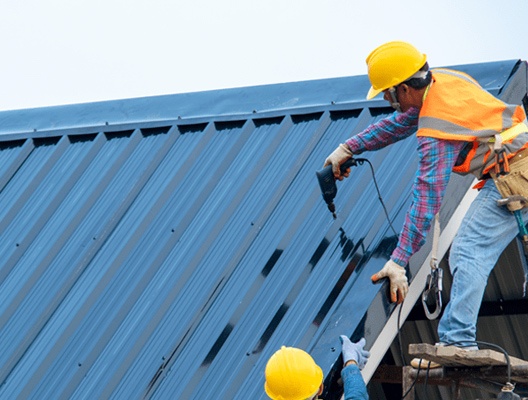 However, less effort is required for the installation as the panels are wider than average, leading to fewer panels being installed. These commercial panels really cut down on installation time.

Metal Shingles and Steel Spanish Tile
Simulated Spanish tile steel roofing systems give office buildings the same advantages as an original metal roof, including longevity, protection from the elements, and energy conservation without sacrificing the appearance of company. Often certain brands will seek out these types of roofs as they are a reflection of their corporate look and feel. (Think Red Roof Inn, or PizzaHut!)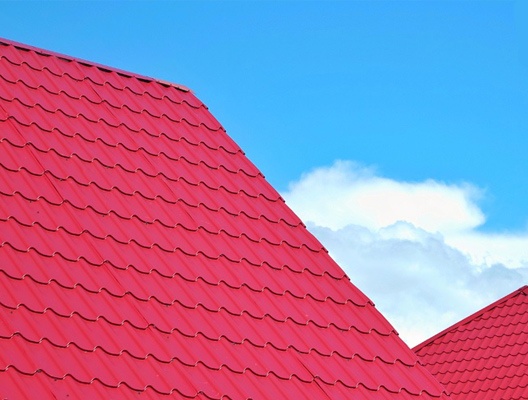 They come in a variety of sizes and colors, like galvanized steel. It is quite difficult to separate a steel roof from a metal variant if seen from a distance.
Rib Steel Panels
As the name suggests, a ribbed steel panel consists of ribs and trapezoidal voids along it's edges. The profile of this panel is raised uniquely, giving it considerable malleability. Experienced roofing contractors can have these types of panels installed in a very short period of time. Seam panels are very easy to work with and can be cut into custom shapes for commercial metal applications.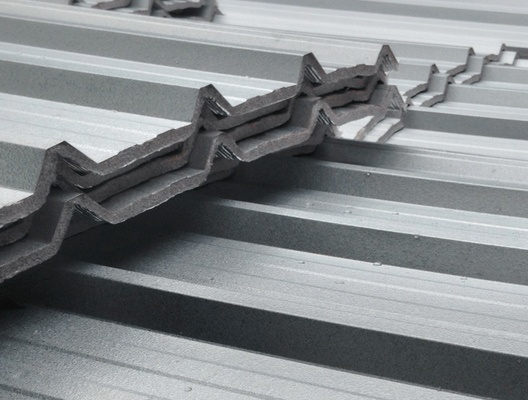 The ribs create strong, distinctive lines that are attractive and inventive compared to conventional metal panels.
How to Select a Commercial Metal Roofing Contractor
Now that you have a basic idea about the different types of commercial metal roofing systems, let us take a look at how to hire the best roofing contractor to get the job done.
Search Locally
A roofing job does not end after the installation has been completed. Maintenance work is key to preserving the integrity of the roof. Thus, the ideal solution is to hire a local roofer or contractor so that you can get immediate assistance whenever you are in need.
Ask for Recommendations
To prevent tainting your roofing experience with inexperienced labor, you must select a professional contractor. It is always a smart idea to go with individuals who have already worked for a close friend, colleague, or family member. Word of mouth is the best way to find a trusted company to work with.

Ask for Valid Work Permits and License
Different localities have their own set of building rules and guidelines. Make sure the contractor of your choice has all the proper paperwork to perform roofing work (Insurance, WSIB, Certifications, Permits), if/when needed.
Factor in Work Experience
Opting for an experienced professional is significantly more beneficial than someone who might be attempting their very first project. Ask the candidates about their past projects and assess them based on the quality of the results. Look online for a gallery of commercial building projects that have been completed to perfection.

Check the Online Reviews and Testimonials
Online reviews and customer testimonials play a crucial part in determining the quality of a roofer. Make sure you go through all reviews and try to predict the outcome accordingly. This way, you will be able to discard the amateurs and go with the experts.
Metal Roof FAQs
This section addresses some of the frequently asked questions regarding commercial metal roofing.
Why Use Metal Panels For Commercial Buildings?
Answer: They are used because of their durability, longevity and low maintenance costs.
How to Select a Commercial Metal Roofing Contractor
Answer: There are a few steps that can be followed, including local searching, taking recommendations, checking for valid licenses, and more.
How Much Does a New Metal Roof Cost?
Answer: A metal roof may cost anywhere from $15,000 to $45,000, depending on the exact materials being used, and labour costs.
Which Building Types use Metal Roofs?
Answer: Metal roofs can be found in both residential and commercial properties.
What types of metal are used in commercial metal roofing?

Answer: Steel and aluminum are the most common, although copper and zinc are also found in some metal roofing solutions.
How long does a standard installation take for a commercial metal roof?
Answer: Depending on the size of the roof, the material used and the slope installation times can vary from any where between 2-3 days to entire week.
Contact Us For A Commercial Project Quote

Chatham's own Country Towne Metal Roofing are pioneers in the field of steel shingles and commercial metal roofing.

Ranging from saving energy costs to raising the curb appeal – they ensure everything goes according to plan and have the experience working with many types of metal roofs. Contact Luke or Henry for an Estimate on your next commercial building project.