Tired of Worn Out Asphalt Shingles?
Consider Metal Roofing Ontario!
Are you tired of replacing worn out shingles, made brittle by the abuse of the sun and weather? Why invest in another asphalt shingle roof, knowing that the clock starts counting down to replacement day from the moment it's installed. Perhaps you should consider a lifetime metal roofing system from Country Towne Builders. Serving home owners in Blenheim, Ridgetown, Sarnia, London, and Tilbury. Country Towne Builders can install the last roof you'll ever need to buy. PERIOD.
We Offer a Range of Styles for Metal Roofing Ontario!
Stylish metal shingles can add great aesthetic value to any home, business or structure of any type. Available in a wide range of patterns and colors, metal roofing systems have come a long way from the plain style of yesteryear. Country Towne Builders can offer metal roofs in many styles and colors. There are unique products available today to suit the style of any structure, from traditional hip and valley roofs all the way to rounded dome type roofs. Many of the styles now available are not even distinguishable as metal roofing, with styles mimicking shake shingles and Spanish tile and slate guaranteeing an authentic look to any home. The stylish options, paired with the superior durability make Metal Roofing Ontario is an obvious choice for anyone looking for permanence. Get off the re-roofing merry-go-round forever!
Longevity, Durability and Strength
Winters here in Ontario can be extremely harsh. The impressive snow loads and high velocity, whipping winds really put excessive wear on conventional asphalt shingle roofs. The effort and expense of replacing worn out asphalt shingles again and again can really drain the homeowner, both physically and financially. But residential metal roofing are considered a lifetime product as they seldom need replacement at all, with Warranties that boast over 50 years for coverage. Let Country Towne Builders take the headache out of roof maintenance for you with a lifetime metal roofing system. Never worry about deterioration of asphalt shingles again, and save thousands over a stress free lifetime.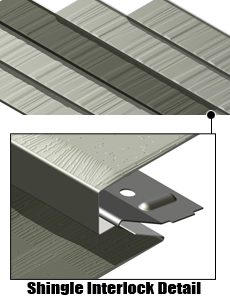 A Lifetime of Value
The array of styles of residential metal roofing available may have changed drastically over the years, but one thing that has remained the same is the long term durability that metal shingles have always been noted for. And long term durability means a lifetime of savings when compared with the cost of the multiple replacements that asphalt shingle roofs will require. Metal roofing may cost more upfront to the home owner, but the savings begin to add up as soon as it's installed. Metal roofing prices compared to shingles made of asphalt will vary depending on the product you choose in your price range. However, it is good to note that any metal roofing product will outlast an asphalt shingle roof by decades. High end metal roofing products will never need to be replaced and require little if any maintenance. Regardless of the choice you make, the potential savings of metal roofing Ontario will be huge. This, paired with the peace of mind that comes from knowing your roof is in perfect shape for years to come, are invaluable.
Residential Metal Roofing Increases Market Value
Another financial benefit of a metal roof from Country Towne Builders is the added market value to your home. The roof is the single most important protective feature of the structure of a home. If a roof fails and begins to leak, the rest of the structure will begin to deteriorate shortly thereafter. Because of the well known durability of metal roofing, just having one installed on your home increases its potential market value. Knowing that a home on the market won't need a roof anytime in the near future is in and of itself a strong selling point. This can make your home highly desirable as the condition of the roof of a home can make or break a deal. If you are or may be considering selling your home in the future, a metal roof from Country Towne Builders will help ensure you get top market value.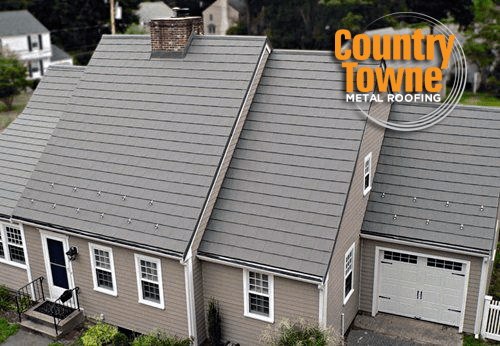 Reasons Why Metal Roofing Ontario Is Right For You
Strength: A metal roof can stand up to the harsh winter weather Ontario can be known for
Durability: Metal roofing is considered a lifetime product and seldom if ever needs repaired
Beauty: The array of styles and colors available today ensure the beautification of any home
Savings: Metal roof owners enjoy thousands in savings over a lifetime compared to asphalt shingles
Market Value: Metal roofing increases the potential market value of any home.
Trust Country Towne Builders for Your Home:

With superior experience and the latest and greatest products and techniques, Country Towne Builders are the premier metal roofing installers. Serving home owners in Blenheim, Ridgetown, Sarnia, London, and Tilbury, Country Towne Builders are trusted experts, belonging to the Better Business Bureau and the S.A.W.D.A.C (Siding and Windows Dealers Association of Canada).
Let Country Towne Builders see what they can do for you today, by calling (888) 674 6570 or emailing us for your Free Metal Roofing Estimate. Metal roofing Ontario has never been a better, more affordable idea, so don't wait!