Standing Seam for Residential Homes

A standing seam metal roof should be a strong consideration for any home. Home roofing is arguably the most important protection, a home can have. All roofs try and protect all other components of your house, like the walls, the flooring, your foundation and everything in between. But only Metal is a Permanent Solution to your roofing needs.
A roof shields the rest of your home from severe weather and other potentially damaging threats. It is only common sense to install the absolute best and strongest roofing material for any residential home.
Considering the fact that you paid a professional to install it correctly, venting and roof materials are what determines roof life. Metal is the best choice, and perhaps the ideal solution for giving your home the strongest roof possible.
Or at least it should be, here is why…
Country Towne offers the following information to inform potential customers about a standing seam metal roof.
Standing Seam Metal Roof Pros to Consider
Strength – Metal is simply the strongest material homeowners can buy. It is more water-resistant than shingles; therefore, it withstands harsh weather better than conventional shingles.
Longevity – Amazingly long lifespans of up to 50 years make metal roofing the most durable roofing material on the market.
Appearance – The clean, straight lines of these roofs create real aesthetic appeal, and they just look more substantial and stronger.
Cost – While the initial cost is higher than shingles, this cost is easily negated when you stop to think you would replace a shingle roof as much as three times over the 50-year lifespan of metal.
Standing Seam "HS" By Ideal Roofing

Our panel maker, Ideal Roofing, does an absolutely excellent job of producing our standing seam panels. You can get a look at their brochure here.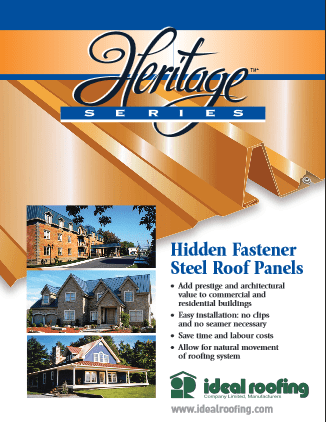 Standing seam roof texture has a perfectly clean and straight profile. To the eye, the roof texture itself looks softer than metal. The uniform pattern and cut of the panels give home roofs a look that is dressed-up.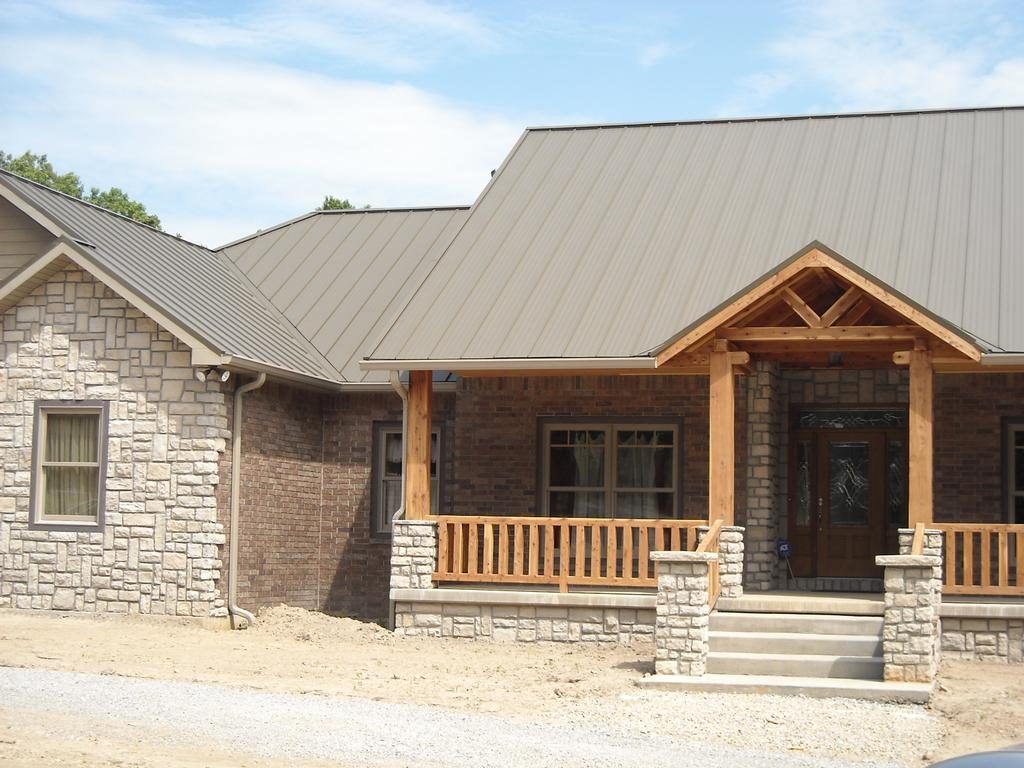 The colors available make these panels look very different from the old, standard unpainted tin that covered houses and barns of the past. Go to this link to get a better visual idea for yourself.
Standing Seam Metal Roof Installation
The term "standing seam" actually describes the main characteristic of the panel itself, as "Standing" refers to the height of the fold for each panel.
Each panel is measured, cut, notched and folded or hemmed to fit the eave and rake edges or side and end edges. Folding or hemming gives the panels a smooth, rounded edge as opposed to an otherwise sharp, exposed and dangerous metal edge.
These hemmed panels get installed into the drip edge extensions at the eave and edges or rake edges. You are basically tucking the folded over edges into the installed drip edge.
This creates an envelope-like effect with all edges folded to protect each other. Each successive panel is neatly slid and tucked onto the other.
With the panel tucked into place, screws hold the panel in place. The next panel with a female seam sits down over the standing seam or male edge.
The same procedure of cutting, folding and attaching each successive panel gets repeated. The finished installation is well-sealed and weather-protected as the panels get fitted tightly into place.
Standing Seam By ATAS International

These shingles have transverse seams on them, giving them an elegant style. With this design, winter season is nothing to worry about, snow and ice easily slide off your roof, preventing damage that is brought by thaw and freeze.

All these metal products adequately fit any home owner's roofing needs and then some. It's a fact that metal shingles are permanent. This is a significant factor that marks us among the best roofing materials. Although there are some slight similarities with asphalt shingles, metal shingles are an improved version that comes with more considerable advantages. Things like cool roof technology.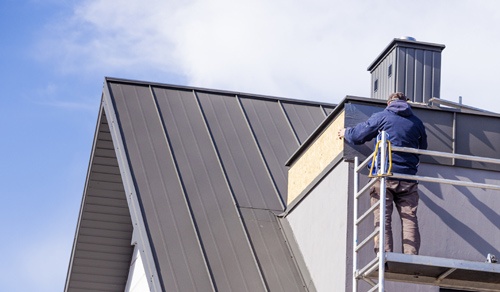 Metal Shingles Versus Metal Panels
Metal panels are larger pieces of thin metal forced through a press to create folds or flutes on each side. These folds are then used as connecting channels for attaching each successive metal panel to the next.
Metal shingles are smaller versions of the same concept with smaller sections of metal shingle panels which are hooked and slid in place and attached with screws, eave to the ridge and left to right.
They are cut and folded similar to the panel installation process. Whole shingles, three-quarter, and even one-quarter shingles are used alternately to create that staggered shingle look.
One readily noticeable difference should be that fewer attachments are needed for metal panels. This means fewer holes for attachments, and this means a more solid roof decking underneath.
It also means with panels you have fewer sheets to swap out should you need to replace a few. With standard shingles more numerous and smaller sections can create more potential problem areas.
No matter which look you go for, always trust and use the Best Metal Roofing Company for your home installation team to ensure no hassles come up down the road.
Maintenance, Service and Repair
Another great advantage to standing seam panels is that they are much easier to maintain. They need very little in the way of maintenance to retain that standing seam roof texture and will never need replacing!
They can be cleaned quickly when they need it, and each time they get cleaned, they look like new. If you have large trees that overhang sections of the roof, more frequent cleaning may be needed.
Servicing and repair are also much easier and quicker than with traditional shingles. It is much less time-consuming and labor-intensive to replace a couple of panels than it is to tear out and replace your roof underlayment and asphalt shingles.
Metal also offers better protection for the roof decking than asphalt shingles. Metal is much stronger and resists force more readily than asphalt.
Warranties
Country Towne has the warranty issue already settled. We warrant both our labor and price. We simply do a better job, and we do it more cheaply.
If you are ready to install the last roof you will ever need while saving substantially on your lowered electric bill, contact us. We will be glad to show you how to do both, and we will make your roof transformation a most pleasant experience.
Contact Luke At Country Towne Metal Roofing

Contact Luke today to find more information about residential standing seam metal roofs for your home. Here is our toll-free number at 1-888-674-6570 to speak with us directly. We are here to help you get peace of mind with your own standing seam metal roof installation for years to come.