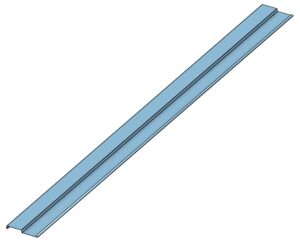 Lock Board Panel

A customizable, modern, and durable solution for Siding, soffit, accent wall, and more. A great fit for those looking for low maintenance solution that will look great in 20 plus years. This collection puts a modern spin on a traditional look. It has a flat section with raised battens like the old pine board and batten system. However, our metals pressure wash and clean easily without absorbing the water and dirt. No need to re-stain ever! Perforated panels available. Hidden fastener, all metal, interlocking system. The Look of tomorrow. We can help you get there today.
Options include varying panel widths, batten width, colors, and textures. Mix and match compatible with any lock board series panel for one-of-a-kind results. Use a wide panel next to a narrow panel for a distinct appearance. Able to be made up to 23 ft. long allowing many walls to be seamless.
Custom trims available with special features. Tapered pluggable trims fit into each other allowing added overlap and tighter, more hidden seam.