The Benefits of Upgrading Your Ontario Home with Steel Tile Roofing
Want to give your Ontario home a significant upgrade? Replace your old asphalt roof with one made from high-quality steel tile Spanish roofing in Ontario.
When most people think of metal roofs, they picture long panels crimped together with standing seams. That's not the only option for metal roofing. Steel tile roofing offers all the benefits of a durable metal roof, plus the European or Spanish look of clay tiles.
Let's look at the many benefits homeowners get when they upgrade their Ontario home with steel tile Spanish roofing.
#1 Save on Your Energy Bills
Steel tile metal roofing is one of the more energy-efficient options around. Its reflective surface helps prevent the sun from overheating the building below. The raised profile helps airflow between the roof and the deck below, aiding in the cooling effect. This can significantly lower cooling bills during the summer.
#2 Long-Lasting Roofing Option
A typical asphalt shingle roof is expected to last between 15 and 20 years on average. You can expect a metal roof to last between 40 and 70 years. That's easily two or three times the lifespan.
Metal roofs, especially those pre-treated with weather resistant finishes, can withstand the elements far better than asphalt shingles. Over time, asphalt shingles become brittle and start cracking. Metal doesn't have this problem.
#3 Lightweight
Weight is a major reason why many property owners shy away from clay tile roofs. On a home that's about 2500 square feet (232.25 square meters), a clay tile roof can weigh over 15000 pounds (6804 kilograms). An asphalt roof of the same size can weigh 3200 pounds (1451 kilograms).
If you are replacing an existing asphalt roof, upgrading to a clay tile would require making major structural improvements to handle the additional weight. Going with steel metal tiles is a lightweight alternative. You get the look of clay tile without the overwhelming amount of weight.
#4 Weather, Wind, and Fire Resistant
Metal roofing systems are engineered to be weather and wind resistant. Each tile is fastened down onto the roof deck. The tiles interlock with each other, creating a monolithic cover on top of the roof.
These roofing systems can withstand heavy snow and ice loads. They can withstand high winds and torrential rain. And even though it isn't an issue here in Ontario, these roofs can withstand hurricanes as well.
The metal is completely fire resistant. That helps keep your home safe from stray sparks or fireworks.
#5 No Cracking or Splitting
As asphalt roofs age, they tend to start cracking and splitting. This allows water to get under the shingles, causing leaks and water damage. With metal roofs, that's not a problem.
Metal doesn't crack or split as it ages. It can withstand the weather of several decades without any problems. Routine maintenance helps keep fasteners tight and the roof in good repair.
#6 Increases Curb Appeal
One of the reasons people love the look of tile roofs is the curb appeal. With so many homes having asphalt shingle roofs, seeing a tile roof is a refreshing change. It's a great way to make your home stand out from the rest of the neighborhood.
The look of Mediterranean roof tiles or a Northern European scallop tile gives your home instant personality. It can become a major feature in your home's design.
#7 Could Increase Property Value
With improved curb appeal and long lasting materials, a steel tile roof can easily increase your property value. Whether you are looking to sell, or just want to make a smart home improvement, installing steel tile roofing is a solid investment in your property.
Home buyers are looking for properties that require less maintenance and are move-in ready. They look at older roofs as a major expense waiting to happen. When they see a newer steel roof, they know they won't have to worry about the roof for decades.
#8 Multiple Colors Available
You can order metal roofing materials in a number of colors. Go with a classic white or gray. Or get colorful with multiple shades of blue, red, or green. You can use the same color across the entire roof, or mix and match as you desire. The choice is yours.
Changing the color of your roof can make your property stand out from the rest. Use it to complement the building's existing color or use it as inspiration for giving the entire place a makeover.
#9 Look of Real Tile
What makes metal tile profile panels stand out is how close they resemble real clay tiles. We offer high-quality tiles from ATAS International. Their products are some of the best in the industry.
Their ScanRoof product offers the look of Northern European scallop tile. It works well in both commercial and residential applications. It's definitely engineered for the weather here in Ontario.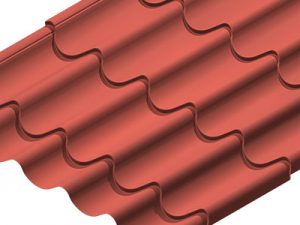 They also offer Techno Tile which looks like steel tiles Spanish roofing. It has the look of a deep "S" curve tile without the maintenance and upkeep.
#10 Residential, Commercial, and Agricultural
Steel tiles work well on residential agricultural and commercial applications. They are a great way to tie multiple buildings together visually. Talk with a qualified metal roofing contractor about the options available.

Interested in learning more about steel metal tiles? Give Country Towne Metal Roofing a call today or fill out our query form. We look forward to helping you find a roof to last a lifetime!