What do You Think of when I say: "Metal Roofing?"
Educating Home Owners on the Benefits of Metal Roofing
Often times when we hear the words, "Metal Roofing" and we think of those old tin roofs that we see on barns and sheds on the farm. Fact is that Metal Roofing has seen so many advancements in material make-up and technology that it is one of the best product that you can put on your home today.
Let me explain. First off, lets have a look at a metal roofing panel and get a feel for the beauty and style that it will bring your home. We carry a few different manufacture products including steel, metal and aluminum panels and they all come in a variety of different styles like, Shake, Slate, Title and Traditional Shingle Looks.
Example of A Metal Roofing Panel:

Example of A Home With A Metal Roof: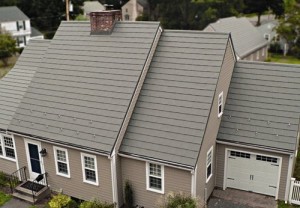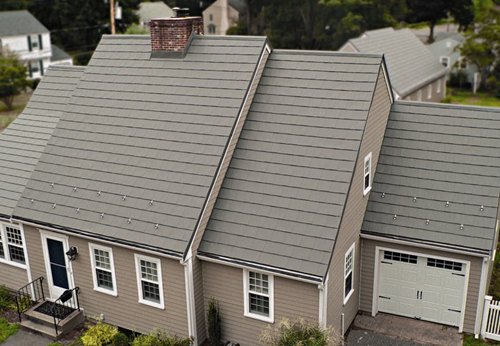 As you can see from the photo above Metal Roofing can look like traditional shingles, however the major difference is the lasting performance. How Long exactly? A Lifetime plus 50 years transferable upon sale of the home, we guarantee it. If you have any problems with the installation or materials, we take care of our customers.
In addition the Warranty is NON Pro-Rated which means that your roof will hold its value through time. Other Benefits include the highest Wind, Hail and Fire ratings available for roofing and with its unique 4-way interlocking design you know you will be protected from leaks and all sorts of extreme weather. Because of advancements in coatings, Metal roofing also offers a special UV coating called Kynar 500® which will allow for energy savings as soon install the new metal roof.
Just think of the alternative, replacing your new asphalt roof just after five years to seven years after installation. Just like the testimonial above we have seen many clients having to pay for a new roof well under a decade of use. Your metal roof will pay for itself the very first time you have to replace your roof the second time. Temporary just doesn't make sense! Get permanent protection now!
Why Use Metal Roofing for Your Home?

If you're wondering whether metal roofing might be right for your home, we invite you to consider the following:
Beauty. There are still many misunderstandings about metal roofing which can cause some people to question it for residential use. This often results from a lack of understanding that today's residential metal roofs do not look agricultural, industrial, or commercial.
Style & Colors. Metal roofs are now available in many energy-star colors and even enhanced blended colors to avoid a monochrome look. Additionally, paint technology has allowed the development of UV protection and energy savings. With today's product variety we can match any home's decor.
Light Weight. Metal roofing is much lower in weight than traditional shingles and most other roofing materials. It does not pose any structural challenges when installed on homes.
4-Way Interlocking. Metal roofing has a unique 4-way interlocking feature that allows for extreme weather protection and the best wind, hail and fire available in roofing.
Custom. Because Metal Roofing is so mailable we can custom form metal roofing to any roof lines and shape our product to roofs that other materials would not adhere to.
Home Value. In today's age when homeowners are concerned about the values of their homes, as well as the ongoing costs to maintain their homes, they are very attracted to homes which feature durable metal roofs. This can make those homes more valuable than competing homes in the marketplace.
Resale. Homes equipped with Metal Roofing that are are advertised in the listing as such is a major selling point for any home.
Lifetime Warranty. Many homeowners are impressed with our Non Pro-Rated Lifetime Warranty that is transferable up to 50 years upon sale of the home.
Free Metal Roofing Estimates:
Call Country Towne Roofing for a Free Metal Roofing Estimate at 1-888-674-6570