Discover All of The Advantages Metal Roofing in Wheatley, Ont. This Year!
Have you considered replacing your old roof with Metal Roofing in Wheatley Ontario? Local Residents of Wheatley and Homeowners appreciate the quality metal roof installations provided by Country Towne Metal Roofing. We install superb metal roofing systems offered through our supplier including ATAS International, including in-demand Advanta Metal Roof Shingles.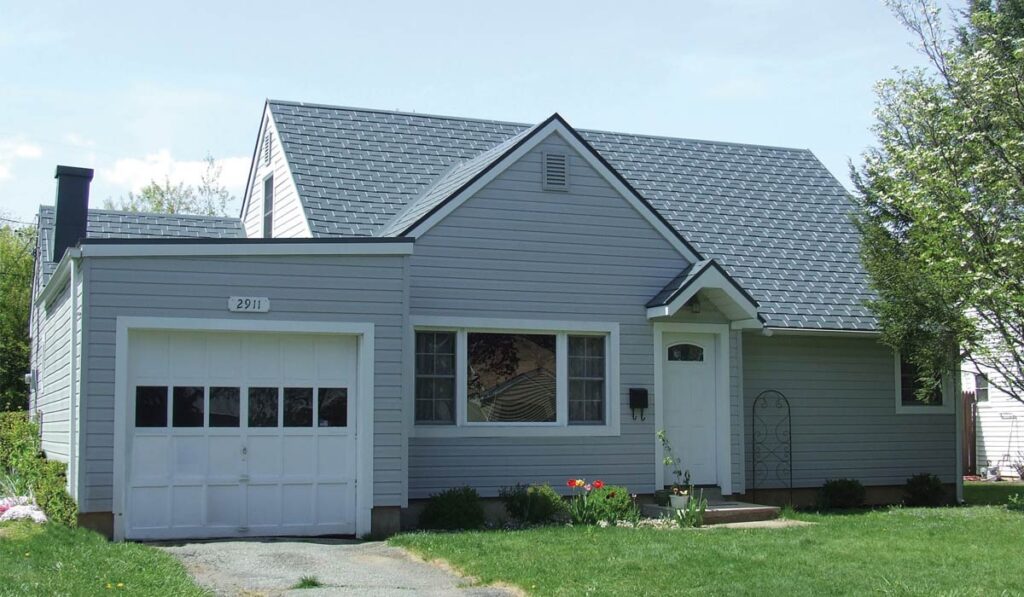 Some Advantages of Metal Roofing in Ontario
Today, busy residents of Ontario seek metal roof installation services frequently, as they know its the last roof they will ever buy. Replacing a heavily worn asphalt shingle roof with a new Metal Shake Shingles roof offers some impressive benefits. This type of roofing system continues to gain popularity in Ontario.
Well-maintained metal shingles last for extended periods of time without losing their attractive qualities. Unlike asphalt tile, metal does not contain components that will readily support algae, lichen, and other plant life. Shingles from ATAS International retain their uniform, pre-engineered shape without warping or curling as they age. By selecting this durable roofing product, a homeowner potentially enjoys a lifetime of satisfaction. In cold, damp weather, asphalt shingles eventually undergo color changes and lose their beauty. By contrast, metal shingles retain their crisp, like-new appearance for decades.
Enjoy Skilled Turnkey Metal Roof Installation Services
Whether a customer orders corrugated roofing or stylish Metal Shake Shingles, our local firm offers expert installation services. As metal roofing contractors, we possess extensive experience replacing asphalt roofs with metal ones. We'll work closely with you to ensure our finished results meet (or exceed) your expectations.
Today, many companies supply metal building systems for commercial and residential properties. We've invested time and energy learning the best way to install these products. Our customers appreciate the beauty and convenience of the lines we carry. These sturdy metal roofing systems assist property owners seeking to remodel their premises attractively. As skilled installers, we know how to correctly (and securely) construct durable roofing systems for our customers in Wheatley and outlying areas.
Some Common Myths About Metal Roofs

Many homeowners in Ontario possess extensive familiarity with traditional asphalt roofing, since this type of roofing material has existed for decades. Today, metal has been used for many years in commercial and industrial construction. New styles of more fashionable shingles represents a more recent metal innovation.
Property owners sometimes wonder if shingles composed of metal will attract lighting strikes, sustain hail damage, or become excessively noisy. We'd like to put your mind at ease regarding these concerns. The fine metal products in our inventory help to disperse lightning strikes across the entire surface of the roof. They withstand ice and sleet damage well. They make no more noise during rain fall than conventional asphalt roofing. Small wonder so many homeowners in Ontario fall in love with the wide selection metal roofing has to offer!
Replace Old Shingles With More Fire Resistant Materials
In the past, in many forested locations, lovely cedar wood shingles appealed to property owners. Yet this material displayed a very significant drawback. Wooden roofing shingles, while easily replaced, will burn readily during fires. Partly for this reason, builders began encouraging their customers to switch to other types of roofs, such as slate or asphalt.
The shingles produced by ATAS in some cases do appear very similar in appearance to cedar shake. Yet they possess much greater fire resistance than wood shingles. Most metals will ignite only within high temperature ranges. Additionally, metal furnishes excellent resistance to termites (a big problem with wood). Today, for safety reasons, building codes in many locations prohibit the use of cedar shingles. Yet virtually every community in Canada welcomes the use of shingles made from metal.
Get the Roof Style & Look You Prefer
Ultimately, "The Look" is perhaps one of the strongest reasons to choose shake shingles made from metal. ATAS International manufactures shingles from metal in a dazzling variety of colors and textures. Use these metal building materials to cultivate the impression of a wood, slate, or granite roof easily. The product lines in our inventory complement virtually all residential styles and trim colors.
If you've always dreamed of owning a fine, eye-catching residence, then you'll definitely want to explore these metal building materials in greater depth. The beauty of the roof contributes significantly to the overall "curb appeal" of a home. The products we install enhance the appearance of real estate in Wheatley. Customers have an opportunity to appreciate the beauty of the roof even years after the completion of the installation. This smart longterm investment makes sound economic sense for many households in this area.
Contact Us Today
If you've considered replacing an asphalt shingle roof with a new metal roof in Wheatley, you owe it to yourself to learn more about our company and our excellent product lines.

Go ahead and call 888-674-6570 or contact us now. We look forward to meeting you!