If you live in Chatham, one of the best modern home siding options you can give to your property is the installation of metal panels. They'll protect your home from extreme cold, humidity, storm, snowfall, and rainfall – all common in this region. And you can find a wide range of contemporary designs, too.
Surprised? Many people have the misconception that metal siding panels are boring like an old tin roof. But for modern homeowners, metal is a popular choice simply because they come in a wide variety of styles, textures, and colours. And you can creatively incorporate them into the exterior wall designs for stunning results!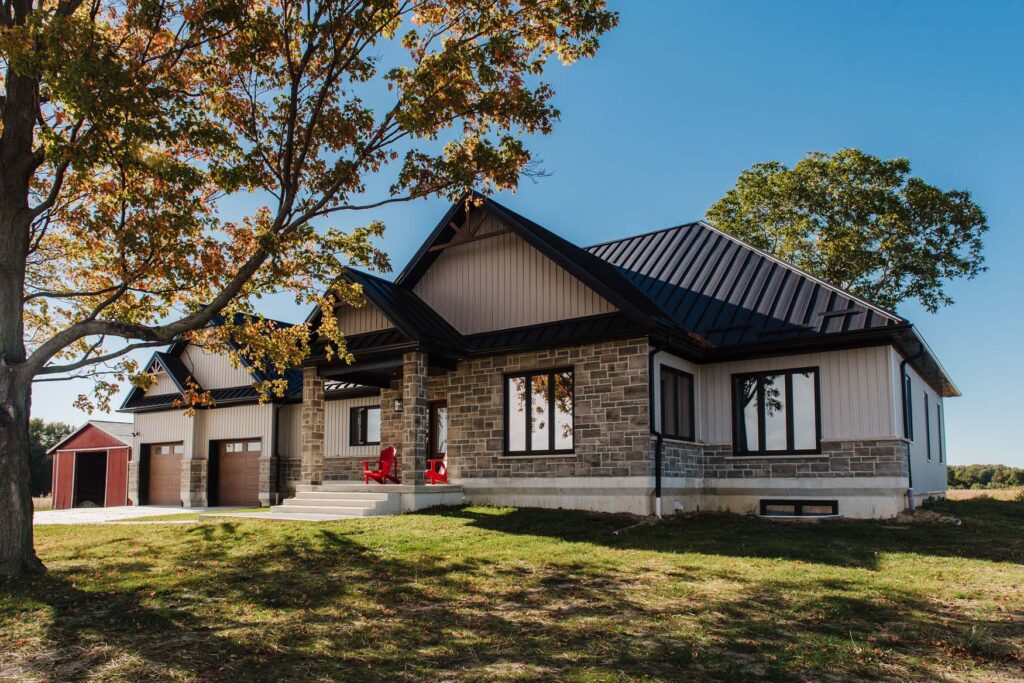 Wondering how metal can make residential homes look good? Then keep reading to know about some incredible modern metal siding options. You might find ideas to make your home stand out in any Chatham neighbourhood!
Metal Siding for a Modern Residential Property in Chatham: 7 Creative Ideas
Metal cladding for residential homes have many advantages. These include protection against fire hazards and water damage, insulation to maintain internal temperature, high energy efficiency and reduced energy bills, and more. But there's more! Modern sidings can improve your property's curb appeal.
Contrasting Colours and Textures
Give your home a dynamic look by creating a bold contrast. Combine two colours to create an eye-catching colour combination. Black and white, blue and orange, yellow and green – feel free to experiment.
For this, you can use metal sidings of different colours or pair coloured metal siding with panels of other materials. If you're not feeling too brave, simply have your doors and windows pop against the walls.
This kind of colour usage can make your home stand out in the mostly rural Chatham-Kent area. Interestingly, this style will also let you stay in sync with the general colour scheme in your neighbourhood.
Monochromatic Effect
Are you a fan of a single colour on exteriors and don't want to experiment with opposites? There's still hope for you, after all! The best option for you would be to use different shades of the same colour.
You can choose a base colour and incorporate deeper shades for trims or window casings. For instance, if you want to go with white, you can use it as the base – and add elements of ivory, beige, and cream.
Doing so will create a cohesive look, and even muted earthy colours –which are trending, by the way – will look attractive. The monochromatic visual effect will appear extremely soothing and sophisticated.
Uncommon and Wild Colours
Playing safe with colours is a passe! If you have a colourful side or love unique colours, why not let your personality reflect on your property's exteriors?
With metal panels available in different shades, you can pick any colour. Bright shades like lipstick red and fluorescent pink, pastel shades like mint green and pale purple – the rainbow is your oyster.
You can also go in a different direction and try dark shades like forest green or even black. Inspired colour schemes like Barbie pink, retro teal-blue, or the red and white from Canada's flag, are also quite popular.
Multiple Materials
A combination of different materials in a creative way can give your home a chic and contemporary look. Common siding materials like wood, stucco, bricks, veneer, etc., pair well with metal.
If you're going for a sophisticated sheen, you can also try combining metal with vinyl, glass, and more. The whole idea is to play around with different types of textures.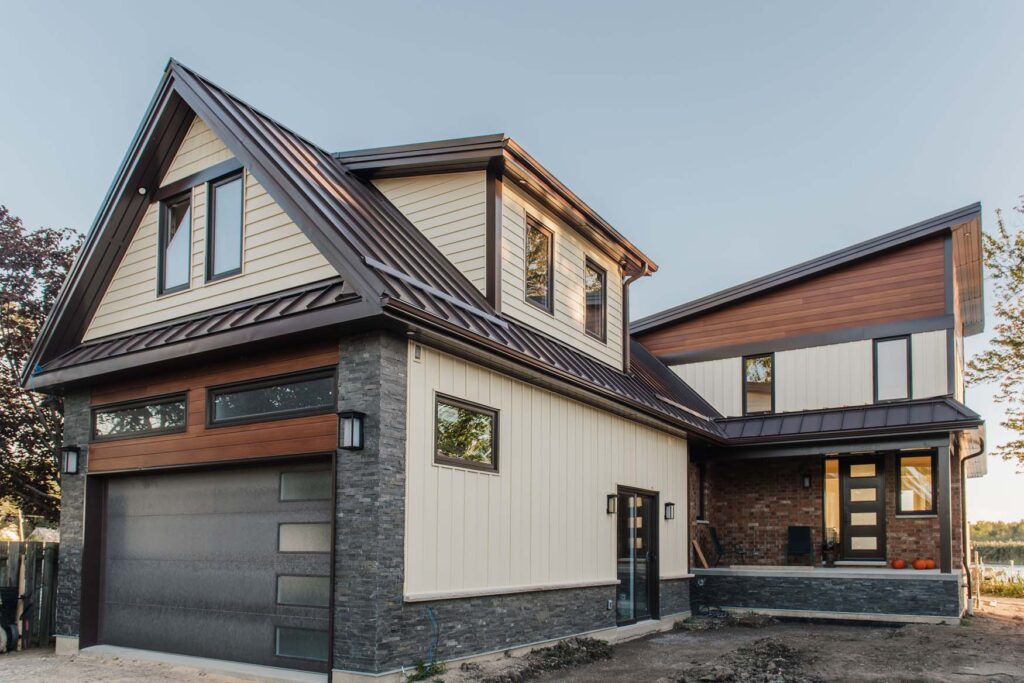 The good news is you don't actually have to use different materials for that. Metal panels come in all kinds of textures that mimic the look, feels, and grains of different other materials.
Unique Designs on Gables
If you're not up to experimenting too much on the exterior walls, there's still another way – the gable! Skip the usual lap siding on this section of your home's exterior, and try unique designs.
Your gable's triangular section, borders, and sloping surface present various chances to experiment. You can implement various colours and textures, as well as the textures.
Gables may also have windows, which is another portion that you can have fun with. Add colours to the window case to make it stand in contrast against the background.
Standard Look with Accents
Are you fascinated by contemporary homes – and still can't shake off the idea of a charming property with a classic character? Why not do both for your home?
Well, there's a great way to combine time-honoured and trendy design ideas for your home's exterior walls. Pick a traditional siding option – with accents that represent an element of uniqueness.
Or, it can be the other way around, i.e., your accent is vintage, and the remaining house has a futuristic feel. For instance, pairing a matte black accent with traditional off-white vertical sidings can grab eyeballs!
Matching Surrounding Elements
A lot of times, homeowners get so busy adding their choices to their home walls that they forget about the setting. But a home in sync with the surroundings can be a masterpiece.
This may sound like a no-brainer, but consider your property's landscaping and hardscaping, your neighbourhood, and your location first. Then, choose the colour and style of your sidings.
For instance, a lakeside neighbourhood may look great with sidings in earthy colours. And for a house with a rock garden on the front side, you can match the wall colours with that of the stonework.
Contact Country Towne
Looking for innovative metal siding ideas for your home's exterior walls? We can help! Our team of experts can help translate your vision into a home you'll be proud of.

We also give you the advantages of ease of installation, a variety of designs, and complete protection through metal sidings. So get in touch with us today and we will get you your Free Estimate!