When thinking about renovations, most homeowners want their house to be an extension of their personal style. They want to add a personal touch not only to the interior but also to the exterior of the home. Besides protecting the house, they want the exterior siding to also add to the aesthetic value. This has given birth to "the concept of modern siding" and we have some ideas for your new contemporary look!
There are numerous options available today for types of siding, all ranging from durable metal materials to trendy options. But how do you choose the right one that gives a modern contemporary look to your house's exterior?
Keep reading to get some inspiration for modern siding ideas.
Top 8 Siding Ideas For Modern Contemporary Look
The modern siding options offer real protection from water damage, mold, and even foundational issues. While the siding needs to be high-performance and low maintenance, it can also be very stylish in design. Here are 8 trending siding applications for you:
Modern Metal Siding
One way to get a modern look is to mix metal with raw natural materials, like combining dark flat metal siding panels with wood beams. If you're looking to really make a statement and add value to your home, then these are the perfect option for you!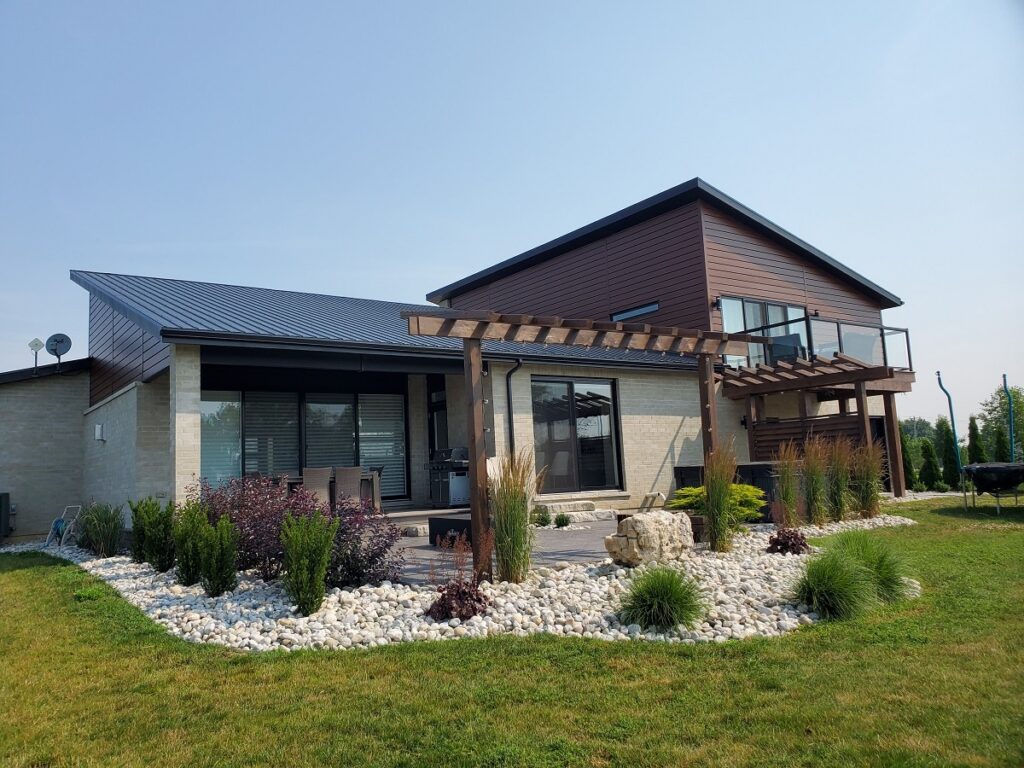 This style of new modern architecture can really make a statement and add value to your home. Modern metal siding could be the perfect building material option for you and your home. Many building contractors already know the benefits and quality of steel siding and have been using it for their construction projects for years.
One way to create a modern contemporary look for your home is to use panels that are installed vertically instead of horizontally. This creates long, clean lines and draws the eye upwards, making the space appear larger. Mixing metal panels both vertically and horizontally gives the appearance of a very modern look. For a truly unique style, you could even try installing the panels diagonally.
Timber Poles & Hardwood
Nothing compliments a modern house more than hardwood or treated timber poles for a natural look. It helps create a timeless look that instantly upgrades the appeal, making it a go-to option for homeowners after a Cottage or Chalet style homes. You can easily customize them as per the design of your home and create sturdy siding. Whether you wish to achieve a contemporary design or rustic look, hardwood can help you achieve that.
I don't think there is any better feeling in the world, than waking up in a timber style log cabin, sipping a morning coffee and reading a book under a warm blanket, surrounded by natural wood.
Cross-Laminated Timber
Modern house building materials also includes cross-laminated timber. Although usually found on a home's interior, it is a strong yet lightweight wood panel made by putting boards in alternate directions to bond together using adhesive. This gives it a very unique (light/dark) pattern that really catches the eye! The low carbon footprint of CLT makes it an Eco-friendly sustainable option.
It comes at a cost-viable solution that offers many benefits to mid-level home construction and also looks pleasing to many consumers.
Contrasting Colors
Classic neutral colors have been popular ever since the early 80's (beige, reds, browns), but now contrasting colors are more in style. Usually what we see most is a dark chocolate metal panel combined with some light natural wood, or other type of building material. Contrasting colors can give the exterior of your house a high-end and contemporary look. If you want to play with colors, you can add high-contrast trims as well with darker siding to create a modern design that really pops!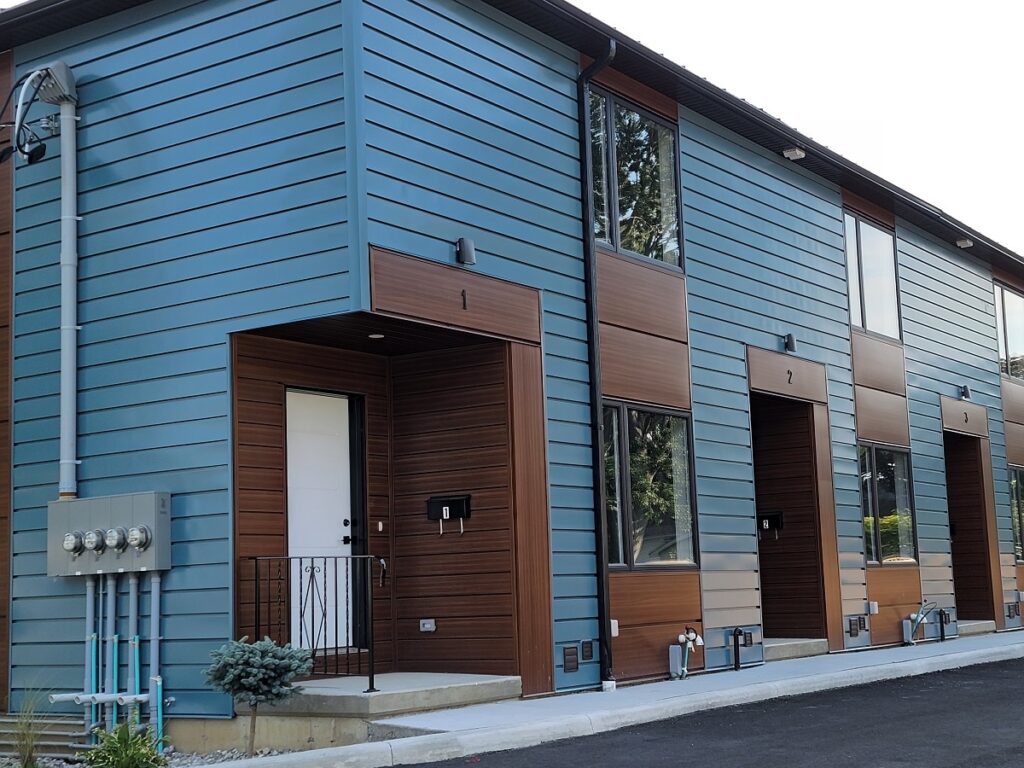 You can also add darker window frames against neutral siding to create a shadow look. For a dramatic effect, use shades like dark brown, cobalt, charcoal, with natural wood accents.
Hardie Board Siding
Another popular choice among modern homeowners is Hardie Board. It siding is a really durable product that looks amazing, is long-lasting, and comes with a comprehensive warranty. It's made of cement, sand, and cellulose fibers which combine to create an outstanding material to both protect and beautify homes.
Most importantly, Hardie Board siding is fire-resistant. It's been tested in the most extreme of conditions and has proven to be an exceptionally tough product that won't succumb to flames even when it's exposed to incredible heat. This makes it an outstanding choice for homes in areas prone to wildfires across Western Canada or areas where there's a higher risk of fire.
Hardie Board siding also comes in a wide range of colors, textures, and styles. You can find this siding in shingle form as well, as in different plank sizes and profiles to create custom exteriors.
Thin Fiber Cement
A lot of people have a strong opinion that all cement products look the same; however, modern solutions prove them wrong. Numerous companies offer cement composites that have numerous finishes and textures.
You may find everything from mortarless stone to brick and even reclaimed wood or limestone. Thin fiber cement will help you give your home a sophisticated look at affordable prices.
Incorporating Brick Designs
The one option that has been trending for a long time and will continue to reign supreme when it comes to home building is incorporating brick designs. Adding bricks or stones to the exteriors give your house real curb appeal. Often we see a skirting at the bottom of the home, with a two-tone brick or stone design.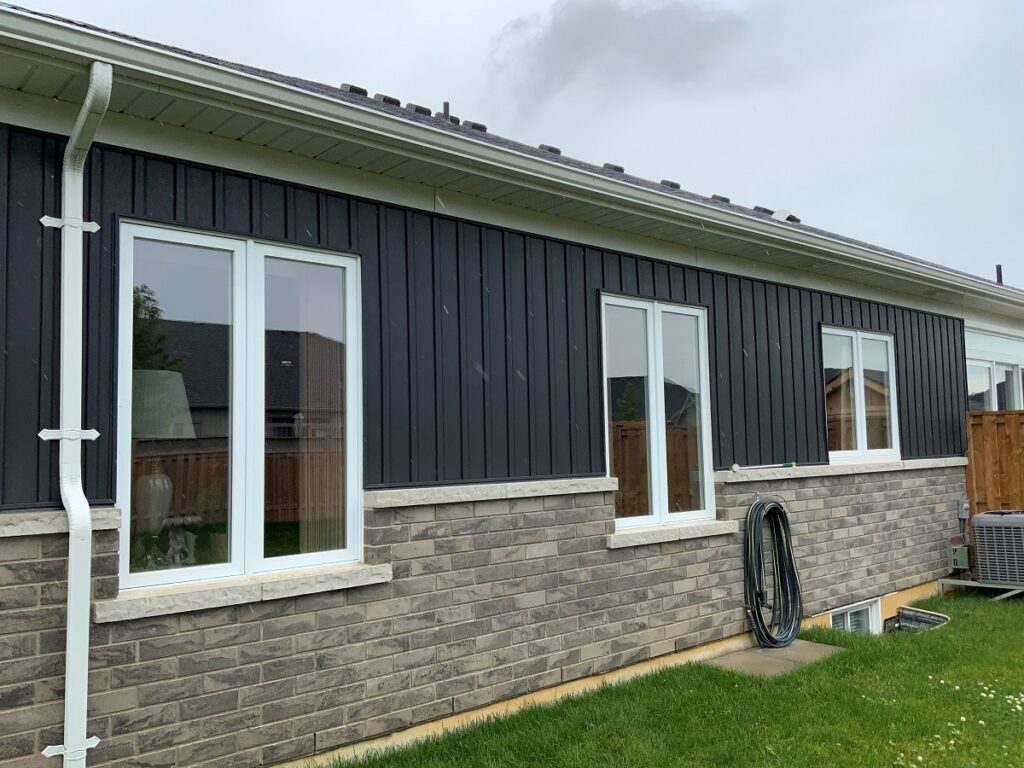 While installing stones and bricks requires specialized labor as well as extra time and effort, so we have seen more home builders offer alternatives. You can get fiber cement siding, or faux brick resembling these traditional materials as well. This will ensure you still get the visually appealing look of bricks without the additional hassle. We see more homeowners choose these types of alternatives more frequently because of the costs they save in labour.
Contact Country Towne
A majority of people focus so much on improving the interiors of the house that they tend to neglect the exteriors. The exterior look of your house is as important as the interior, as it not only adds to the aesthetics but also offers real protection from any kind of damage to your home's structure.

If you haven't already given it any thought, it's time to decide on the best modern siding options for your home. The ones listed above are durable, sustainable, eco-friendly and aesthetically appealing to uplift the overall style of your house instantly! Contact Luke at Country Town to get a free estimate.