While looking for exterior design ideas, have you stumbled upon the term 'contemporary siding panels' in home magazines or online blogs and wondered what that is?
Well, these are durable steel siding panels that add an extra layer of protection to your outer walls, making your house withstand regular wear and harsh weather. All with a contemporary modern style, with mixed colours that pop!
The reason these siding panels are termed "contemporary" is because of the materials, type, and design of build. Furthermore, their ease of installation, durability, and versatility make them a perfect choice for every homeowner.
Read on to know everything about contemporary siding panels and make an informed choice when opting for exterior home renovation.
What Are Contemporary Siding Panels? How are They Different?
Contemporary or residential metal cladding can be attached to your house's exterior walls to help protect and improve your home's curb appeal.
Typically made of steel, fibre cement, wood, or metal, these panels have a modern design and are highly durable. Plus, they are weather resistant, offering year-round protection to your home.
Now, let's have a look at the differences between contemporary and traditional siding panels!
Contemporary siding panels are low maintenance than traditional panels like stucco, vinyl, or bevel woods.
Contemporary panels have clean lines and come in a wide variety of textures, patterns, and colours to match the aesthetics of modern homes.
These panels are available in both vertical siding and horizontal siding options to suit the modern architecture of Canadian homes.
Unlike traditional wood and vinyl sidings, contemporary claddings can be termite-resistant, waterproof, and even fire-resistant.
These are just a few reasons why homeowners prefer contemporary siding panels over traditional ones. The overall cost and lifespan are also major factors, making contemporary panels a better choice.
Benefits Of Contemporary Siding Panels For Your Home Exteriors
Apart from being easier on your wallet, here are some perks of going with the contemporary siding option.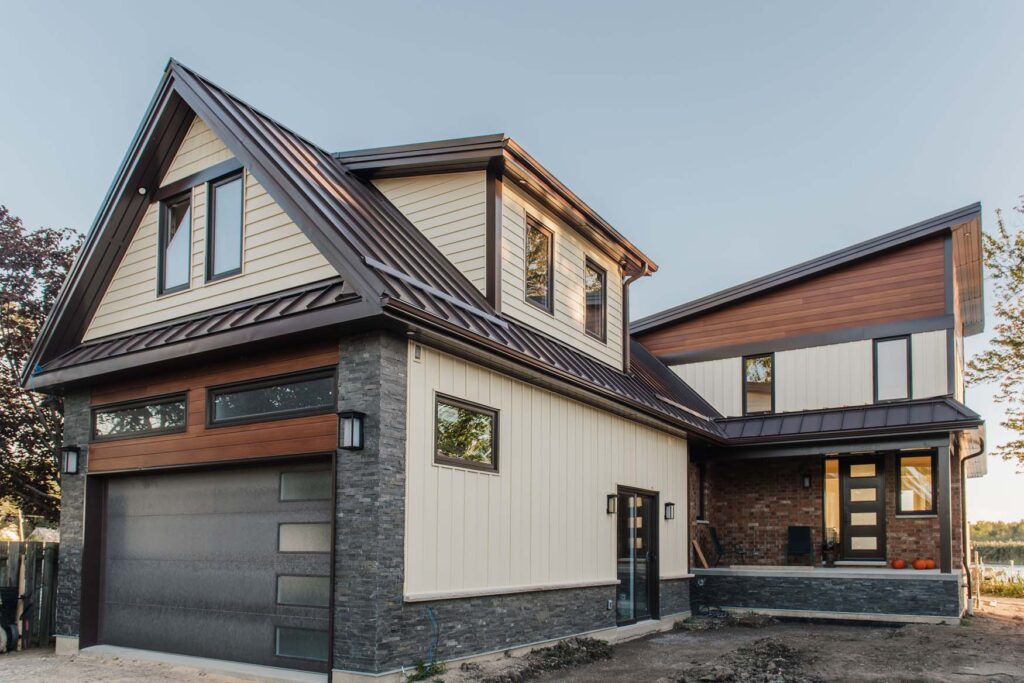 Adds An Extra Layer Of Protection
Contemporary siding panels protect your home from extreme weather conditions such as rain, snow, and UV radiation and add to its longevity.
In fact, where fire feeds on wood sidings, using contemporary sidings such as metal cladding can make your home fire-proof.
Makes Your Home More Energy Efficient
The contemporary design siding panels act as an insulator, which helps regulate your home's temperature and makes it more energy efficient.
Acts As A Moisture Barrier
If you live in a high-humidity area, the siding panels will help as a moisture barrier, preventing water from seeping into the walls of your contemporary house.
Adds Character to Your Home
Last but not least, contemporary siding panels come in a variety of options, so you can use them to elevate your home exterior aesthetics and reflect your style.
What Material Options Are Available in Contemporary Siding Panels?
The materials used to manufacture contemporary siding panels are the reason for their versatility and durability. Instead of traditional wood, stone, or vinyl, here are some contemporary siding panel exterior material options:
Metal
Metal siding panels are typically made of steel or aluminum. Though there can be a debate on whether the metal is a traditional or contemporary siding panel option, a few things that remain constant is its beauty and durability.
If you are not up for an all-metal exterior, you can use them as an accent piece along with a wood or brick siding to give that avant-garde look.
Fiber Cement
Fibre cement is a composite material made of cement reinforced with cellulose fibre. It is a popular choice for making sidings or exterior coverups as they can be moulded into an array of textures and appearances that can mimic original wood.
Fibre cement sidings are termite-resistant, water-resistant, and fireproof and typically last you for more than 50 years. Needless to say, they are much more durable and cheaper than installing wood sidings and are a better investment in the longer run.
Fabricated Brick & Clay
If you are opting for the classic brick look but with a modern touch, go for brick veneers that are fabricated brick sidings made with actual clay, brick, and other natural materials.
They give you a realistic look minus the hassle of maintenance and installation. They don't require footing or foundations, so you can install them yourself.
Fabricated Stone
Like bricks, you can also achieve the stone wall aesthetics without burning crazy money on buying natural stone or other brick products.
Simply go for the fabricated faux stone veneers that are moulded from actual rock, stone, and other natural materials to add natural beauty to your home's exteriors.
Contact Country Towne for Sturdy and Beautiful Contemporary Siding Panels
If strength and durability are what you are looking for, metal sidings would be the right pick for your home. These panels can easily last up to 5o years, protecting your home from all external elements.

If you want a hassle-free metal siding installation experience, call Country Towne today, one of Ontario's largest metal roofing, siding, and accent panel suppliers. Receive a detailed quote and get started with your residential or commercial siding project today.