What is sheet metal roofing?
Sheet metal roofing is a quick installation method where contractors make use of flat or profiled panels. These metal roofing sheets can be cut to length and used for the roof of a building to take advantage of its strength, durability, and beauty. There are different types of sheet metal roofing. They all start as sheet metal, i.e., a continuous metal roll or coil.
Steel roofing sheets can be a great way for contractors to finish a quality job more efficiently. At Country Towne, we provide many metal roofing styles and our new rolled on site standing seam metal roofing truck. The sheets are customized to fit the needs of different roofing projects and the set budget. Various metal sheets have different levels of durability, protection, energy efficiency, insulation, and more. They also differ in styles and textures.
Sheet metal roofing is used in both residential and commercial projects. Metal sheets aren't just turned into roof panels they go through some rigorous industrial stamping and protective coatings. They have other uses in the construction industry for making metal siding for homes, garages, agricultural buildings, etc.
Metal panels can have curved or straight seams. You can find a wide array of corrugated or profiled metal panels. They are used for flashings and trims and can be formed into ridges, valleys, corners, barges, and much more, thanks to the malleable nature of metal.
Types of Metal Roofing Sheets
There are various types of metal roofs. In fact, "Metal Roofing" is quite a broad term in the roofing industry for a variety of different metal alloy products. Some of the common materials of which metal roofing sheets are made include:
Stainless / Galvalume (Coated)/ Galvanized steel
Aluminum
Zinc
Copper
Lead
Alloys
Aluminum and steel roofing are the most popular as they are cost-effective and easier to work with. They are also long-lasting and can come in different finishes. The sturdiest material is steel, which also makes it a lot heavier. It is coated to ensure that there's no rust or corrosion to destroy it. Aluminum is chosen for its lightness and resistance against rust. But it is soft and prone to denting.
Other roofing options can be more expensive, but they have their own advantages, as well. Let's take a quick look –
Copper is a tried and tested roofing material that is resistant to rust and weathers naturally, with a unique look.
Zinc is a versatile option because of its malleability as it can be given any shape – and it is also resistant to corrosion.
Lead is a heavy and durable roofing material besides being malleable and can be cut and turned into complex shapes.
Alloy roofing sheets are made of a mixture of different metals and tailored to get different properties for long-lasting protection.
The type of metal roofing sheet you choose for your project at hand depends on the application and budget of your client. The end result should be complete protection against harsh weather, pests, wearing and tearing, etc.
Advantages of Using Metal Sheets for Roofing Applications
Roofing sheets made of metal have many advantages over other traditional roofing materials. While each type of metal roofing material offers a different set of properties, they all offer some common benefits, as mentioned below:
a) Versatility
Metal sheets are malleable and can be given any shape. Whether you choose pre-made panels or tailor them on the site, you can keep things as simple or as complex as your project may demand.
b) Longevity
Metal sheets are engineered to last for several decades without getting broken or corroded. No matter what type of metal roofing you choose to use, the result will give your client safety for 40-70 years.
c) Strength
Metal sheets are more durable than any other roofing material. They are designed to withstand harsh weather conditions, strong winds, hailstorms, heavy snow, etc. – and even mould, mildew, and pests.
d) Maintenance
A properly-installed metal roof needs nothing more than general upkeep around twice a year, along with cleaning and monitoring. The maintenance cost is negligible compared to other roofing materials.
e) Eco-Friendliness
Metal roofing sheets can be recycled after being used as a roof, making them environmentally friendly. Plus, many of the roofing materials actually come from recycled metal, reducing waste. Therefore, metal roofing sheets have commercial, industrial, and residential applications that last for a lifetime.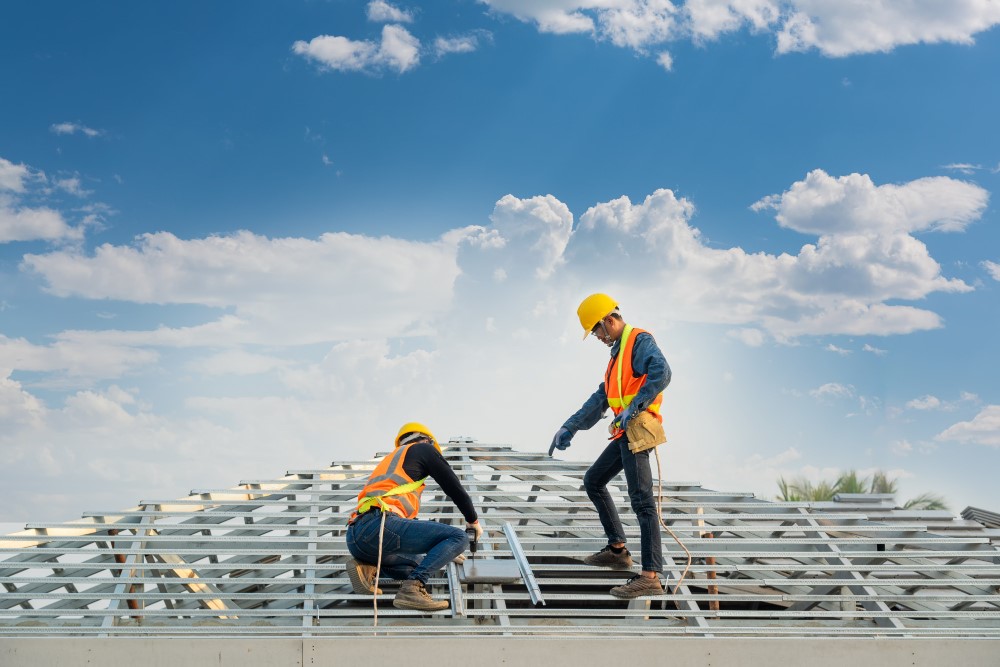 Easy Installation of Sheet Metal Roofing
The process of using sheet metal for roofing involves roll-forming the coils of continuous metal into smaller pieces or "panels" for installation in a specific cross-section. They can be given any "profile" (shape). The panels are "seamed," i.e., fitted and connected at side ribs to cover the roof.
Sheet metal roofing usually does not have any exposed mechanical fastener as the joining process involves a rolled or clipped design of joints or standing seams. This creates a projecting look. The entire process is flexible and can either come pre-fabricated from the factory or be formed at the job site.
On-Site Roll-Forming
For modern contractors, on-site roll-forming, i.e., portable roll-forming machines for metal panel formation is a modern solution. For this, the metal sheet is fed into the device, which turns it into the desired roofing profile. These machines deliver the same quality as factory-made panels but directly on-site to save on shipping and waste.
Advantages of on-site roll-forming include –
Fewer seams due to customization and, hence, better weather-proofing
Less time and money in shipping, packaging, and transporting panels
Reduced wastage and, therefore, eco-friendly
Roll-forming on the job site allows you to tailor the panels at the last minute. Hence, you don't have to plan ahead and take into consideration the length of the panel required based on the area of the residential or commercial roofing applications. You also won't need to stress over the time frame.

Country Towne offers the best contractor-installed sheet metal roofing solutions in Canada. Contact us today to get roll on-site standing seam panels.